Ok so I was wondering were everyone is at with there little (insert correct word) DARLING/MONSTER.....HAHAHAHA....
My Charlie is a bit of a Jekal and Hyde...which isn't surprising considering he was kinda born that way...I think I recall labelling him that once (probably more than once TBH) before...:rolleyes:
Anyway he is such a cuddly loving boy, yet is so rough and crazy at the same time...
He has no fear so climbs EVERYTHING, he seems to be very spatially aware as he never seems to fall off anything, even when it looks like it bound to happen...
He doesn't seem to feel pain...He is super LOUD!!! And laughs at himself ALOT...
He eats like a champ, dances all the time...Loves to read books, but has a favourite couple "The very hungry caterpillar" and Hairy Maclary's "Zachary Quack"...
BUT!!!!!....in the last week we have added a new couple of HORRID things....
1....HEADBUTTING, when things dont go his way, he will smash his face or forehead against whatever he can find, floor, wall, door and even the fire surround...:(
2....SCREAMING, again when things dont go his way (I also think its pure frustration because he cant voice himself) BUT screaming at the top of his lungs and for ages!!!...While tensing his entire body and shaking!!!
NOT MUCH FUN AT ALL!!!!
So where are you all at...
And show us some recent pics!!!
Heres Charlie.....
Charlie and I....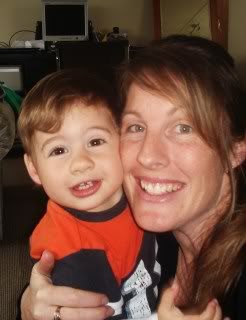 Charlie showing the little girl I look after how to build towers with the blocks....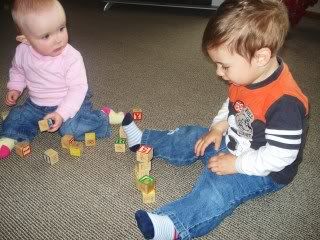 And planting a big kiss on her too....This is what the poor girl has to put up with ALL DAY!!!...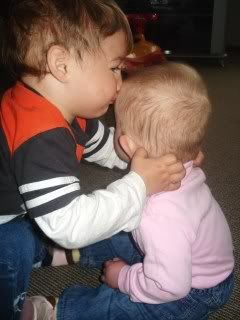 And just because hes a cutie....

This was Charlies first attempt at eating his breakfast all by himself...I was totally impressed, he didnt spill a drop, this was just before his last 2 mouthfuls...CLEAN AYE!!!....Mummies anal-ness must be rubbing off on him
.....

And lastly, my little hood-lem....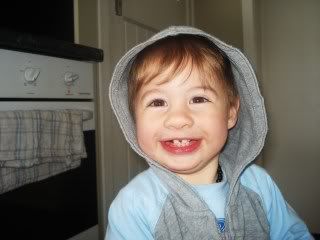 CANT WAIT TO SEE SOME OF YOUR DARLINGS/MONSTERS!!!!