Here's Conor's birth story for those of you who were asking:
Conor Brian
October 4, 2011 at 1:50pm
8lbs, 4oz and 20" long
As many of you know, I had been having early labor for at least a week. Just regular contractions that were doing little if anything to my cervix. At my last appointment before going into labor, I was 2 cm dilated and 50% effaced.
On the evening of October 3, I had some sort of feeling about the night. Instead of my normal PJs, I put on something I cared less about and a pair of panties with a liner. I figured it could be anytime. At about 5am, I woke up. I felt what I can only describe as a pop, followed by a small amount of leakage. I laid in bed and thought that it was not at all like when my water broke with my DD, but that I should go check just to be sure. My pad had pink water in it, and I figured that it must have broken. I didn't go back to sleep and started thinking about and counting my contractions. They seemed about the same as what I'd had in early labor. At 6, I woke DH. At 6:15, I called the doctor on call who recommended I come right in. DH and I waited until 7 (in which time I made dinner for whomever ended up at our house that night, finished packing the bag, and made a lunch for DD). When 7 rolled around, we woke up our DD, got her ready for school and prepped for her new brother, then took her. Afterwards, we got gas for the car (as you can see, I wasn't too worried about quickly progressing labor).
We arrived at the hospital around 8. I was admitted to L&D triage where they tested to see if my water had broken. It had, of course, so they admitted me to one of they LDRP (labor, delivery, recovery, postpartum) rooms. Things all of a sudden were getting real! My L&D nurse came and administered my IV. Not long after, one of my OB's partners showed up. She checked my cervix (3cm) and realized that my membranes were not fully ruptured. She broke them the rest of the way and out gushed some greenish water. Way to go, baby boy.. going #2 in your fluids XD They weren't concerned though. It was only a little tiny bit.
I was monitored for an hour or so. I told my L&D nurse that last time around I had regular contractions but that they weren't strong enough and I required a very low dose of pitocin to get going. She showed my OB my tests and she agreed. They asked if I'd like my epidural before or after the pitocin. Well, not being crazy, I asked for it before! The anesthesiologist came in shortly. After a bit of trouble including my blood press dropping to 70/32 (great for a toddler, not so great for an adult!!), I was VERY comfortable with a good epi! They started me on the pit almost right away. The difference was amazing! Even with the epi, I could tell my contractions were getting stronger. They didn't hurt, but they were there.
After about an hour and a bit of laboring, suddenly I was having pain again, through the epidural on my right side. I complained to the nurse, and she gave me a small boost of meds and had me lie on my side. It was so extreme that I moved to my back again and she called the anesthesiologist and checked my cervix. 8cm! By the time the anesthesiologist made it back (less than 20 mins from the call), I was in agony. She gave me a good epidural bump, and my nurse checked me again. I had gone from 8 to complete in less than 15 minutes! Yikes!
My OB was called and she must have RAN. She was there shortly, and in two very fast pushing contractions, Conor was born. He didn't make much noise immediately as they were carefully suctioning him out. He was on my chest right away, and I was SO happy to see him. He had almost no coneing of his head as his birth was so quick. His APGAR scores were 8 and 9. DH cut the cord and they took him to be weighed - 8 lbs, 4 oz! My L&D nurse said that if I hadn't had the epidural, I would have delivered him before the OB made it. The nurses on hand were sure to tell the med student that not all births were as quick and easy as mine. I know, I'm not a good example! Apparently they were talking amongst themselves as well. Several nurses came by and commented on how quickly everything went for me. Oh, he pooped all over the OB and then peed on the pediatric nurse.. I guess he was telling them he was not pleased with being outside the warm womb!! XD
We stayed in the hospital for 2 days. I had many visitors including DD who loves him already. We've had only a few minor hiccups there with 3 year old acting out stuff. DH had a few minor issues. I had him come home to keep Callie's schedule in order, and when he was coming to pick us up on discharge day, the SUV got a flat! He was really mad, since he wanted to be at the hospital with us. Luckily, it was an easy fix.
Conor is a pretty good baby so far
Here are a few pictures: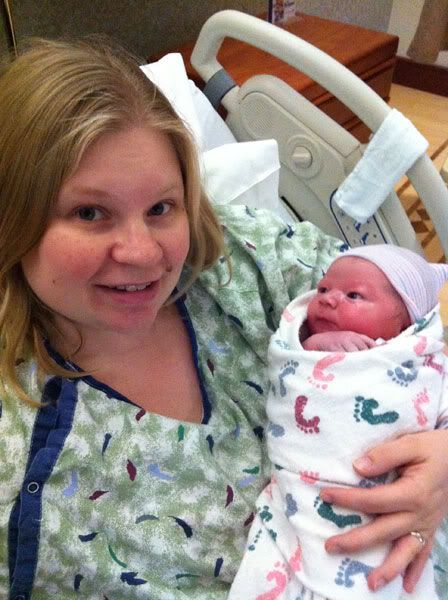 A first look at mommy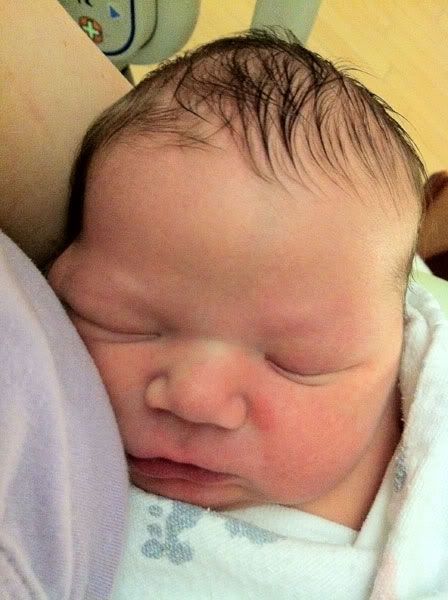 Snuggling mommy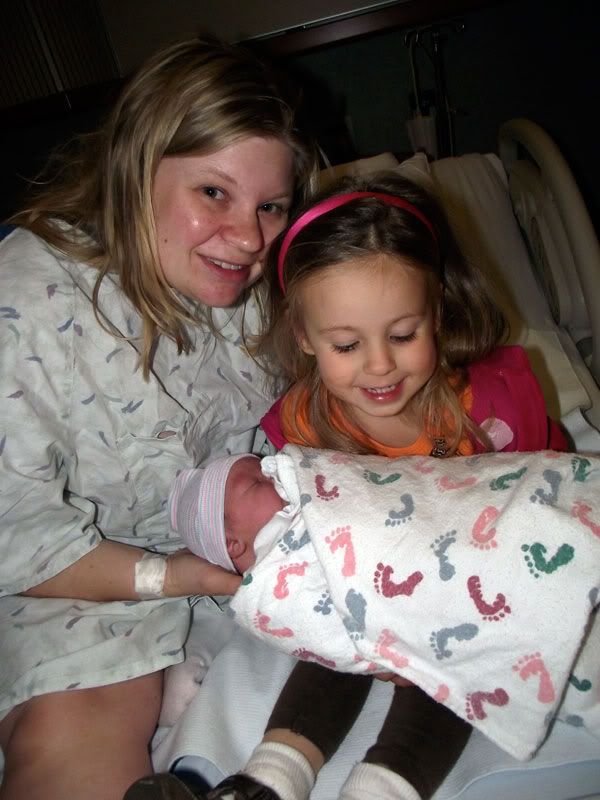 Meeting big sister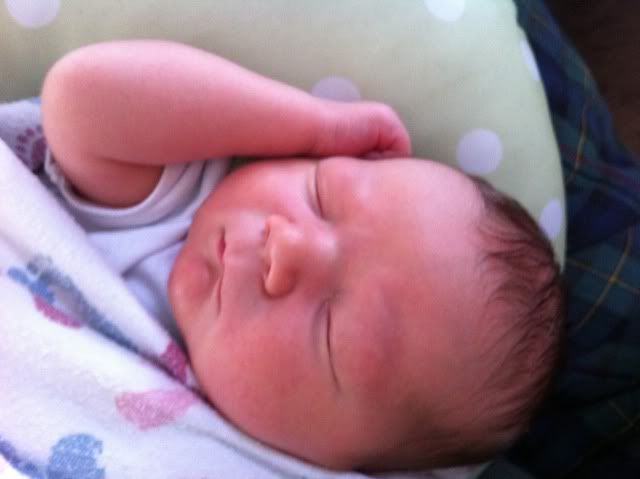 Peacefully sleeping