WELL! I had my gender confirmation today, and it was really anything but that. Our first scan was at 15.5 weeks and she was pretty sure baby was a girl. We got some pretty good shots and we all saw the traditional "3 lines" from quite a few different angles, and not a hint of ANYTHING penis-like between the legs.
Now today I'm thinking it'll be quick and we'll be in and out. Baby wasn't in a very good position... legs crossed, feet between the legs, and cord going between the legs. We couldn't get a good butt shot with out legs/cord in the way, but the tech changed her prediction to a boy. I'll post a picture too. On her website, it says that she has a 99% accuracy rate, which is why I decided to go for the early u/s. I mean, we still had a great time seeing baby, and will be happy with either boy or girl, but I'm just frustrated with myself. I wish I would have just waited until the anatomy u/s.
At this point, I think I'm going to stay on team green and wait until delivery day. DH still wants to try to find out at the anatomy u/s. So here's today's picture... she didn't give us a good one from last time. And I'll put up a picture of DS2 with his gender shot at 20 weeks.
Am I just in denial?? You can see in the picture the foot/cord hovering right above the "penis" in every picture she gave us.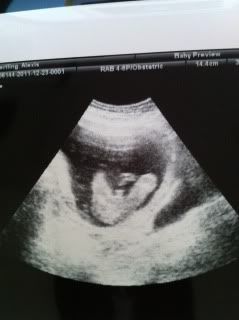 and then DS2's gender shot