Was born on June 8th at 8:07. 8lbs 8 oz. He has a heart murmur and jaundice and I have an infection in my incision but we are home. I'll put up my birth story in the sticky when I'm feeling a little better.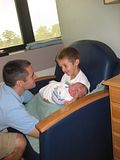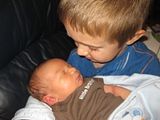 *hospital 1/2 an hour away called and they have the tubing*
Breastfeeding was going great, but didn't realize my pump tubing had mildewed until I was engorged yesterday morning and God forbid this place have any kind of store where you can purchase it. My MIL comes tomorrow and I'll have her stop and get some but it's aggravating that it's not available. Mississippi has the lowest breastfeeding rate in the country; you think they'd try to help a Momma out by at least one of the 3 hospitals having the supplies needed for a pump. How ridiculous would it be if I had to call the WIC office (I know they would have it) to get a $10 piece of needed equipment? Rant over.