I finally bought him his own coming home outfit
Even though I have plenty of boy clothes I like to get them all a new outfit to wear home from the hospital. I thought the whales from Carter's were cute today, so that's what we picked (I had all 3 kids with me).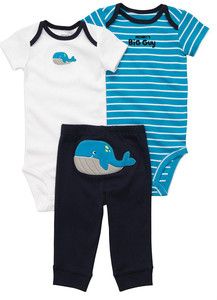 Usually my kids wear sleepers home from the hospital, but I went with pants and the onesie, even though the cord stump will still be there. I'm sure I have some little socks and a hat that will match too.
So hard not to buy everything in the Carter's store....but I definitely don't need any more boy clothes!