Its not completely done, but almost there. I know we will get 'knick-knack' type of gifts, so I'll decorate more with those, but I did put my collection of nursery ryhymes and fairy tales on her shelves.
Crib (no skirt or bedding on it yet) and an old chaise that was in our room, but I think it works well in here.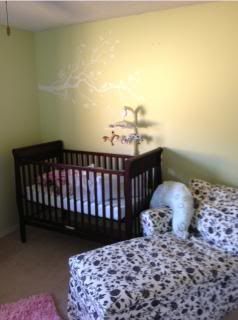 Cloth Diapers, regular diapers, burp cloths, and the empty basket did have muslin blankets which my son has now hidden somewhere, lol!
My mom didn't like my curtains so she is supposedly getting different ones. It gets bright in this room too, so it needs it
Love me some IKEA! We changed out the knobs to make it a bit more 'girly'. (I still need to put away all the white onesies from DS that I washed)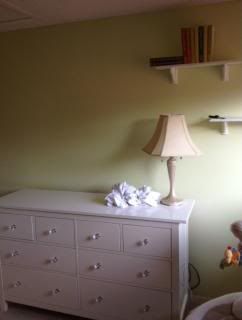 and of course the closet! Which has been a dumping ground for all the baby things.
I've been a little shopping crazy, but they are sizes 3months to 2T. And I stocked up on dapers when I had coupons and really good sales.(Gotta love the deer head on the top shelf, lol!)