Hahahaha... I just realized our birth story wasn't in the sticky, so here it is, nearly 22 months later!
Without further ado
----------------
Our little man arrived at 7:17pm last night!!
Here's a bit of a birth story while visitors are passing the little guy around. The induction started around 8am. The goal was to go naturally otherwise, but around 2:30pm, the pain started getting pretty intense. I got some nubain in the IV, which helped mildly for about 5 minutes (lol)... Once it wore off, the pain was unbelievable. I was shaking so hard, I thought I had to have made some progress. But when the nurse checked me again, I was STILL at 4cm, where I had been for the last 3 hours. Since I wasn't progressing and the pain was getting so intense, I opted for the epidural. It was placed around 4pm (had to wait on a darn c-section, longest hour of my life, lol). After that, I immediately felt much better. They checked me and I had made it to 5cm, barely. I had to stay laying on my sides through the labor due to BP issues early on. So I spent the first 30 minutes after the epi was placed laying on my right side. I called the nurse to ask her to help me roll to my left side... I needed help because I was completely numb and couldn't control my legs very well.
She came to help me move, but decided to check me first (it was a different nurse). She said, "You're not going to believe this... You're fully dilated." I just said, "You're kidding me!" I went from stuck at 4 for three hours, to "barely 5" to 10 in like an hour!!
She called my doc, he said he'd be there in about 10-15 minutes, and we started pushing. The nurse told me I wouldn't have to do much to get the baby out... He was coming! She was right... I only pushed maybe 35 minutes, and thank god for it because I was getting really nauseated. The doc and nurses kept trying to get me to vomit because they said it would push the baby right out, lol!
He finally arrived at 7:17pm weighing 8lb 8oz! My doc was even surprised at how big he was, hahahah. He was 19 inches long. I watched him in the mirror, and it was the best relief when he finally popped out. DH got to cut the cord and was excited about that. Somewhere in the midst of pushing, I ripped my IV out, so I didn't have any pitocin to contract my uterus after delivery. They had to give me an injection of it IM and also an injection of methergine to stop the bleeding. I did lose about 250ml more of blood than I should've, and I spent the first hour after his birth not feeling well at all. I was dizzy and nauseated and very weak. They gave me a shot of zofran for the nausea too. It was really crappy for our bonding, as I would've loved to enjoy that excited, elated feeling.... But I was almost too weak to hold him. We stayed in the delivery room for about an hour before being moved to our permanent room... The nurses here told me I looked gray when I arrived, but looked better shortly thereafter. Anyway, he stayed in the room with us for the night and didn't sleep well, so we got plenty of bonding time all night long.
BF-ing isn't going all that well due to my nipples being a bit flat... He doesn't like to latch on. The lactation consultants and nurses are a great help, but I'm not sure how we'll deal once we go home.
For now, back to my little man!! I'm soooooo relieved and excited that he's finally here.
Updated with Pics!!
Fresh out of the womb and gooey: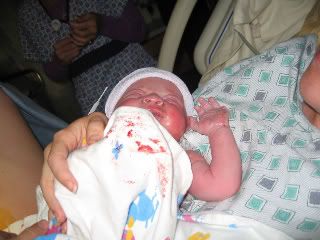 8 lb, 8 oz (bigger than either DH or I when we were born!):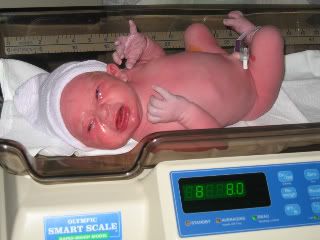 First pic of the happy family (excuse my lack of makeup and purple lips, I almost passed out, lol):

Getting dressed after his first bath (my mom has great pics of the actual bath, but I don't have them yet):

Kangaroo care - Our hospital was really big on this, and it is soooo sweet being skin to skin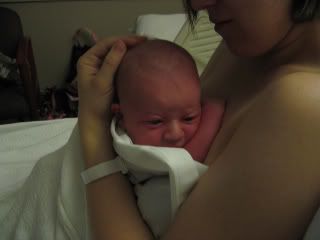 ----------
Some new pics:
In his swaddle... We really like the "Kiddopotamus" ones. My mom bought us one from my registry, and we went back for a few more. He likes to be all wrapped up tight.

Another one in his swaddle blanket: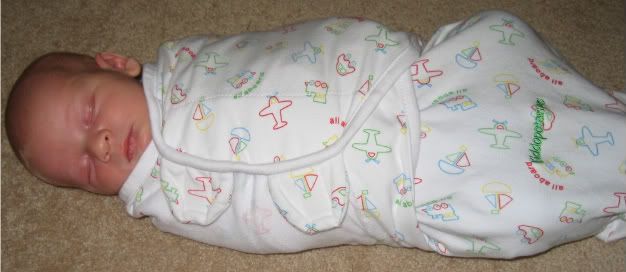 Naptime with daddy:

Cuddling with mama: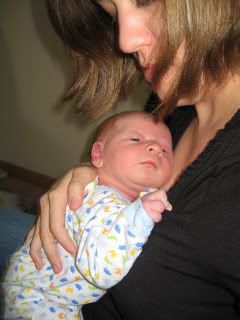 More cuddling with mama (I think this is going to be a theme, lol):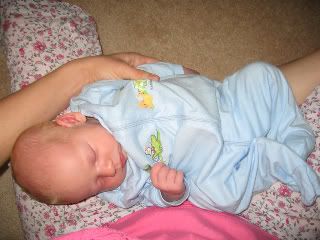 In our bed:

And my siggy pic - I think it's cute how he was laying with his arms above his head, lol: