We have been traveling, and then I ended up with a week-long vertigo attack that started just before we got home from our trip, so I haven't be able to use the computer for almost a month. It's been crazy.
Kat is doing awesome. She just had her two year check up today, and at 37 inches and 31 lbs continues to be a very big little girl. She is coming into her own, personality wise, and is the happiest, most intentionally mischievous creature I know. She will taunt and tease Miriam all day long, and is teaching Miriam about joking and being slightly more light-hearted. It's good for Miriam, who is such a serious little girl. Kat's slightly behind on talking yet, though when she needs to she speaks perfectly fine, so it seems to be a lazy thing more than an unable to do so thing. She also has an amazing love of dance and music, and has started trying to figure out how to play my mandolin. When she's bored while we're out and about she'll just start singing and dancing, even it it's sitting in the cart at Target, and she seems to live for getting laughs out of people.
She gets along great with Miriam, and the few fights they do have are pretty evenly balanced since they're almost the same size. No real potty training yet, but she's starting to be interested in sitting and trying to go. Her attention span is a little short, so if she doesn't pee right away she tends to wander off.
The strangest thing of all is her complete and total fear of bugs. Flies, ants, bees, gnats, fireflies, pretend plastic bugs are all met with a high pitched scream, a finger point and a slow backing away as she chants, "bug, bug, bug!" over and over. It wouldn't be so funny, except Miriam loves bugs and runs around collecting them from the grass and has a huge collection of plastic bugs that she keeps in the toy box. When a lady bug flies past I have one little girl trying to catch it, and the other running the opposite direction screaming her head off. It makes trips to the park very interesting. Even if she thinks there is a bug nearby she will panic. DH said one day they were playing in the sandbox when she suddenly started crying. When he asked what was wrong she said, "A bug in my hair." There was no bug, the wind had just ruffled her hair, and the poor thing thought it was a bug. I don't know what we're going to do about it, but for now we're just trying to balance collecting bugs with making sure Katie doesn't see them too often.
Silly hats only!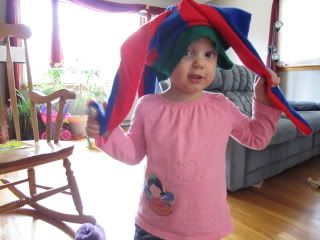 Playing with paint bubbles at Grandma's house. The three of them were an amazing mess, but full of giggles.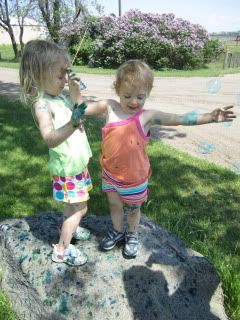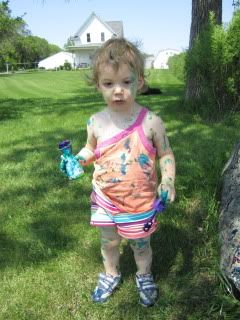 We find Katie sleeping in very strange places. In the closet, way under the bed by the wall, and one morning we woke to find her in the middle of the living room.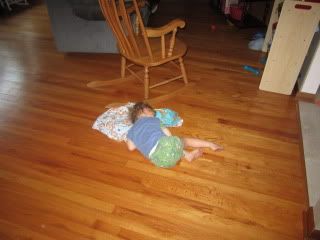 Mmm...Cake.