I want to hear updates on what is going on. I miss hearing from everyone.
Sofia is a fire cracker. She talks non stop compared to her brother. That said she is having trouble learning her colors. LOL. She is finally starting to sprout in the height department. I was worried she was going to be super short. As far a weight goes, we havent gotten anywhere. It is hard putting weight on her. I put tons of food in front of her but she just doesnt eat. Only when she really wants to. She does have a sweet tooth though. Christmas was good. She got a doll house (but we havent set it up yet), a strawberry shortcake playset (lost a bunch of pieces already, and set of Beauty and the Beast figurines (sleeps with them). In the end she fights with her brother of his present of a LeapPad.
And here is a recent pic of Sofia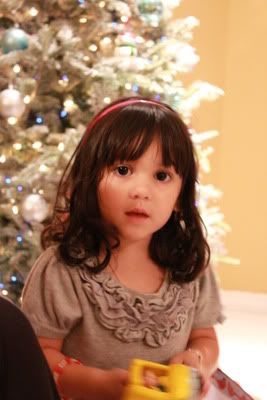 So what is going on with your LOs? And dont forget a picture.