Puglee's Great Adventure!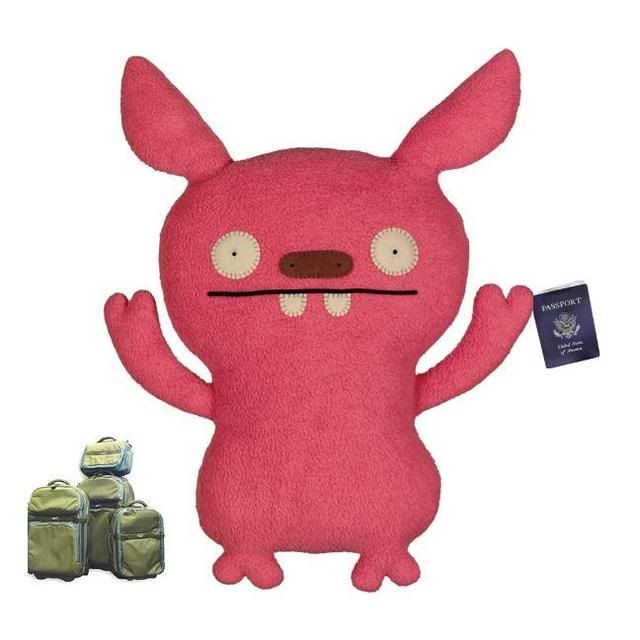 Puglee is super smart. How can you tell? You know how they say if you get really good grades, you'll have a better shot at getting a really great job? Well Puglee figured out that a great way to avoid getting a job was to get the worst possible grades ever! Only an F- would do. But here's the problem... Puglee LOVES to read, write, and count. So she gets all A's no matter how hard she tries! Puglee is also smart enough to know that life isn't about getting a grade. It's about the special bond she now has with you.
Please post your pictures from your time with Puglee here. Also, please post them on the main board so that we can comment on your holidays together. This is a no comments thread.
Puglee is our board mascot! She will be traveling the world to meet our April Blossoms and their mamas! Puglee will have the chance to stay with each baby for a week. After which she will be sent on her way again. When you receive Puglee you will be pm'd the address of the person to send to next. The order of which may change depending on who can or can't ship to certain places. Notice will be given ahead of time.
Puglee's great adventure will begin when she arrives at Wendy and Paxson's house!!

[COLOR=SeaGreen]SPCN319 ~Wendy
jlz08 ~Jansen
VanessaBabe3 ~Vanessa
I LOVE YOU ~JP
mtmomma ~Heather
Chefkel ~Kelly
Keegan456 ~Tawnya
KnA'sMom ~Sunny
Shefrn1 ~Peggy
MBowman ~Marcie
Allie01979 ~Allie
Jumarse ~Julie
Janel814 ~Steph
JorgieGirl ~Jordan
JennMill ~JennRoxieBlue ~Roxie (need addy)
CritterSkunky ~Cristina (need addy)
Dianec ~Diane
mist1006 ~Kerri
katlady1974 ~Maria
PaulaJoFSU ~Paula
Renomx6 ~Ashley
Joey'sHoney ~Lia
Shelzabel ~Michelle
[/COLOR]LadyAngel ~Carla
lynzb ~Lynsay
Barto9729 ~SarahShelzabel ~Michelle
Maddz ~Maddie
Soren11Golf ~Cassi
Lady Angel ~Carla
LynzB ~Lynsay
MaxiMamma ~Karina
Arianrhod ~Kirsteen
If you would like to participate, please send along your address to me in a PM. I'll add you to the list!! Please keep in mind the exchange rules of pregnancy.org though. Minimum 300 posts and 3 months membership.