At 10 dpo (though I didn't tell anyone), I got a BFN.
11 dpo, in the evening, I got my first faint positive with an Answer brand (which I highly recommend, btw). It was so faint that I had to adjust the saturation level in Photobucket to get it to show up in the pic:

The next morning at 12 dpo, I got another faint + with another Answer brand:

Then I decided to try a FRER brand, using 2nd morning urine. It was slightly darker by then, but still faint: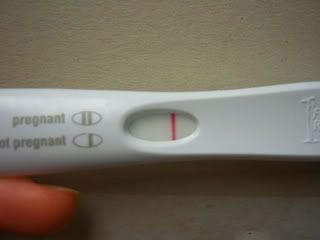 The next morning at 13 dpo using FMU, I got a nice line on the FRER, so I decided to try a Clearblue Easy digital and saw that beautiful word:

The next day at 14 dpo, in the evening, I got a darker line with an Answer brand, even though it was very diluted pee:

15 dpo, FMU, Answer brand - even darker: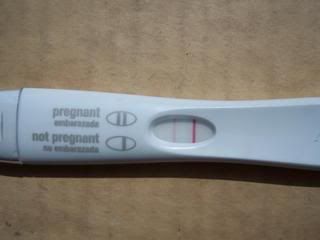 At 16 dpo, I wasn't really planning to test, but thought it would be fun to do a brand comparison between FRER and Equate to see which line would look darker, so I did it that afternoon. I was a bit surprised and scared when the FRER didn't seem any darker than the previous day, and the Equate was even fainter! It was diluted pee, but then so was the 14 dpo test. The Equate brand dried a little darker, and became a "thin" line for some reason. My experience with the Equate brand wasn't very impressive: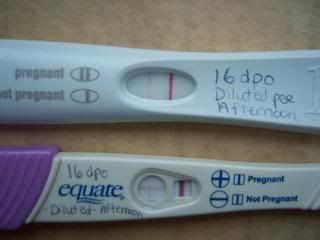 17 dpo, FMU, FRER - the line was darker again so I breathed a sigh of relief :):

18 dpo, p.m., Answer brand: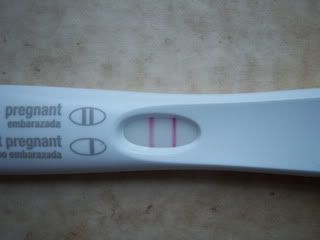 At 19 dpo in the evening, I began spotting, so on 20 dpo, even though I was scared with what result I might get, I tested again with FMU, with an Answer brand, and was reassured (the spotting tapered off by the evening of 20 dpo, by the way):

Hope you enjoyed the pics!
I hope this will help someone who might get a fainter line one day in their series of tests. I am living proof that the lines can vary!