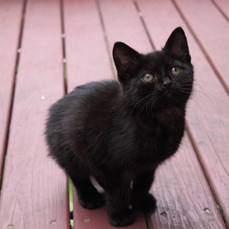 This is Michi
Dh and the boys went camping on a father/son camp on friday night and on the way home on Saturday, passed a feed store with a sign for "kittens"
He picked up this baby--8 weeks old (as of last sat) and is the sweetest little girl! My kids just LOVE her! (I love her too!) She has the sweetest little mew and is really patient with the kids dragging her all over the place. Even lets dd carry her around in her dress, she holds the hem of her skirt and makes a little hammock for Michi and just carries her around LOL
I haven't had a kitten since I got my cat as a teenager--i left for college and my mom kept her for me. She still has her, though she is old! So it is fun to have a playful little kitty again. I have to say, the BEST time to get a new pet though is the first week of summer vacation, when the kids have the whole summer to play with the new baby animal and get it really socialized to your family--greatest toy they have had in a while and Michi is soaking up all the attention!