Hi ladies! Sorry I once again have been MIA lately. I had quite a bit going on last week and I need to make an effort to catch up around here big time. First of all, in terms of that job that DH was being considered for, that is a no go. They were going ot fly us out right as the company put a hiring freeze through the end of the fiscal year. Even though it would have been a great opporrtunity career-wise, we are both relieved because it would have been a huge change and so many loose ends to tie.
Second of all. . . Look what I got today: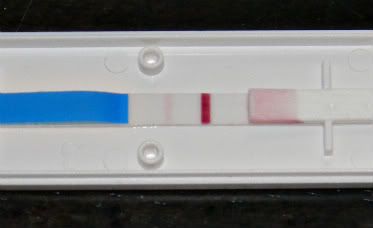 Yeah, uh wasn't expecting that. I totally POAS because I was cleaning the bathroom cabinet and found one that I had missed. Figures it was 10 minutes after DH left for work too. So PLEASE no FB comments since even the hubs doesn't know yet!
I am super excited! This will more than likely be our last baby and I was hoping that our timing would be late summer, but hey, early summer works too. I think we DTD once 2 weeks ago, I have been busy and therefore tired so I wasn't really expecting this. No pp AF after Hailey either, geez.
Anyway, glad I have some friends on here to share this news with. I'm not sure when I will tell family or (IRL) friends yet. I'll stop typing now because my head is spinning since I found out literally 5 minutes ago.
Once again - Please no FB