Hello, I'm Andy and I got a BFP 15 minutes ago: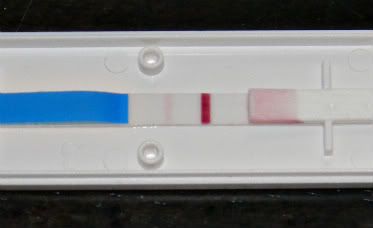 LOL, I only tested because I found a pee stick in by bathroom cabinet while I was cleaning it out. . . I'm kind of addicted. So DH doesn't even know yet because he left for work about 10 minutes before I POAS - figures!
I have a 2 year old DS and a 10 month old DD so this will be the 3rd all under 3! I'm in a little bit of shock right now but it is definitely something DH and I want. I think this will be our final baby so I'm going to try to savor every moment.
I haven't put too much thought into the EDD yet but I'm pretty sure it is late March. My doctor will give me a dating US in a week or two I'm sure. I never got a pp AF after having DD so I'm not really sure when I O'd.
I'm excited to join you all and get to know you.
Oh, and if I know anyone around here from a different board, please no FB comments.