I need a pep talk! I'm getting miserable...
My 35 week pic: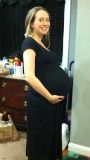 I'm now up 25 lbs. (I have gained 6 of those pounds over the past 7 days!) It's ALL in my belly (aka two babies pressing on my cervix and bladder). The pain is quite intense at times - taking my breath away and making feel as though the babies are falling out
I woke up this morning with severe nausea and vomiting, the proceeded to throw up three more times. I had a few contractions throughout the day, particularly after loose bowels (TMI). I also had one of the worst headaches.
:help1:Could I be dehydrated? or something else? I'm scared i won't know the difference between this kind of stuff and labor! I have no bloody show yet, waters aren't leaking, and no mucous plug yet. I do have what feel like AF-type pains in the front and lower back pain that would always precede my AF. But it comes and goes- sometimes with (TMI) gas.:help1:
I'm just so tried of being pregnant and working. I'm tired of not sleeping (up every night between 2-6). Then tired of working from 8 am to 7 at night. A hot bath is the only thing that works right now, so I take 1 in evening and 1 at 3:30 a.m.
I just want to know something is moving and I won't be stuck in this rut until March5 (seems sooooo far away). So many women on the twins board made it to 37.5 weeks, so I can do too! Can you please give me encouragement or advice on how to handle the next 17 days???