What a month! Sweet Judd had to have a CT scan at Scottish Rite because his rear fontanel is still not closed, and should have been by 6 weeks, and his head circumference is in the 98%. Poor baby couldn't have anything to eat after 430 am on Friday morning. It was a rough go. Matt and I both took him, mom kept sam and we had someone watch the shop. My pedi told me that Judd would have to be sedated. When the nurse called me to confirm the apt she said they would try it w/o sedation FIRST. Well thank God my sweet baby boy laid as still as a cucumber. Just stared at the lit up wand they gave me to distract him!! After the scan I asked the tech if she could give me any results and she said "No, but If we saw something alarming, we wouldn't let you leave.". They were looking for hydrocephalus.
Long story short, Judd has benign macrocephaly. Basically it means he has a big head. It should resolve by the time he is three, but at 1 year we have to have another scan. He had extra fluid at the back of his head, but they say that is because his spine is not developed enough to drain the fluid off, so it builds up in the head. It is a scary situation to be in, but we are doing good. I don't like posting this kind of stuff on FB so I thought I would get support from you wonderful girls
Here is sweet Juddy (that is what I call him)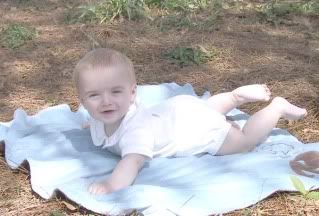 Thank you for any word of advice or info or support you have!