my Baby!!! I can't even tell you how exciting it was to see my baby for the first time after waiting 16 long weeks since I found out I was pregnant. My doctor said baby is healthy and growing right on target with an EDD May 28th!
We are now excited for baby to arrive so we can see if we have a boy or girl. We are still thinking boy!
photobucket never works for me so sorry these are so small
Face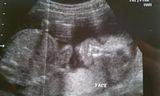 Hand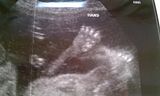 OB says baby has long legs..I agree!