We were scheduled to be induced at 9am on March 18. I didn't get much sleep the night before just like when I was induced with Alyssa! That morning we had to bring Alyssa to my mom's. I thought I was going to have a total meltdown dropping her off but I did alright! Has it been the day before it may have been a different story, I had a completely emotional day on thurs just thinking about how Alyssa wouldn't be my baby anymore and how was I going to handle 2 kids. I must have gotten it all out then! This was Alyssa first time sleeping away from home and me.
Anyway....We got to the hospital at 8:45 to check in. They brought us up to the delivery room and got all the paper work and check in stuff started. My nurse Sarah was so great! Much better experience than the nurse I got with Alyssa. After all the check in stuff was done, IV was in, the Dr came in a broke my water at a little after 10 am. I was still 6cm and about 75% effaced. I had to be monitored for 30 mins before I could get up to walk around. So we walked around the halls going back to get monitored every once in a while. It didn't really do much to start contractions. I did have a couple pretty good contractions but nothing consistant. So at 1pm they started pitocen. I started feeling a couple contractions and decided that I was too much of a wimp to go much longer so I got my epidural right away! I ended up with another perfect epi!! I wasn't feeling contractions but I could still mostly move my legs on my own and could feel some pressure with contractions and when I needed to push. My Dr stopped in to see me (she didnt deliver, Sarah she they dont normally do that!) she said that I was making her pretty nervous and had been thinking about me at home which she normally doesn't do! Didn't take terribly long to finish dilating to 10. I think it was a little after 3 or so Sarah checked me and said I just had a little bit of a lip left on the left side, so I turned on my left for a few minutes before the Dr came in, Sarah informed her, and she checked again too, and they both thought I could probably just push right past it and decided that I could start pushing. Sarah joked that there was another girl down the hall that was fully dilated and starting to push too and that she wanted to beat the other nurse to a baby first!! I started pushing at 3:38, after just a couple contractions of pushing Sarah said this isn't going to be very long at all! After about the 3rd contraction she had me stop pushing so they could get the Dr back in the room and call for back up incase the other girl went fast too! With the next couple contractions I pushed her out (3:55 pm, just 17 mins after I started pushing!) and they put her on my chest! Something I didn't get to experience with Alyssa b/c she was delievered with the help of the vacuum. After a few mins the took her to clean her up more and weigh her. It took the same amount of time, 17 min, to deliver the placenta. I just had a small 1st degree tear, more of a 'skid mark' the Dr said that they stitched up with a couple stitches. She latched and nursed pretty well right away.
After she nursed, Jason went out to get Alyssa. I wanted it to be just the 4 of us at first. She was a little nervous at first b/c I started crying when she walked in!! SHe stood on the bed next to me and looked her over. I think she was more concerned about everything else going on in the room! After my parents, brother and BFF came in she seemed a little more interested in the baby!!
Now she just loves her and is always touching and kissing her! She has been so helpful and wanted to help me change her diaper! If she is crying she'll say "its ok baby sister, hold my hand!"
Lauren Kay
9lbs 2oz
21 in
14 in head circ.
She looks just like her big sister! I'll have to find some pics of Alyssa for comparison!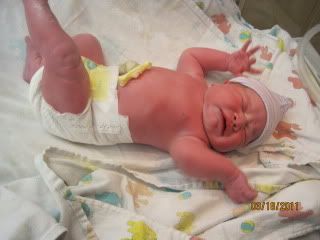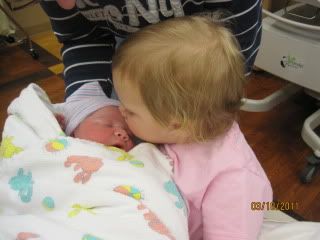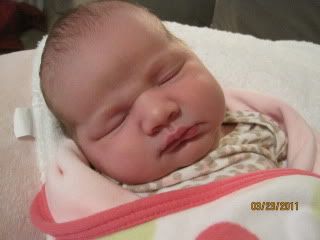 On wed we took Lauren for her check up and to the LC to see how things were going. At the LC she ate 4 oz!!! She gonig to be a little oinker!! At the pedi she was already back up and past her birth weight (was 8lbs 8oz when we left hospital) at 9lbs 4oz. And she measured her at 20 in so who knows if they measured wrong or if the hospital did!