I haven't been able to log into the boards for a few days, so I finally had a chance to write up my birth story. Better late than never...right?
Miles came into our room at 4:45am on Tuesday, November 29. I knew it was way too early to be getting up for the day, so I got up and went to the bathroom before tucking him back into his bed. I had some bloody show, and thought that was a little strange. I layed down with him in his bed until he fell back asleep, and was having a few mild contractions. Finally, he was asleep, so I got up and headed back to my room. It was about 6:30am by this time. I think I was dozing off in there for a bit, because I don't remember it taking him *that* long to fall back asleep. I went to the bathroom again, more bloody show. I layed back down and had another contraction, this one was a bit stronger. About 7am (and a couple contractions later) I got up out of bed because I knew the baby was coming today!
I hopped in the shower, went to the bathroom some more (had to keep checking on that bloody show you know...!), sent a text to Julie (Readyforbaby1) that it was baby day, and then called my husband at work to give him a head's up. Yes, I told Julie first!
My mom was going to be the one to come over and stay with Miles when it was time, but Bill didn't want me to call her yet...she tends to get a little annoying, and we didn't want her to rush over just incase things slowed down. Contractions were coming every 10 minutes or so.
I continued to get myself ready. Miles was still sleeping. I finished packing the last few things in my hospital bag, picked up the house, switched laundry, etc.
Contractions stayed 10 minutes apart for quite awhile. They would slow down if I sat down, so I kept right on moving around. Swept the floors, cleaned the bathrooms, etc.
I don't remember what time Miles woke up, but it was a Tuesday morning and we were supposed to go to our mommy & me class. We stayed home.
Finally, contractions were about 7-8 minutes apart and getting stronger. Around 12:15 or so I had a really strong contraction that I was swearing through. I called L&D to see when we should head in, they told me to come right away. I may have been crying on the phone...I was scared! The hospital was 25 minutes away, Bill wasn't home, hadn't even called my mom yet, and these contractions were starting to hurt!
Called Bill, told him to come home right away because we were heading in. I tried calling my mom's cell phone. No answer. Called again. No answer. AWESOME! Bill got home around 12:45. We loaded up the car, and dropped Miles off with the inlaws. I continued to try to get a hold of my mom on the way to the hospital with no luck. Finally sent my sister a text and told her to try to get a hold of her and let her know we were at the hospital.
Got into the hospital and I went straight to the bathroom because I knew a contraction was coming. They were about 5-6 minutes apart now. Got checked in (had to do paperwork even though I had already pre-registered = annoying!). Finally got up to L&D and headed into a birthing room. Nurse checks me at 1:45 and I was 3cm. I was a little disappointed to hear that because I had been just under 2cm at my appointment the week before. Contractions were still about 5-6 minutes apart, lasting for almost 2 minutes each. I was doing well as long as I focused on my breathing.
(My mom called some time in here, around 2 or so. They were leaving work in an hour and would go pick up Miles from the inlaws then)
Around 4:15 I got the epidural. I wish I would have been able to get it a little bit sooner, but it took 2 nurses and 4 jabs to get the IV in me (needed that first). I was so relieved to see the anesthesiologist walk in. It felt like it took him forever! I remember biting my hand to try to focus on that pain instead. I had teeth marks on my hand after that! Finally, the tingly feeling. Relief!
Now we were waiting for the on-call OB to come in and check me. I did some texting to Julie, watched tv, called my mom to check in, etc. during this time. Bill debated going to grab something to eat for dinner, but the nurse said the OB would be in soon so he decided to wait a bit.
The OB came in to check me at 5:35pm. He asked how I was doing. I mentioned I was starting to feel funny in my upper legs, like pressure. We were anxious to see how much progress I had made! The plan was for him to break my water too if it hadn't been broken already. I thought it had a leak but wasn't sure and the nurse didn't check for that since the contractions were coming so regular already. We were all SHOCKED to hear that I was complete! There was a tiny bit of lip, so he had me "labor down" for a little bit. The nurse started getting everything set up. He decided not to break my water, said it was fun to push past that or something?!? (Can't remember exactly what he said...it's been a month remember). He still had 3 more patients to see in the clinic so said he would be back soon.
About 10 minutes after he left I had this insane amount of pressure. I told the nurse I have to push now. It felt like the baby was going to fall out. I also felt my legs get really wet -- my water had broken. She paged him and he was there in a couple minutes.
I started pushing at 5:59pm. After the first push the OB and nurse were telling me they could see a full head of blonde hair. Ummm...what!?! After 2 more contractions and 9 minutes of pushing she was born at 6:08pm!! I remember telling Bill that was so weird. With Miles I pushed for 3 HOURS, was puking, had to use the vacuum thingy, - so for her to come that fast was just crazy! I didn't tear at all, but had 2 tiny "skid marks" (terrible term!). My recovery has been amazing.
Vivian Elisabeth
7lbs 10oz
20"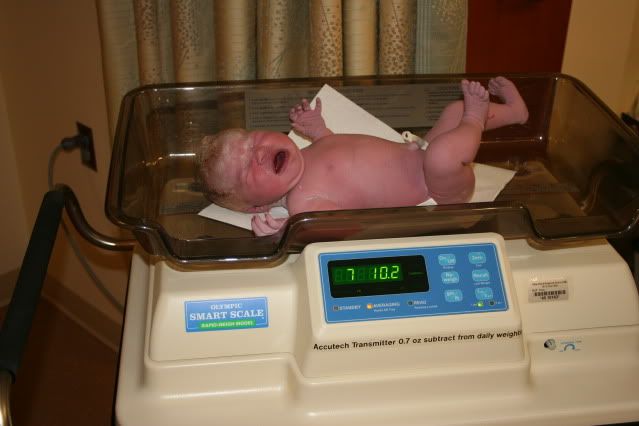 Here she is last week at 1 month old!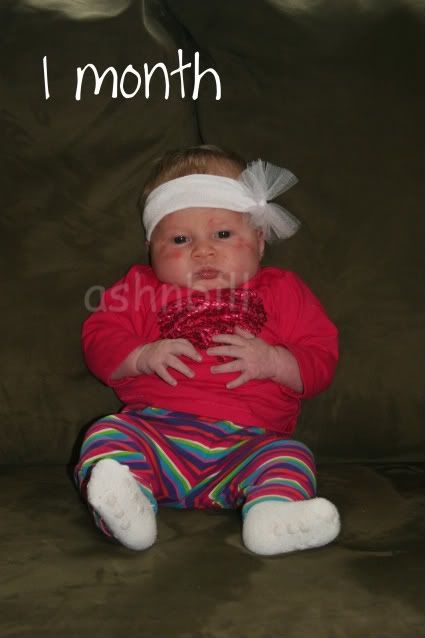 She is such a good baby! She only cries when she's hungry or if she has a burp hanging out in her. I hold her all the time...I'm probably creating a monster, but that's okay.
She smiles *all* the time when you talk to her. She's sleeping pretty good at night. Usually does a 4-5 hour stretch right away, and then is up every 3 hours or so but goes right back down easily. She's nursing great. We weighed her the other day and she weighed 10.8 lbs (with light clothes on). We love her so much already!