Well, I am so proud of all I accomplished over the last week! I cleaned our master bedroom, had DH help me rearrange the furniture (we had to consolidate 2 bookshelves in to 1 - books got packed away, and the bookshelves got moved), I installed a curtain rod and put up a curtain, set up the crib, put the bedding on, DH got a dresser out of storage, and in went baby's clothes!
Our master bedroom is now a bedroom, an office, and a nursery!
Here are some pictures of baby's little corner of our room. Behind the darker brown curtain behind the crib there is actually a door that leads outside to a balcony, but we never use the balcony. I put up the curtain to keep out the draft and the light.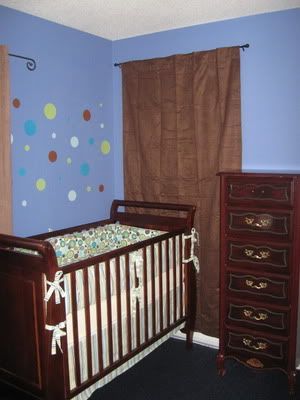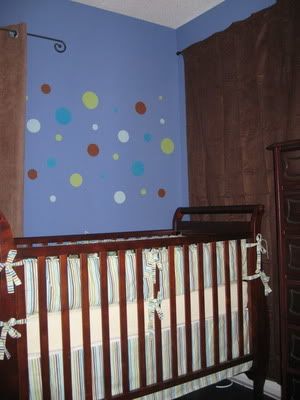 I was surprised to find that the bedding (which was handed down to me from SIL) matches a set of wall decals that used to be up in DS's room, which I saved!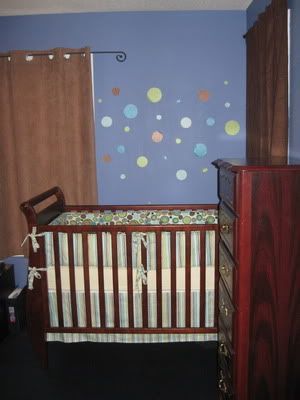 And here's a peek inside baby's dresser drawers! (The dresser used to be MIL's, but it actually matches the colour of the crib!)
Socks, shoes and hats

Receiving blankets and burp cloths

Onesies

Pants and tops

Sleepers!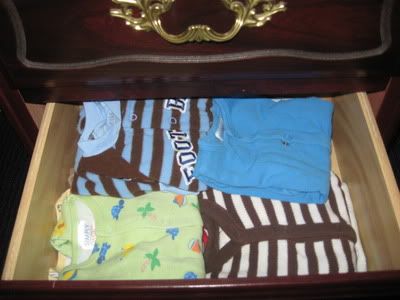 Thanks for looking, sorry so many pics! I'm just so excited to be nearly done!
All that is left is to get the rest of the house in order, make freezer meals, and move the carseats.