I can't believe Devin is a week and 2 days old! I am totally enjoying having a baby in the house again. Devin is such a good baby. Only fusses when he has a dirty diaper (it's cute how content he gets once he's changed!)
He's the most alert 1 week old I've ever met! His other 4 brothers are loving him up. I look at my family now and think, "My family is complete!"
Devin's umbilical cord fell off yesterday. I can't wait to give him a full bath! Breastfeeding is going well...maybe too well! The only "complaint" I have is engorgement. I probably could feed a small village with these boobs!
Here are some one week pics. I take a picture or two everyday just to see the rapid changes in him.
Here's a pic of Devin 20 hours old:
Some pics taken yestereday: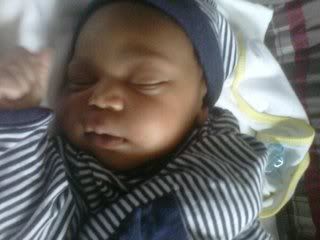 Devin loves kisses! He makes this face when I kiss his face and lips...LOL!