Hey Ladies! Sorry I've been MIA. I hope everyone is having a wonderful holiday! It's been a hectic but beautiful holiday so far with my family.
Devin is 5 weeks old now and is 10.6 lbs! Actually, that was when he was weighed a little over a week ago. He has to be close to 11 pounds now. He is a sweetie and I'm definately enjoying the holidays with a little one in the house!
As for me, I am happy to report I am back into my pre-pregnancy clothes! I've lost almost 30 lbs (only gained 20 during the pregnancy). My goal is to lose another 40 lbs and be a healthy, fit, and sexy mother of 5..LOL. I am not dieting or really exercising right now. I guess the breastfeeding is helping with the weight loss.
Breastfeeding is going well. Devin is going through a cluster feeding phase right now. He eats often during the day then not as much in the evenings. I pump about 12-14 oz everyday and freezing it for when I go back to work.
Here are a couple of pics of Devin: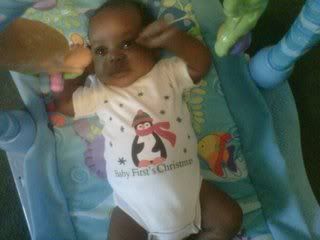 Happy Holidays, Everyone!