I posted this on the sleep thread, but last night I didnt get much sleep because of pain. Today I was still having trouble, and more painful contractions, so I called my OB. She had me come in and get monitored and checked. I was contracting, but she wasnt concerned since they werent that "big" and since my cervix was still good and closed. She also did a fetal fib test which came back negative... as well as a urine dip which also came back fine. I feel a lot better knowing that the fetal fib test was negative. This is just what my body does... prepares way early. And, the pain is just part of the 3rd trimester and having my 4th. My doc did say that I could try tylonal PM to help me sleep, but isnt ready to give me anything stronger yet. I also went to the chiropractor and got adjusted. Hoping that tonight will be better. It is a little after 6pm here and I am already ready for bed lol.
Tomorrow I go back in for the 1 hr GD test, as well as my 28 week growth ultrasound. Today wee dude looked great on the heart monitor. He even had the hick ups which DS1 (he went with me to my appt while the other 2 went to my grandparents house) thought was really funny. Even though all the tests so far look great, I am a bit nervous about the growth ultrasound. I am nervous about his amnio levels, as well as his growth/signs for OI. Not that OI is the worst thing in the world to have... I live with it and so does DD and many other people on my side... I just know for a boy to have it its more challenging given how big a role sports play in a boys academic experience
:update:
Appt went well yesterday. Got my blood drawn, and the results back this morning and I passed
Wee dude's amnio levels look good, so thats a sigh of relief. He dropped from the 70th percentile to the 30-40th, but thats not unusual for my babies. It seems like they grow as fast as they can and then slow down when they start to run out of room. His femurs went from a week or less behind to 2.5 weeks behind, with some slight bowing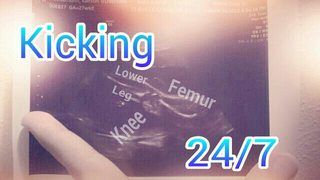 Not as bowed as DD's were at this point, but they are further behind than hers were. He is head down, and was facing up... making it hard for the doctor to measure it at first. He did eventually shift enough for her to get some measurements though
His little butt is right up near my ribs, and he kept moving his legs not wanting to let us double check the goods... he did eventually cooperate and there is no doubt about it, he is still a boy lol. He is measured to be about 2lbs 3oz right now.
At the end of the scan, while checking the amnio pockets, the doctor got this shot of wee dude's hand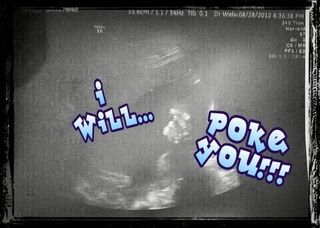 I think he felt that since she was poking at him, that he would poke her back lol