Hi ladies, been kind of MIA. Sorry! Have been doing so much with my grandmother lately Ican only get on here to read a few posts. Life needs to slow down for me!
Anyway today I had my check up. I usually see a NP, but today met the Doctor who is going to be doing the c section ( if she is working that day she said :S) Anyway, Baby's birthday will be Oct. 25 ( If all goes well and I make it to then, DD came almost a month early) All is well, she said I may have some complications from the adhesions and the story I told her of what happened with DD. But nothing they can't handle. She also had me sign the tubal ligation paper. I wasn't 100% but she assured me I can change my mind even as they are cutting me open. I am done with babies after this but it does just seems so permanent. Because of the placenta previa I am having an u/s next friday. I'm up 22 lbs and she says weight is great even though I feel like a house! Last week I had a 3d u/s and he cooperated so well they asked us to go back today for a free u/s and for training. Couldn't say no. So thought I'd share the pics
Last week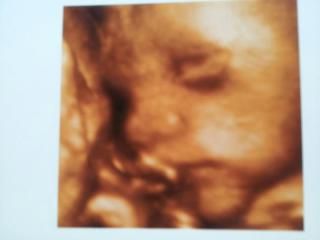 and a little smile!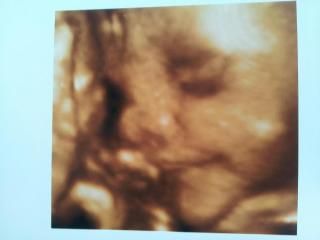 And today, he has his hand under his chin, and hisother hand on his face and you can see his footsie!