I am a HUGE FAN of Halloween! I dress up every year and I just think it is truly the most fun. Last year I took my 6 year old niece trick-or-treating and I was dressed as a Ninja Turtle, well, the people at the doors thought I was a kid and started giving me candy too, LOL -- so much fun, I regressed to my childhood...
Well, anyway - this year, I do not plan on dressing up. I think it's a lot of money to spend on a costume that I am not even sure I will be up for wearing (or ever wearing again, I collect and recycle my costumes).
SO my point being is I found this ADORABLE maternity T-shirt that I am going to order and wear throughout October and on Halloween (in case I am up to walking around and trick or treating with my niece again) even if I don't do that I'll be sitting outside and handing out candy to the local kiddies... so here is the shirt: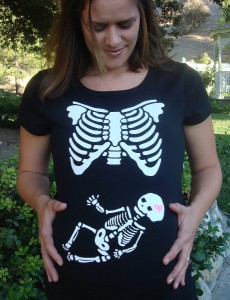 My biggest issue is whether to order a small or a medium... they are saying to order according to your size (4/6-small, 8/10 medium) to what you were prior to pregnancy - I'd be the small (plus all my maternity shirts are smalls) and they say there is extra length to grow with you... my biggest problem is they say there is a "no return policy", so I don't know if I'd just be safer getting the medium - any suggestions?
Here is the website:
Skeleton xray baby maternity shirt pregnancy halloween | eBay
I think it's so cute that if you're having a girl you can choose to have a bow on her head, and she has little eyelashes, LOL...