I posted about this under the check in.
They decided to keep him another night. They wanted to wait for the cultures to come back and for the sensitivity tests... aka what kills the bacteria. They said that if they sent him home earilier it would just be a guess as to which antibiotic to send him home on. So, here we sit. His eye seems to be getting better, hes actually working on opening his eye. We just talked to the doc and it sounds like nothing is growing with the cultures, but he is responding to the antibiotics they have been using. SO, if everything still looks good tomorrow, and he continues to make improvements, they will send him home on the stuff they have him on now and continue to run the tests and see. We will need to follow up with his doctor, probably on friday.
Thankfully my sister and her husband are able to help with the middles tomorrow. They are actually spending the night at their house so that DH can still get Ds1 to school and then to work on time. If I cant get out of here by the time that Ds1 is done with school then DH will cut out of work early and work late the rest of the week to make up the hours. I had origionally planned on leaving Kellen here for a little bit if I needed to to go get Ds1 from school... it made me nervous, but DH doesnt have any more paid time off and we cant afford for him to miss work un paid. I didnt say anything to him about not wanting to leave Kellen, but he said that HE didnt want me to... that it made him nervous, and he thought that I should be at the hospital.
any who. Kellen continues to be a champion nurser, and hates the iv in his hand and his whole arm having to be imobalized to keep it from shifting
yesterday before going to uc


after being admitted


this morning


late morning... finally opening a bit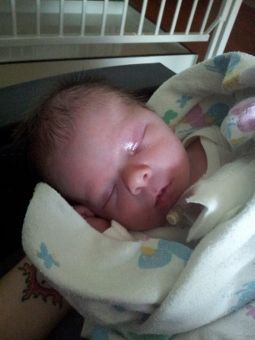 this afternoon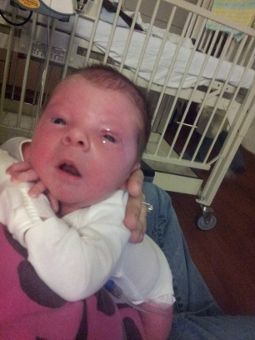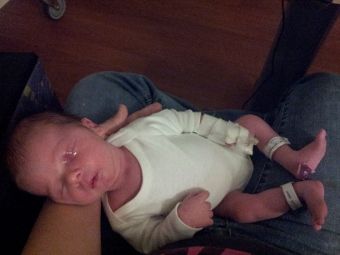 big brother visiting