Here's all the details. I didn't want everything out if Facebook land
Let's just say while I feel great I don't think I'd want to walk into L&D at 10 cm ever again.
Irelyn Grace
May 9, 2011
7lbs. 12 ozs.
19.5 in.
Monday morning I woke up feeling sore all over as usual. Within an hour or two I noticed that I was having menstrual-like cramps in my back. After a while my belly was getting tight with them and my hips sore. I timed them for a bit and there was no pattern and they were all over the place so I figured they were probably nothing. I did take it easy for the rest of the morning and didn't go on the cleaning frenzy I had planned on since it was my first day of maternity leave. DH needed to run an errand himself and take MIL on an errand shortly after lunch and while I hesitated saying yes we were good I figured nah...this isn't it anyway. He sent me a text at 1:50pm asking how I was since we was about to pick up his mom. I told him I was fine but if they kept up or got stronger we may want to go in. I called him about 20 minutes later and told him to come home now we needed to go in. I called my mom and said to come on down to stay with DS. They both got to our house right before 3pm. As soon as DH walked in I said grab our bags on the bed let's go. The contractions were coming close and were really painful. We got to the hospital about 3:15pm and up to L&D at about 3:25pm. Once we walked into L&D another contraction hit and I heard the nurses say uh-oh and they came around the corner to usher me into a room and have DH give them my information.
I was supposed to go in room 12 but once I couldn't walk through a contraction the nurse took me to the first available room (she didn't want me scaring other patients since I was getting pretty vocal). She was calling for the delivery cart and handing me a gown. I told her I wanted to sit on the toilet since it was the most comfortable. She said don't sit for too long we don't want the baby born in the toilet. I really didn't think I was more than 7cm (if even that). While sitting there I stripped and got the gown on. She later told me wow you got changed fast. I climbed on the bed and one of my doctor's came rushing in. They were trying to page his attending and he said he already texted her. Luckily they were already on the floor with another patient. He quickly checked me and said I was complete. Then even more chaos began - the bed was getting broken down, he was throwing his labor gear on, the attending came in. Then my nurse said she's pushing I said wasn't on purpose I couldn't help it. My body had decided to take over. They told to just let my body take over at that point. I started pushing and my water broke everywhere. The nurses, attending, and my doctor started yelling for peds since there was meconium. From their reaction DH thinks it was quite a bit (I was pretty out of it). They told me to try to hold off until they could get there. The attending told him to make sure I was still complete after my water breaking. I think he had trouble checking since her head was right there. Then I started pushing again and there were more people in the room (so I assume peds made it). By then I couldn't even tell when I was having a contraction so I just pushed. Irelyn was born at 3:42pm.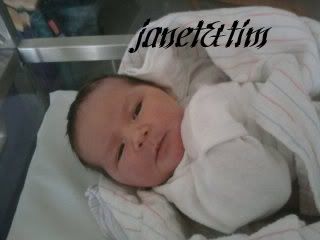 I did end up with a 2nd degree tear which is healing wonderfully. Even though they numbed me before stitching me up I would have much rather had an epidural in place for the clean up. It really hurt as they were looking for any other tears. Compared to my recovery with DS this time is a cake walk. I think not having to push for 2.5 hours is the key. She has a perfect shaped head since she came so fast. We came home this afternoon. They offered to let us out Tuesday evening but it would have been late in the evening. Nursing is going well but I'm starting to get a little sore. My milk came in last night and I'm already starting to feel the engorgement now.