Well here we are at 27 weeks! I had a really horrendous night, I think I had about three hours of sleep the pain was so bad. I truly feel like I have a broken pelvis and cried most of the night... the SPD is getting unmanageable. Chris ended up forcing me to take a tylenol around 3am and I slept for a bit. I can't believe how bad the pain is getting, my pubic bone is just throbbing and stinging constantly... sometimes I even have lightening like flash pain. Every time I turn or move or get up it feels like I'm being knifed or cut down there. This is DEFINATELY the last baby ever coming out of me!! My other pregnancies were a breeze, I never knew you could be this miserable physically but I guess my body is failing me now. I've never experienced chronic pain before and now I see how much it affects you... not only physically but mentally... I'm doing less and less and we think in a few more weeks I won't even be able to do the meals or drive anymore. Chris does all the cleaning now and major chores, I feel so helpless :(:( I walk so horribly slow and every step is serious serious pain, I don't know how I'm going to go three more months. The doctor said I really have to stay immobile or they are going to hospitilize me, the thought of being in the hospital away from my kids would be totally devastating!!
It's nice to know though that this baby will be here before the corn is harvested!! I can't believe how big I am already, I look the same size as I did with Clara at 40 weeks in this picture! The OB said I'm measuring 2 weeks ahead but still, I'm so swollen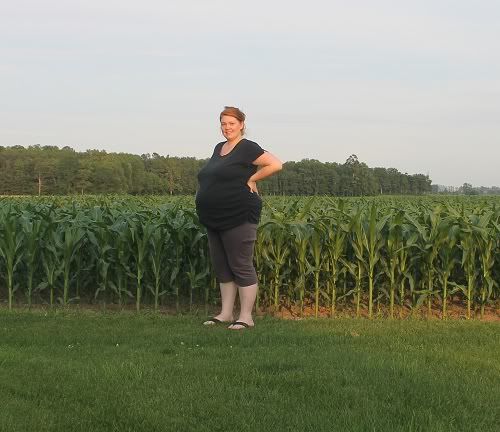 I uploaded a few pictures of my garden here... https://www.facebook.com/media/set/?set=a.10150353083775037.607507.903555036&l=aa714e3195 It sucks that I really can't take care of it anymore and Chris has to do everything. *sigh* I'm trying hard to focus on the fact that I have to let things go so we have a healthy baby but staying put down is soooo hard.