My appt went well. I still can't believe I'm going every week now. No GBS for me since I'm a Csect. I declined internals since I don't really need them. Ethan sounded great. I'm measuring "perfect". No protein in my urine. BP 118/76 & no weight gain over the last week... still +23 lbs for the pregnancy.
I'm starting to swell. I had to stop wearing my rings Sat because they were getting uncomfortable. I also discussed having possible "floaters" in my eye. I keep seeing things that aren't there. I thought maybe my contacts were dirty but that didn't fix the problem. OB said to let her know if it got any worse.
I'm also breathing easier. It feels like Ethan has dropped some. OB said he is definitely head down. I don't think I look lower but maybe a different shape. Either way, whereever he moved to, it feels better.
34 weeks 1 day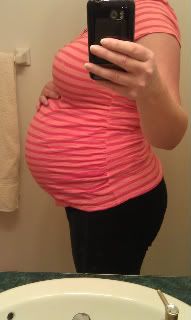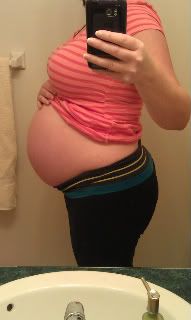 35 weeks 1 day