Pretty basic appt... Ethan sounded great! No protein in my urine. BP 124/70. +2 lbs this past week for a total of +25 lbs for the pregnancy.
I saw a different OB this time. He said the spots/floaters that I've been seeing could be anemia related. He didn't mention doing another test for anemia though. He also mentioned that I may need to take it easy... as in no more shopping trips to any store... yeah, right.
I had to pee in the cup twice. They thought maybe it was a UTI but wanted to double check the results to make sure it was a clean test. My retest was fine... soooo... ??? They said it had happened to a few moms recently.
Here's my belly shots for the week...
34 weeks 1 day (2 weeks ago... same outfit AND only 2 lbs different)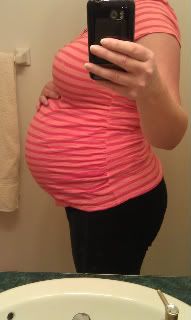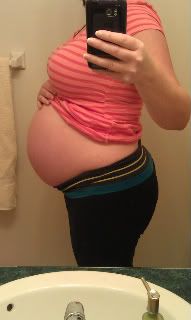 36 weeks 1 day