I have been mia for a week, we had some work done in our home and there was too much saw dust to have the laptop out.
All is going amazing! we had to reschedule our ultrasound and they gave us an Easter appointment! talk about a wonderful Easter gift!!
Our little baby is growing beautifully, so so cute! The baby was sucking its thumb during the exam, as seen in the pic below. Dh and I took the kids in with us, they loved it! I had tears in my eyes the whole time. I am in love. It made it so much more real for dh, he was talking about the baby all day
I also had a prenatal appt last wendesday with the group who will deliver, thy listened to the heartbeat, checked weight and bp and urine. little protein in urine but she said just to drink more fluids, still no weight gain, and bp was perfect!
she prescribed me a new prenatal, so far so good!
my knee has healed great! I feel so good lately, so much energy. Emotions have been running wild, we saw African Cats and I wanted to cry through the whole movie! the sight of a baby has been weeping, lol! gotta love the hormones.
We bought a few more baby items as well, case of diapers and wipes and 2 white onesies.
sucking thumb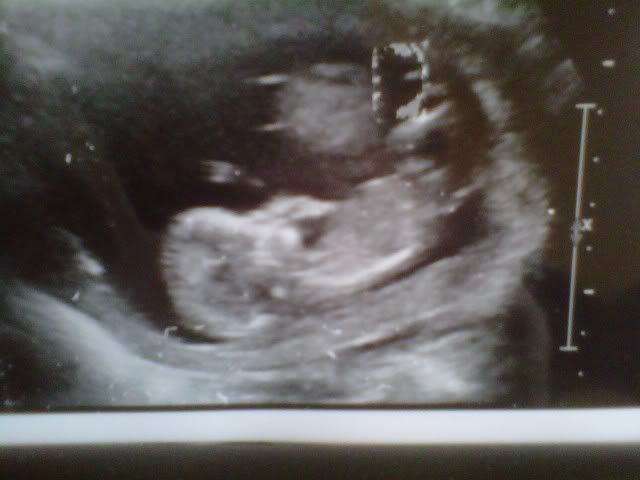 different view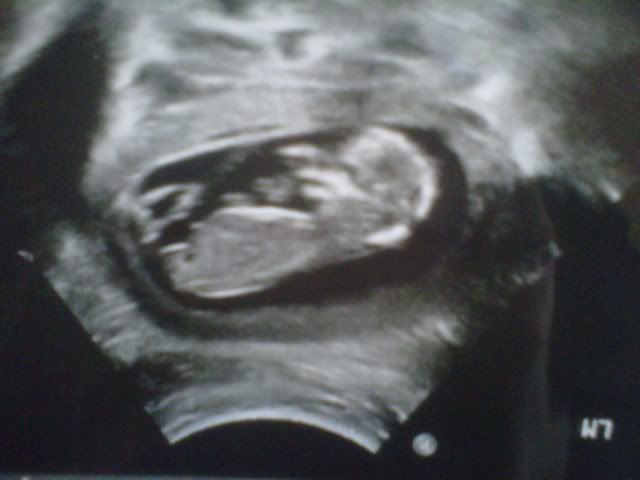 part of me still thinks its twins, I swear in pic one you can see a head by the legs, LOL