I had a great detailed U/S today. I already knew the gender so it wasn't quite as exciting in that aspect. Ethan looked perfectly healthy (151 bpm).
I no longer have previa. The placenta has moved away from the cervix to the anterior side. I kind of figured that since I wasn't really feeling many kicks. Ethan is breech which explains the vibrating cervix feeling I've had several times. Also, explains why all the kicks I do feel are super low.
I finally gained some weight. So, I'm +8 lbs for the pregnancy. Glucose test next time. Mmmm... gross orange drink.
Here are a few pics. Sorry they are a bit dark. I snapped a pic of the pic with my phone.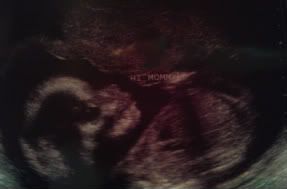 This one looks like he's playing peek-a-boo...

Is it just me or do the legs look long?