So... if you are a facebook friend of mine, you may have noticed that I 'had it out' with Best Buy over my netbook warranty plan the day before my appt. The short story of what is now referred to as...
The Best Buy Incident
I needed work done on my netbook. The exp date for the coverage was 08.29.11 so I went on 08.29.11 to get it checked out. (I wasn't procrastinating... I just happened to have a problem the day before). After getting all the paperwork filled out, the Best Buy computer system told the associate that I wasn't covered on 08.29.11 because the coverage ended at midnight... making the last day of coverage 08.28.11. :censored: I should also mention that not one Best Buy employee knew that was how the warranty worked. :arguing: After 3 hours of arguing & subsquently creating a scene... the store mgr comes out, takes 2 min & poof... it was fixed. I'm now covered & my computer was sent off to be fixed. :violent2:
So... when I left the store (3 hours later), I was cramping pretty bad & my blood pressure had to be sky high. My 34 week appt is the next day on 08.30.11...
My 34 week Appt
- My BP was 126/80 (not high but mine is usually 110/70 so a bit high)
- I gained 4 lbs in 2 weeks. :eek: Making my total for the pg +23 lbs.
- No protein in my urine. I'm swollen for the first time though (probably from 3 hours of standing)
- Baby sounded great (130s bpm)
- Measured exactly 34 weeks... Now here's the interesting part... I measured 34 weeks at my last appt 2 weeks ago (I was seen by a different dr... not my normal OB). She said that she thought the measurement last time had to be wrong. What does that mean????
I mentioned that ever since yesterday the baby's movements felt different. Everything felt more exagerrated & hurt. I also mentioned the Best Buy Incident. The OB felt like I was fine. I can't help but wonder in the back of my mind if I'm leaking fluid. I'm always wet down there but between (TMI) sweat & discharge... I don't know how I would notice a small leak... if that's even possible.
Here's my comparison pics from today & last week...
34 weeks 1 day.......................33 weeks 1 day.......................30 weeks 1 day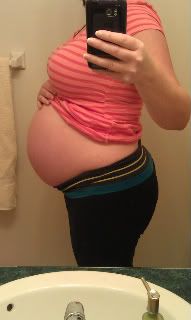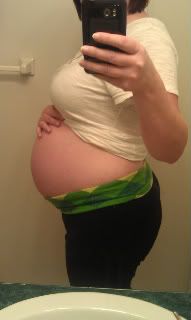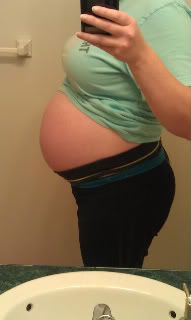 I'm wearing different pants but they are the same style & size... I think my belly looks bigger... what do you think?