Not sure if these comments are compliments or mean? he he he
First, my sons doc asked when I was due, I said October, and he looked at me and said "twins'?
am I that big?
then I was at my doctor yesterday and this young man asked how far along I was, and then said "its a girl, I can tell"
Dont they say with girls your gaining weight all over? rude!
Anyway, this is week 25 belly pic. I look bigger since baby is sitting very high, but I dont think i look like im having twins!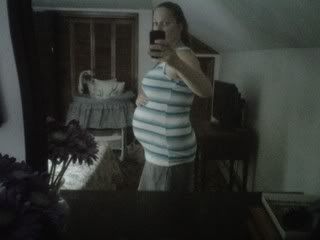 and 24 weeks for comparison (I think im lower here)