Teagan's 6 month appointment was this morning. I still cannot believe I have a 6 month old! She had a fever last night so her well baby appointment was also a sick baby appointment. Turns out she has a double ear infection, poor Monkey. Our doc gave us a script for antibiotics so we can kick this thing in the butt. We went ahead and did her shots today as he said her being sick wasn't going to be a problem. I figured she was going to be fussy. Why not just get it over with. She screamed her little head off like she always does but over came it quickly. She weighed in at 19.5 lbs (90th%), measured 26.75 inches (75th%), and her noggin' is 17.75 inches (97th%). All right on her curve. She's been slowly sinking from the 99th% on all fronts but we're obviously not worried because I'm fairly certain she won't be 7 feet tall and weigh 300 lbs when she's grown ;). My doc asked if she was sitting and babbling. Yeppers, good. He asked if she was texting yet. Nope, well maybe she's delayed :rolleyes:. I asked about the connection between teething and fever (as it makes no sense to me) and he said it's just something docs tell parents so they won't demand antibiotics every time their kid gets a fever. That's why I love our doc.
Here are a few pics from her first "camping" trip this weekend! My Dad just got an RV so we joined him out at Rockhound State Park in New Mexico. It's not exactly my kind of camping but we had a blast nonetheless and having the RV made it super easy with Teagan. She slept really well the whole weekend but screamed for 2 hours on the way there. I think our next trip will have to be closer.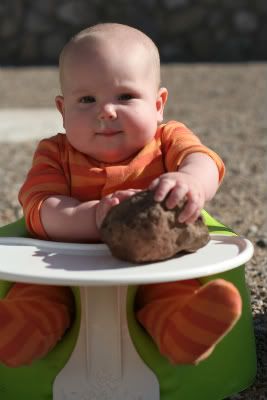 Our little rockhound. Daddy apparently doesn't think she needs her nose wiped for picture time.

Thanks for the pool Grandpa! (It actually has a NO DIVING warning on it :rolleyes:)

Mommy's camping hair is awesome.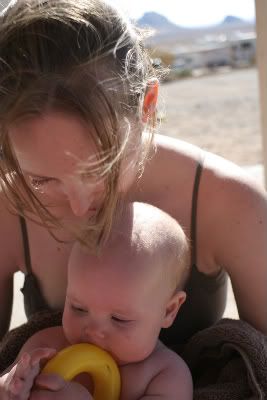 Snuggling in the sun.