Teagan will be 7 months on Monday! I know, I don't believe it either :eek:. Anyway, since tomorrow is Easter and Monday is ... well ... a Monday, I thought I'd update today. Grad school finally caught up with me so I haven't been able to do much other than lurk and post occasionally. I'd like to think it'll get easier after finals but that would be an awful awful lie. Busy as I am though, I'm loving it.
Teagan is on the verge of becoming a tiny little terror. She's started to pull up on things even though she isn't really crawling. She scoots backwards around the house and spins around to grab everything in sight. It's not a very efficient method of transportation but it gets her into enough trouble. I swear, if we had carpet she'd be crawling like a maniac. Our hardwood and tile are slippery thus making it difficult for her to get her knees up under her. That won't last long. Try as I might to keep her immobile, I give it three weeks before she's hands and knees crawling. Yeah, I'll be baby proofing this weekend.
The little stinker is FINALLY taking a bottle. I don't know what kind of magic the ladies at daycare are performing but she now takes a bottle every day without much effort. She's doing so well at daycare that we've decided to switch her from 4-5 hour days to 6-7 hour days starting in July. DH and I will have our evenings together once again! It'll be better for everyone as we'll be able to keep a more consistent schedule day to day.
She's babbling like crazy. All day long it's Dadadadada Blablablabla Gagagagagaga. No mamas yet. I think she realizes how much that drives me crazy. She's also starting to actually enjoy her solids. She's up to eating at least 2 oz at lunch time and she grazes at breakfast and dinner. Popping her into the high chair and throwing her something is a great way to get cooking done. I'd put her on the floor in the kitchen but she somehow manages to get into the dog water every time. She can't even crawl! How does she do it?! It's like the dog dish is a baby magnet. Ew.
Anyway, that's what we've been up to! I'll wrap this up with a montage I like to call ....
Trouble with a capital T. Tesla
Hey, mom! I'd like to demonstrate why it's a good thing you lowered the crib last weekend!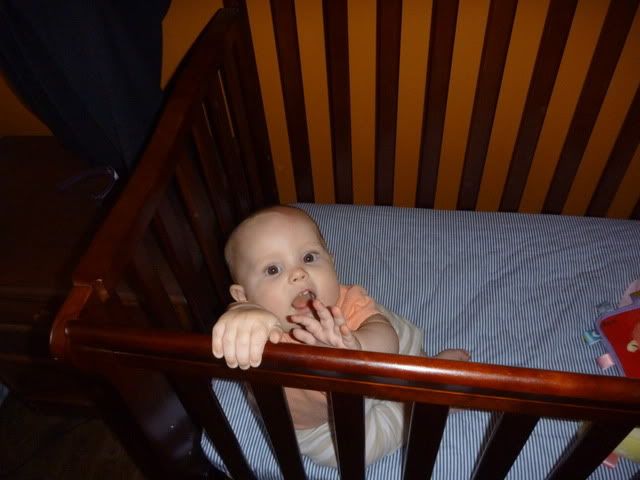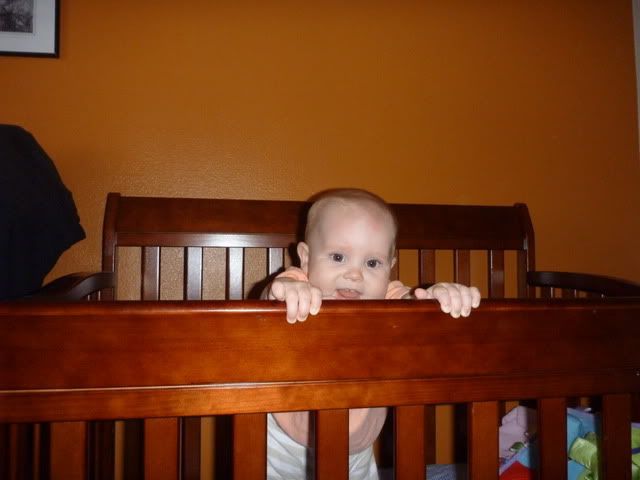 Tada! Next up, figure out how to scale the bookshelves!

The little eeeef oooof noises she makes while trying to do this is HILARIOUS!