Hello - I was suppose to post this at the end of October. The pics are from that time frame, but I just finally got them all downloaded. Hope you enjoy!
Good morning! It's a Saturday and I get to spend the day with my sister and mom. (Dad is working.) I get to sleep in on the weekends. It gives my mom a chance to get a few things done. And no, she doesn't get to sleep in because my big sister is up by 7:00 am.

This Saturday we head out right away after breakfast to my sister's swimming lesson.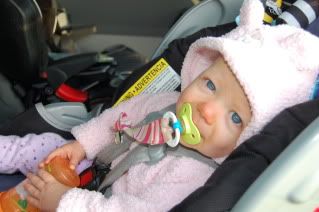 I still ride in my baby car seat. I fit and my mom likes how it keeps me contained. Evidently she doesn't want me crawling around the pool deck.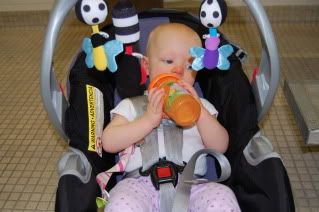 Here is my view of my sister swimming. She isn't really loving the lessons, but she tolerates them.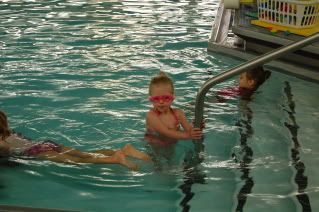 We are home now and if I was at daycare I would be taking a morning nap. But since I slept in today and then took a cat nap on the way home, I'll be skipping my morning nap.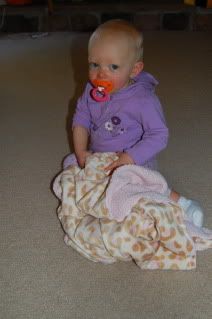 I am feeling a little tired and snuggly though.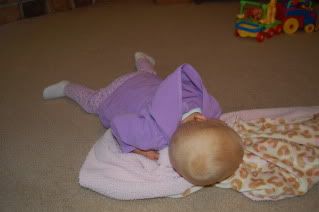 Lunch time! Turkey, cheese, and peas. I like anything I can feed myself.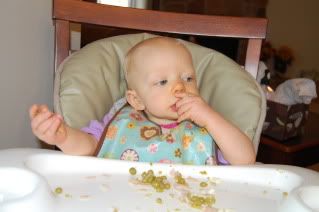 After lunch today, mom takes us to a craft show. She's on the hunt for some creative birthday presents for some of her girlfriends. Of course, she can't help but find something for herself.
Playing in my walker for a bit when we get home. I'm doing a lot of chewing today. You would think I would have more than two teeth with all the chewing I do.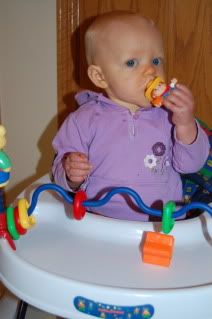 Here I am after my afternoon nap. My sister usually comes charging up to my room to greet me when I wake up. My mom finds it helpful that my sister can entertain me for a few minutes until she can come get me out.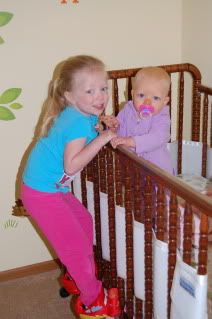 It's early evening and my mom is cooking supper. I play around the family room and I, of course, love to grab things that are not meant for me like this remote. We're listening to some Led Zeppelin on t.v.. My parents seems to dig their music.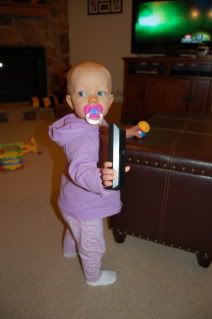 Dinner time! Tuna casserole. It tastes better than it looks, trust me.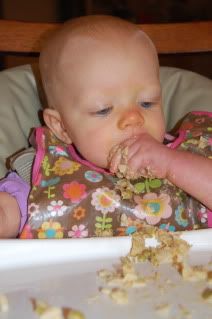 Me and my sister playing right in the kitchen while mom and dad clean up after dinner. That's our dog Lola in the picture too. I chased after her a lot when I first started crawling. Now that the thrill has gone, I pretty much leave her alone.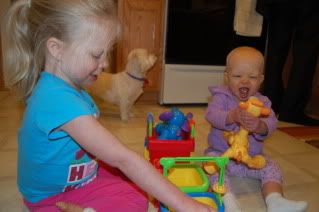 Bath time. Now I am chewing on a duck. And yes, mom still has me in the little baby tub. I won't take a bath with my sister because the big tub is so big and scary.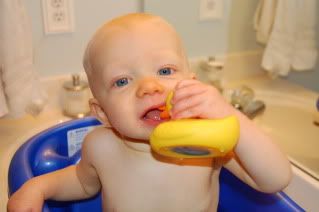 Before bed, my dad reads books to my sister, and I play in her room. Someday I'll sit still and listen. It's mom's chance to get ready for bed and have a few moments of peace before she nurses me before bed. Good night!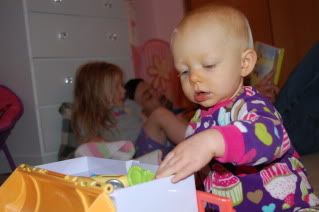 Thanks for checking out my day!