Good Morning! It's 8am and I am up for the day. I actually woke up an hour ago, but fell back asleep after mommy fed me. This gave her a chance to have her breakfast and coffee without having to entertain me at the same time.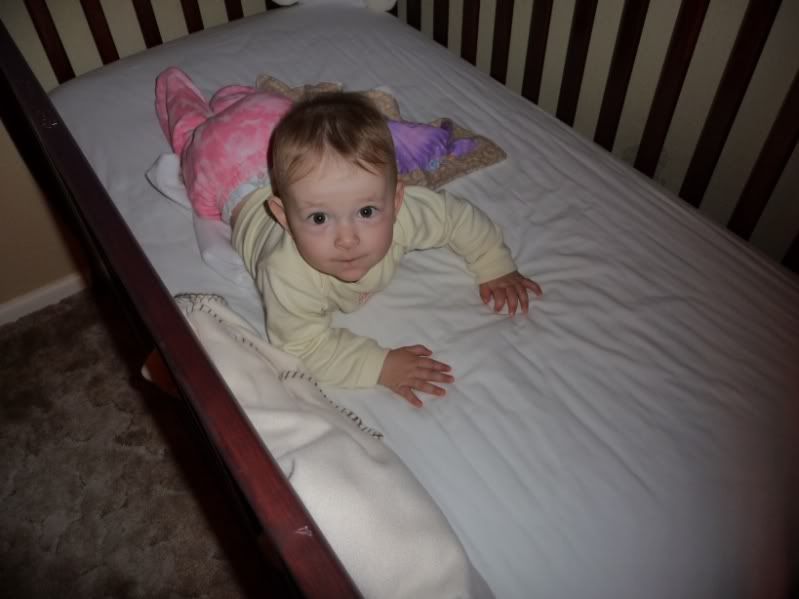 Mommy scooped me up and got my diaper changed. She always gives me a toy to play with so I won't try to roll over and escape.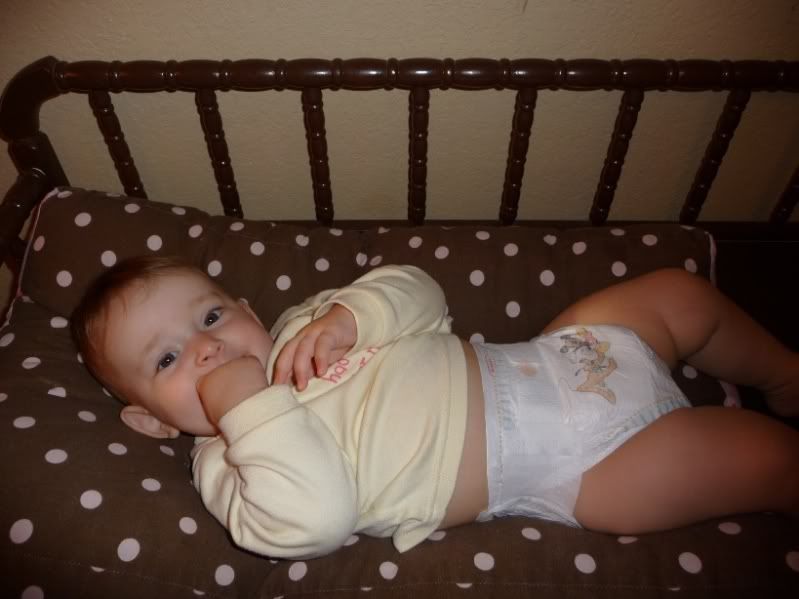 Here's my outfit for the day

Mommy took me to play on the floor in the den. Almost all my toys are in here.

I decided to scoot over to daddy's computer desk and see what kind of trouble I can get into

Daddy is off on Fridays so he was home today. He found me trying to attack his amplifier and picked me up.

He put back by mommy, but she keeps flashing lights at me with this thing. I tried to take it away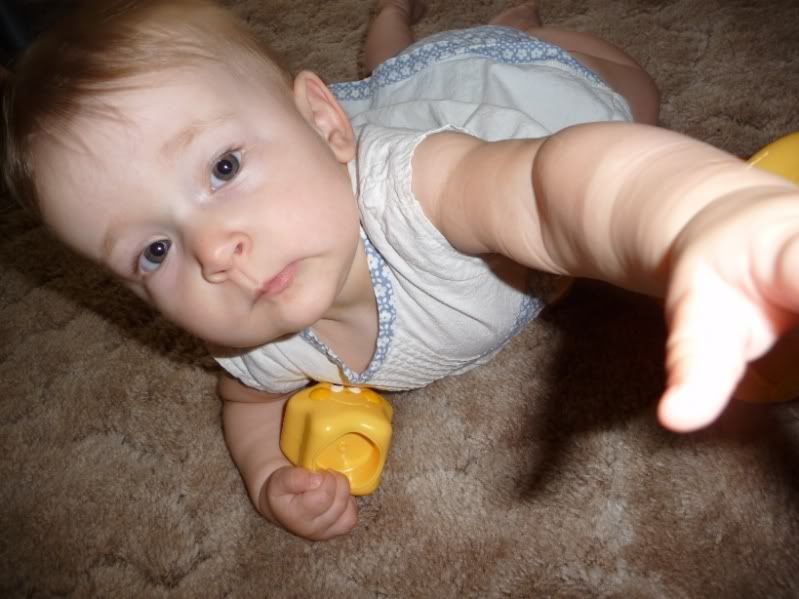 Showing off my true crawling, but scooting is much faster right now so I mostly stick with that.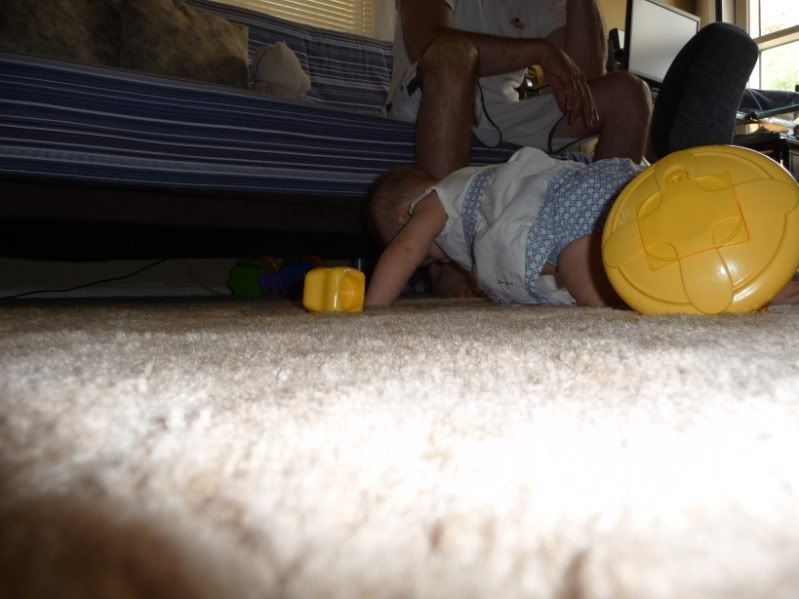 Mommy makes me take this medicine every day

Hehe I took the medicine syringe away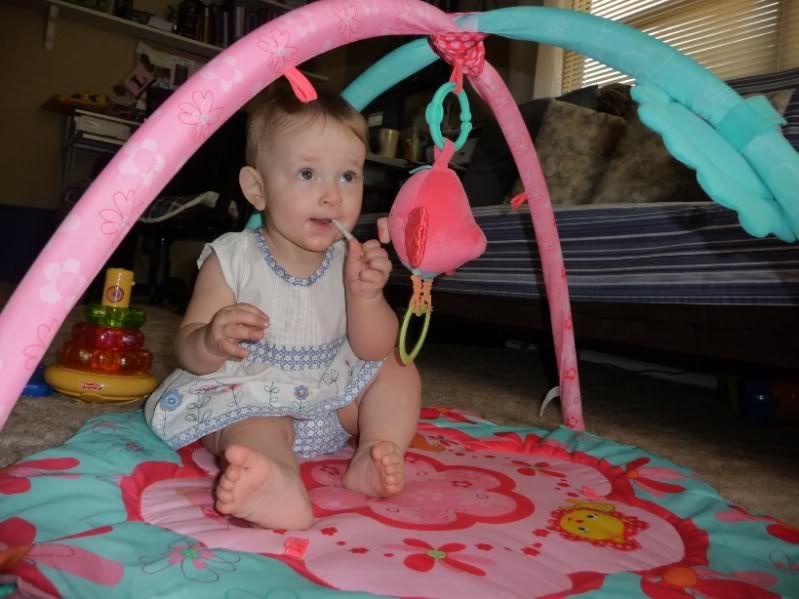 Daddy plays guitar and sings to me. I love it when he does that.

Wow, it's been a whole 2 hours since I ate at 7am, I'm so hungry. . . and just a bit sleepy

Mom changed my diaper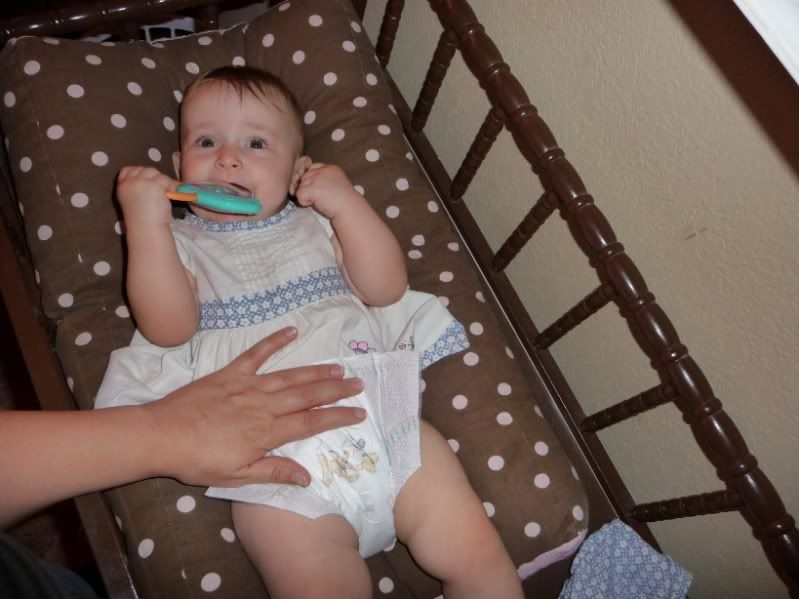 I fell asleep, so mom got on the computer

Well, my 10 minute nap is over! I'm awake again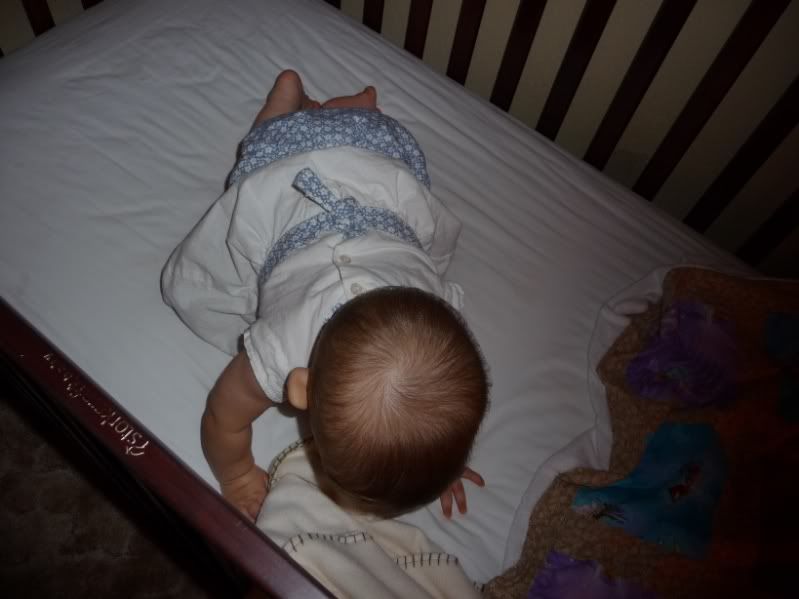 We decided to go see what daddy was up to outside

My puppies were out there too. Buddy always runs away from me. Look at daddy's shoe. Mom said that when those were new, Buddy was just a puppy and he chewed them all up. But mommy is crafty and patched them back up. Now mommy and daddy call them the 'Frankenflops'.

I pooped so mom took me back inside for a diaper change

All done!

Daddy was back inside and clipping his toenails, I decided to help him

Mommy was afraid I might get yucky toenail shrapnel in my eyes so she took me over to my table.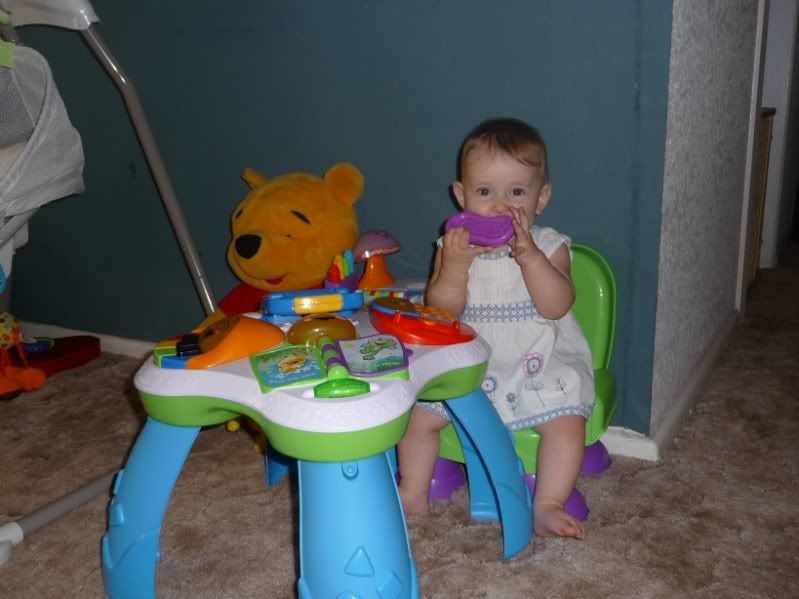 It's a lot of fun

Some day I'm gonna figure out how to get on top of this thing!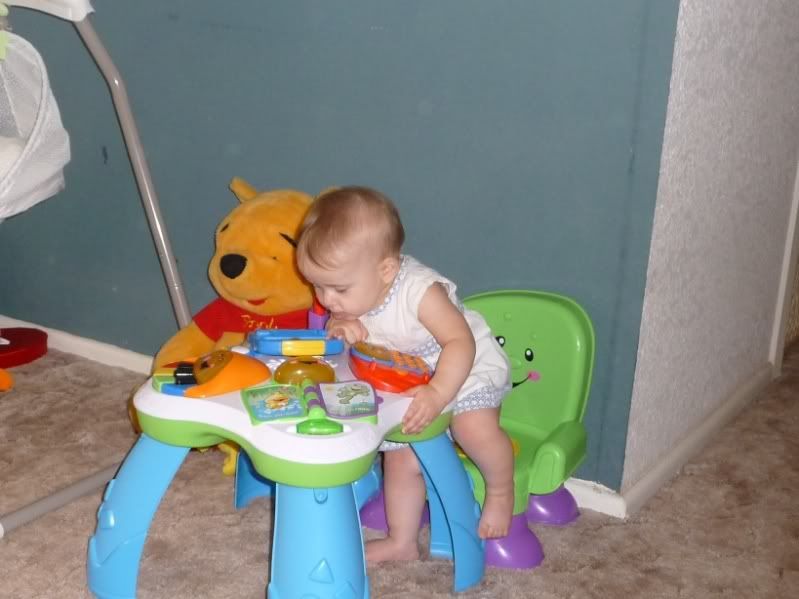 I decided to cruise for the first time today, since mommy was being so diligent with the pictures

After a little bit I got really tired and hungry, so mommy fed me

Nap time!

I decided to be nice to mommy and nap for a whole hour, but now I'm awake and ready for more action.

Mommy and daddy have some errands to run, so here we go.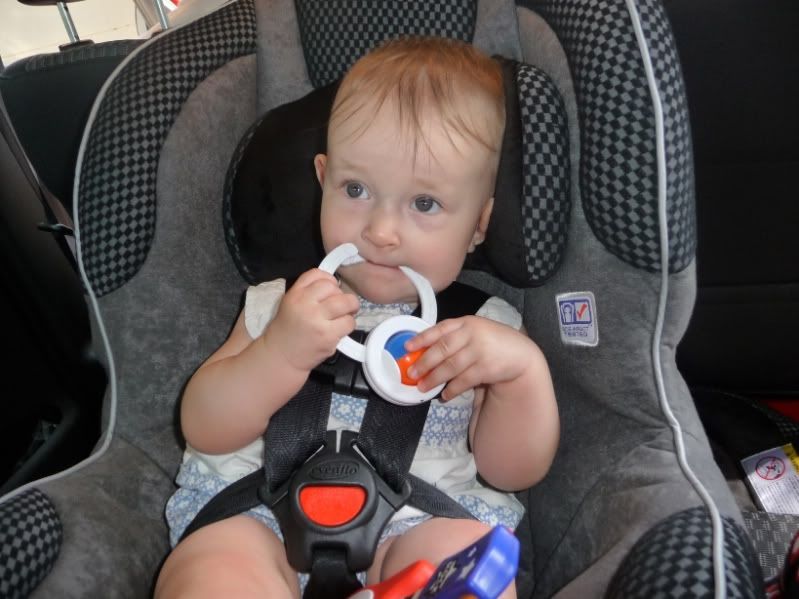 We went to a pizza buffet

Mommy let me nibble on her dessert pizza a little bit

Then we went to Academy for new boat seats. Mommy let me keep the straw from her drink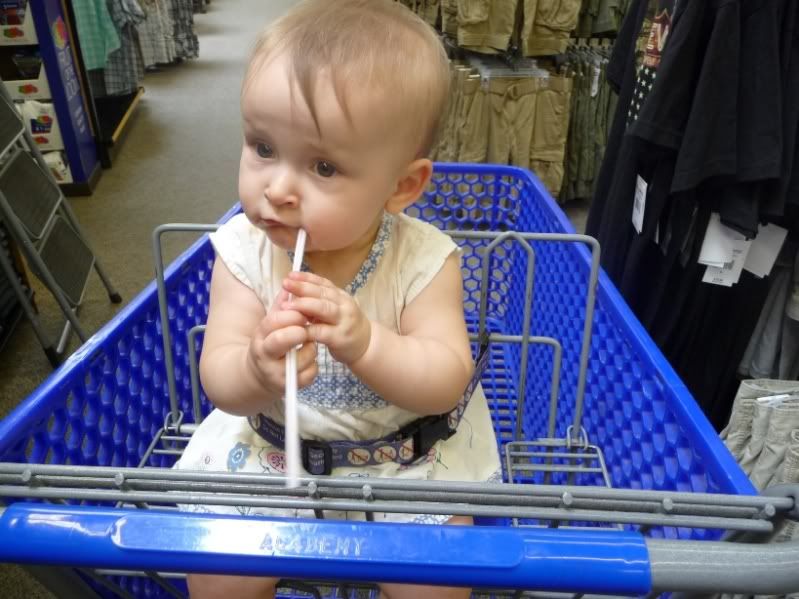 We tried on some hats.

Mommy decided to take me home because I was getting cranky and she figured I might be sleepy. She lost the camera for a while (and completely panicked), but I had a snack before I fell asleep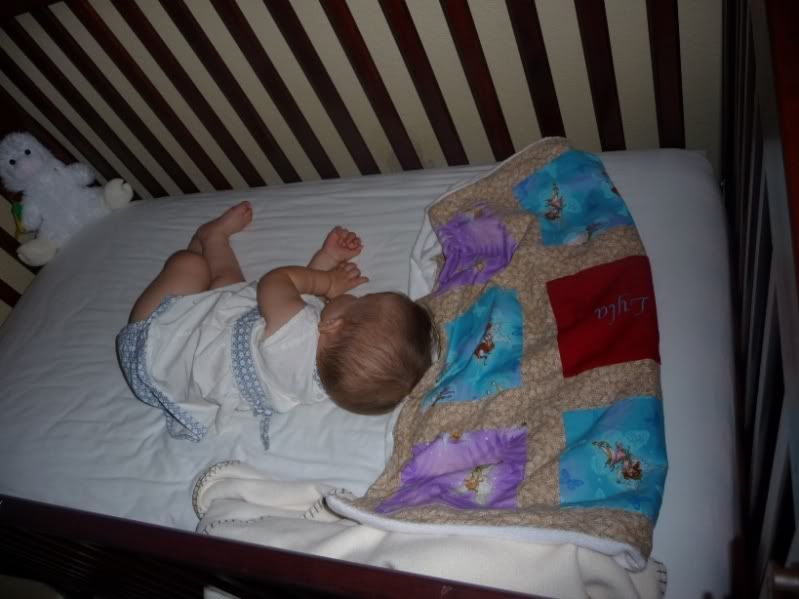 30 minutes later and I am up! All napped and fresh!

I get another diaper change now

And mommy changed my outfit because my dress has stains on it already. Mommy always wonders how I manage that.

Look how cute I am! I happen to be pooping right as this picture was taken! I'm just that good!
So mommy changed my diaper again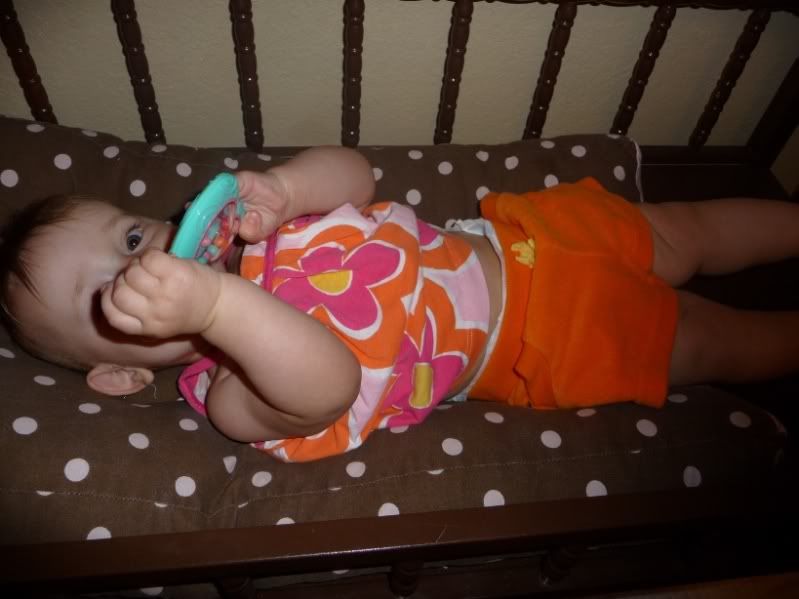 Then we went back to see what daddy was up to now.

He put be down, so I went right over to see if I could get his custom guitar and play with it. He caught me though.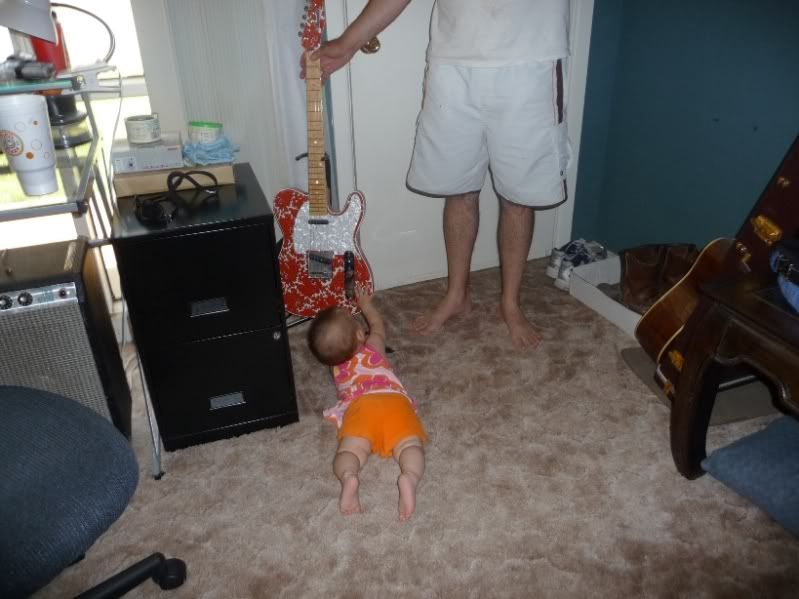 So I went back to mommy and just attacked her leg for a while.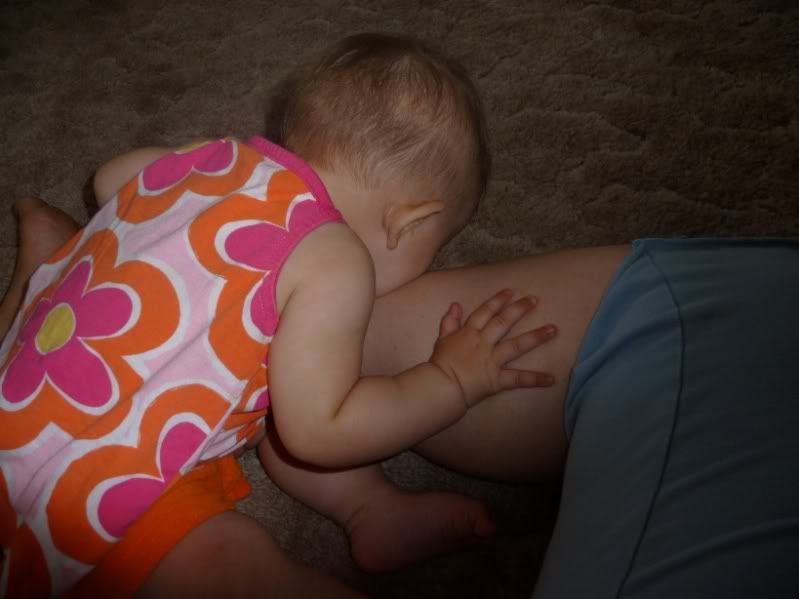 Then I went back to daddy again.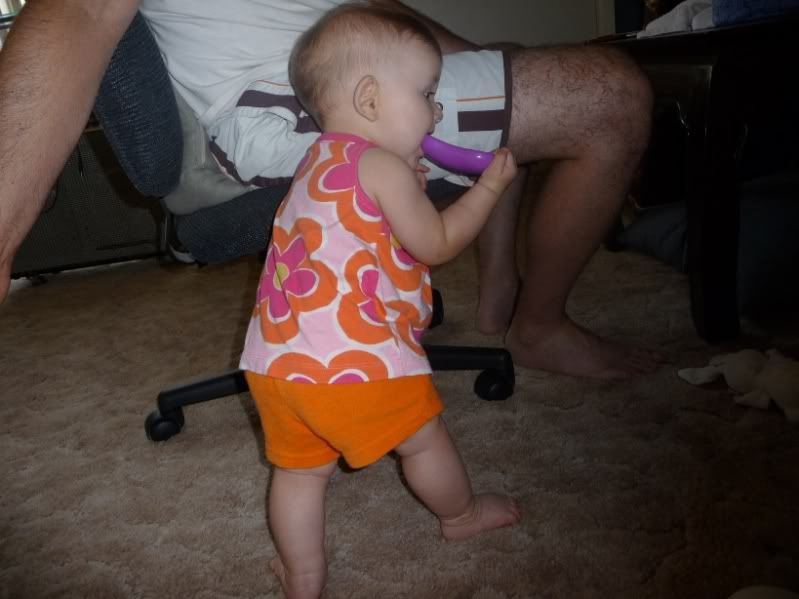 I got moved to the kitchen/living area and decided to chase daddy around in the kitchen.

And then I chased the dogs, really it was just Sissy because Buddy was hiding outside. And it was even 107* out there!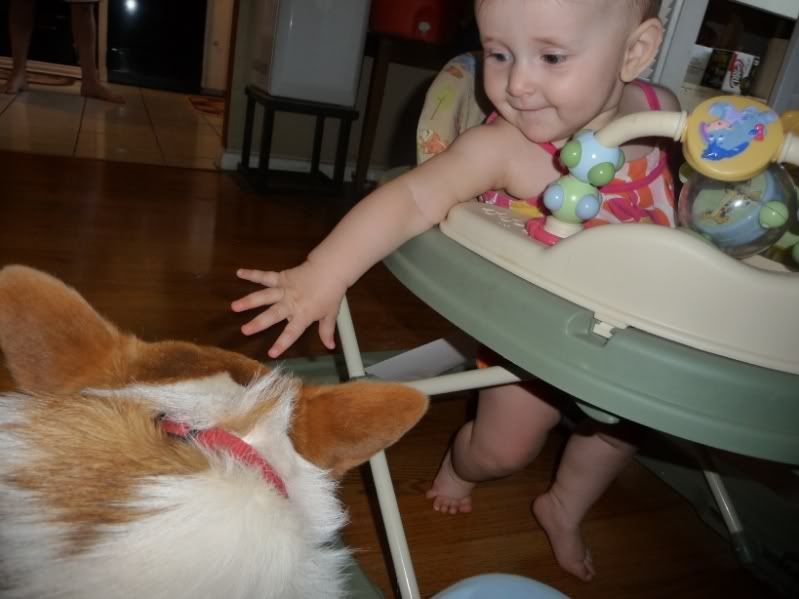 She ran away, but mom closed the little door so I couldn't go after her.

But there were other places I could go.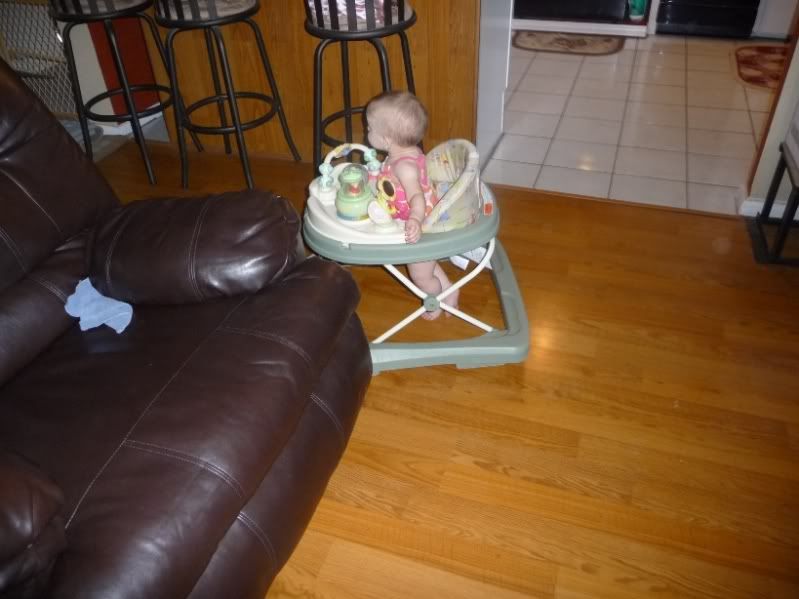 I checked to make sure daddy got the right boat seats for the boat.

And then I played my new favorite game! Pull the highchair down on my walker!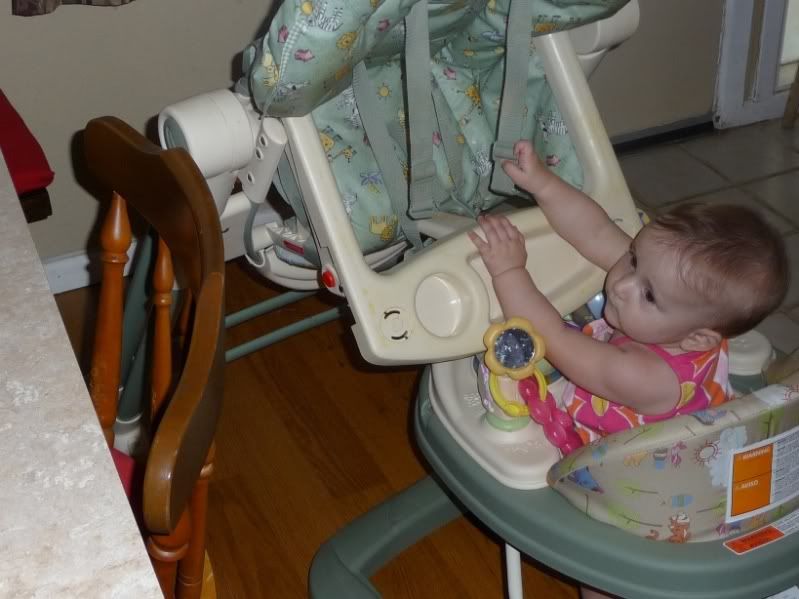 Mommy danced with me for a little bit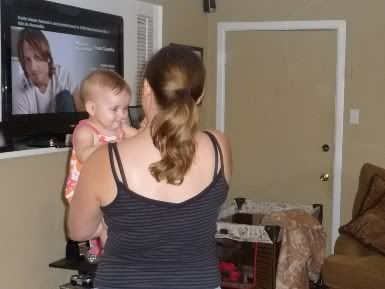 Then daddy and I had tea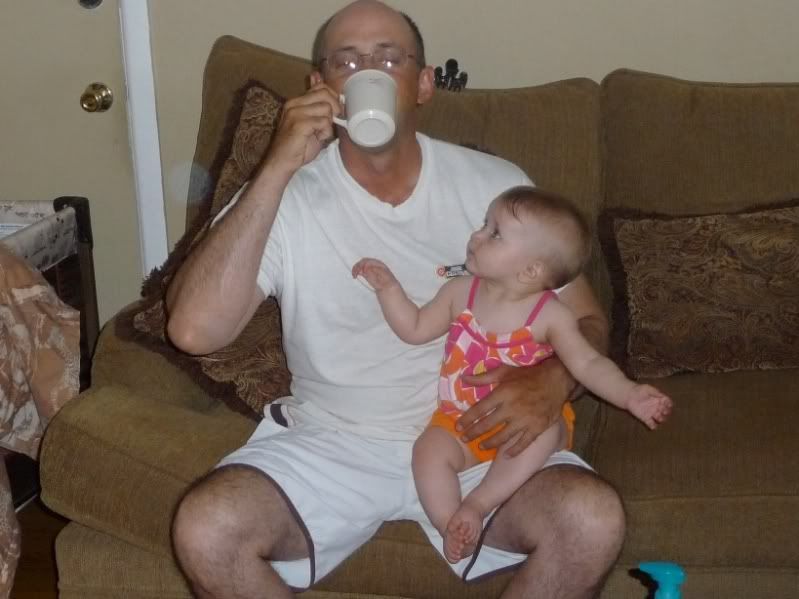 While mommy did a little sewing


She's been working on these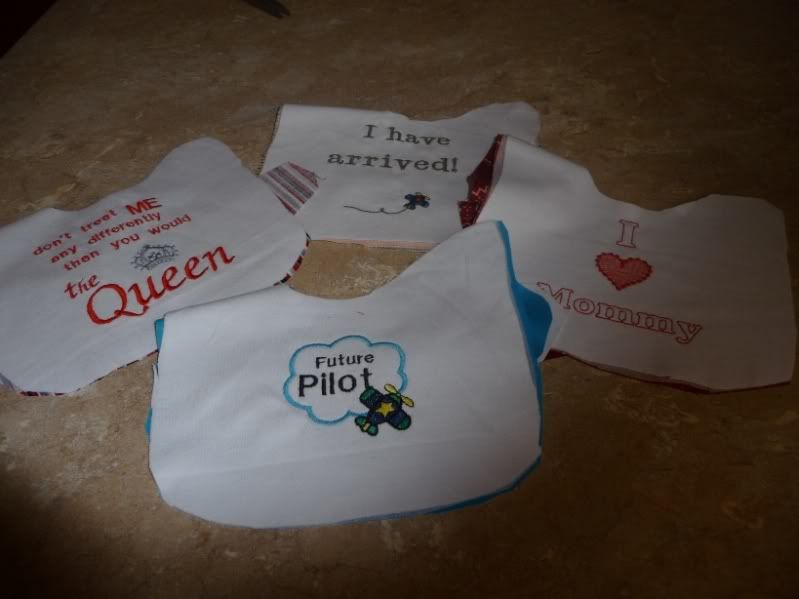 Then I got another diaper change.


and a snack

I was sleepy, but refused to go to sleep. Mommy put me in my crib, but I just cried and cried. Then a friend of daddy's called and asked if daddy and mommy wanted to go have dinner with them, so daddy changed my clothes while mommy showered.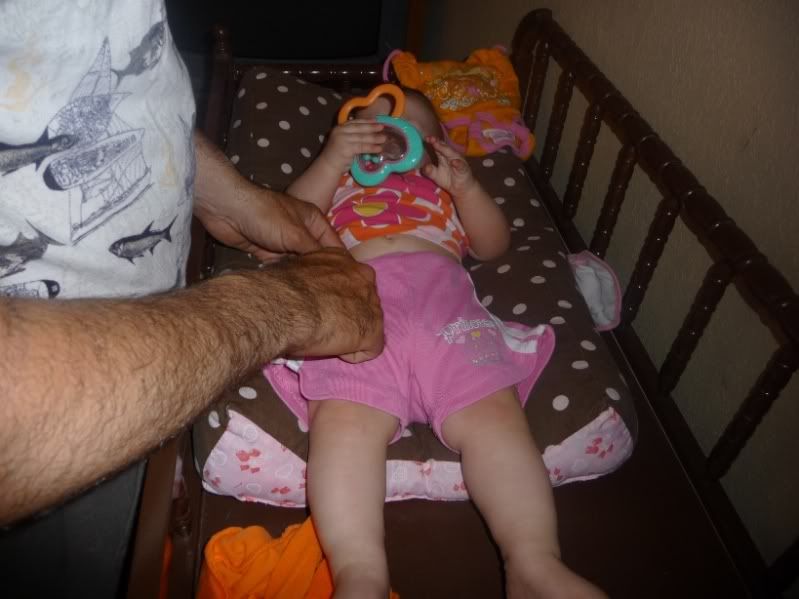 We all went to dinner with some friends, but mommy forgot to take pictures at the restaurant. I had a great time talking to everyone and even got to chew on some bread. Normally, I would have had some solids at dinner, but didn't get any today since mommy and daddy ate out.
Now were home!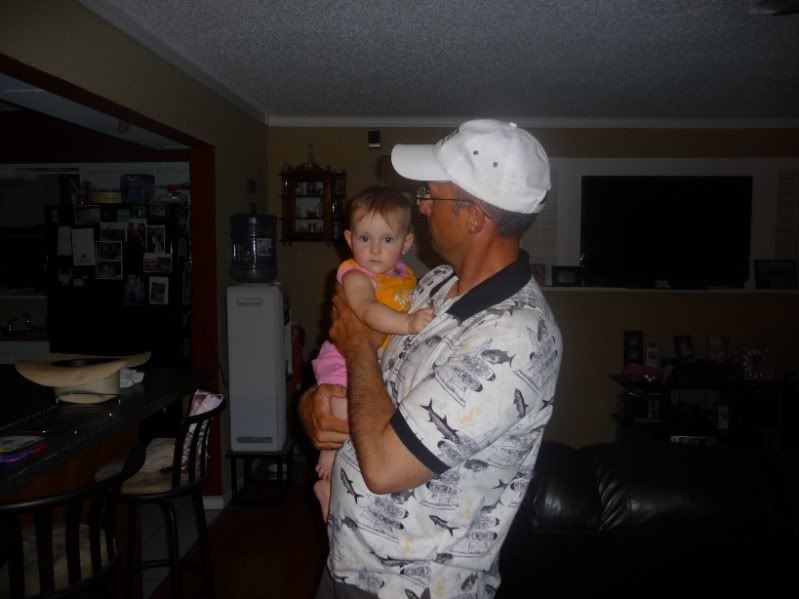 Mommy took me to change my diaper and put me in my pajamas. It's not bath night, so I just get a wipe down.

I chose The Lion King as my book tonight

Mommy, Daddy and I read. This is a cozy family moment before I go to sleep.

I love playing with the footrest to the glider. weeeeeeeee!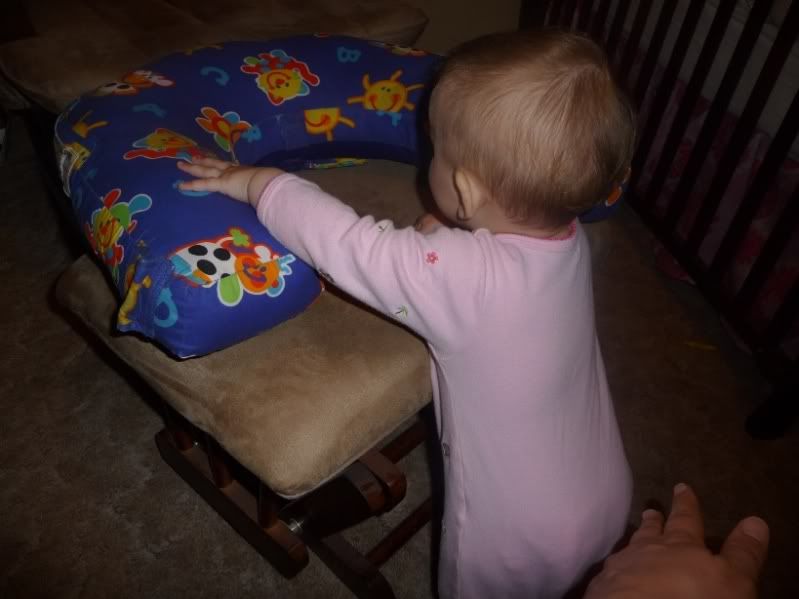 Mommy has been taking pictures all day. I wanted to take some.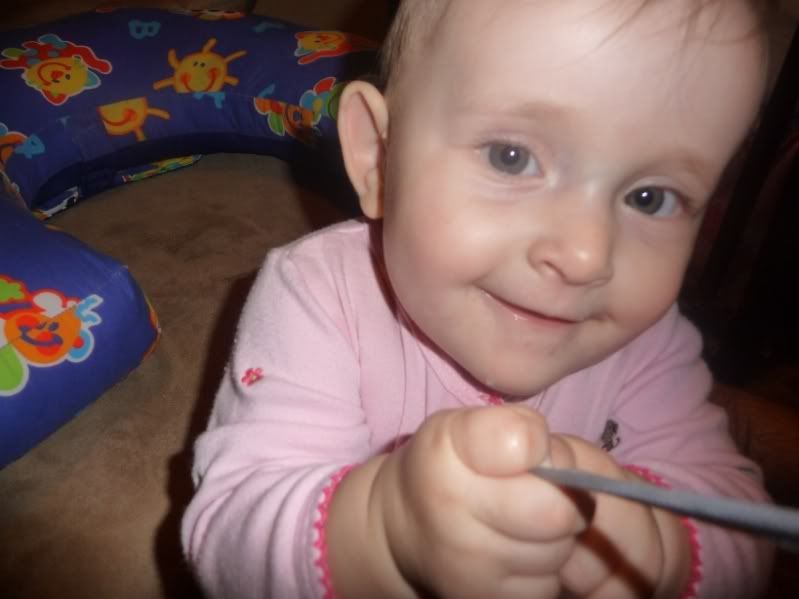 I finally got some dinner.

Good Night! It's 10pm and I am out! I hope you enjoyed my day as much as I did.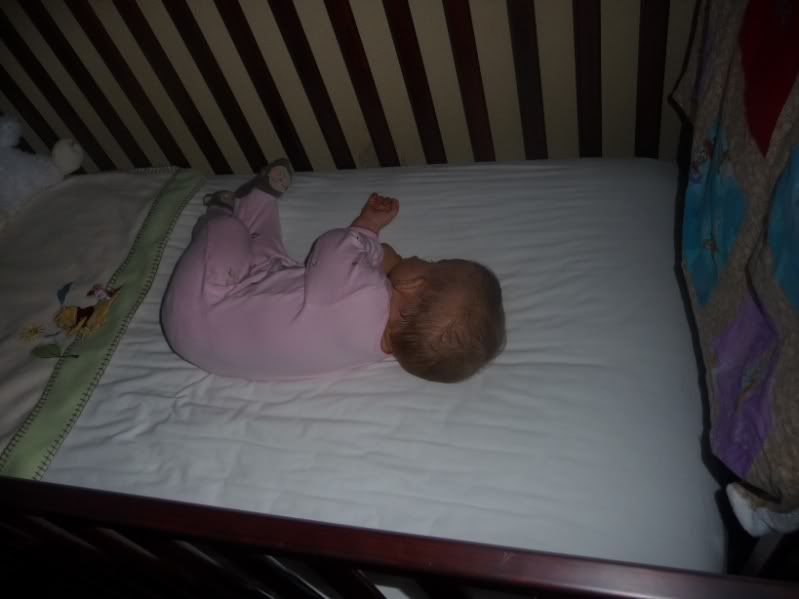 [ETA: Sorry the pictures are so big. My resizing didn't work. . . again.]