A little late. Pics take me forever to get loaded and shared. We also had to take pics over a 2 day period, hence the outfit change midway.
Just finished nursing in bed. Its 6:20 and time to wake up mom!

I'll play with my favorite toy in bed while you get dressed.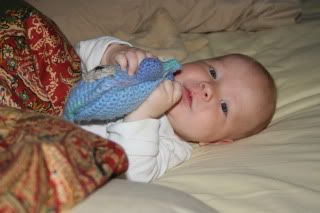 Time to wake up Ryland!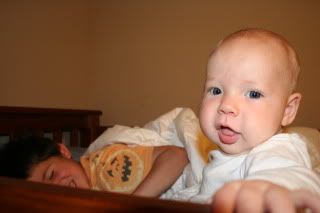 I really hate this thing but mom makes me wait here while she gets my clothes.

Someday I will figure out how they got this mirror attached. I am obsessed with this.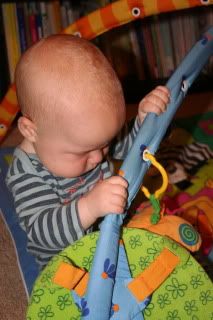 Its 7am and I hang out here while mom makes us breakfast. Mom keeps putting all these toys on my tray but I keep wondering when she is going to give me some real food instead.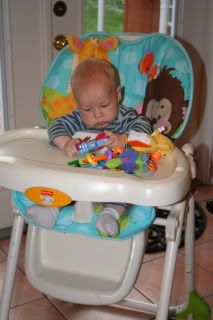 Our really early preschool kids start to arrive with their breakfast food as well. I'm hungry too.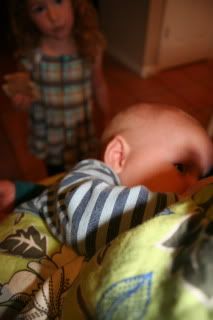 Ok, 8am and time to play and learn. I hang out on the rug in our school room in the morning while the kids have free play, circle time, and centers. Mornings are busy. Here is what our room looks like too. I can't wait to get around more and play with all the fun stuff!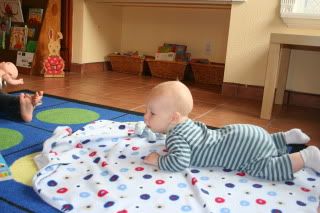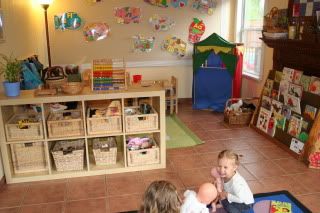 8:45 and I'm getting sleeping so I grab a quick snack before taking my morning nap. No pics of me sleeping because mommy says she won't take a chance with waking me.

10:30 and I'm up! And need a diaper.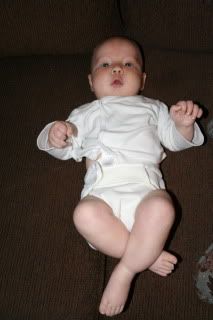 I help mom and the kids bake bread for snack tomorrow.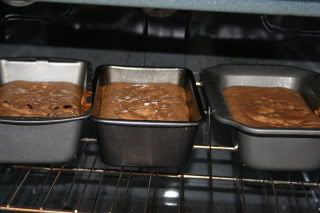 Time go to outside for playtime. I love hanging out and watching the preschool kids run and play.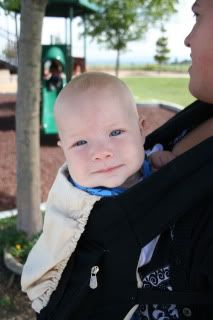 Snack time.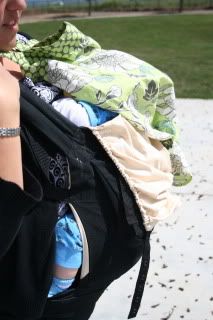 Another diaper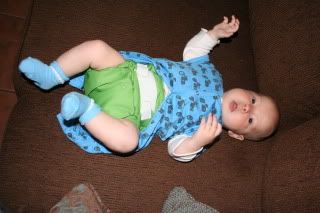 12:00 and again in the chair with no food. Preschool kids are eating their lunch and all I get are these stinking toys. Come on mom!

12:30 I get a little music chill time in while mom puts the afternoon kids down for nap. Then she comes in and nurses me to sleep so I can take my afternoon nap as well.

3pm, Up, fed, and diapered.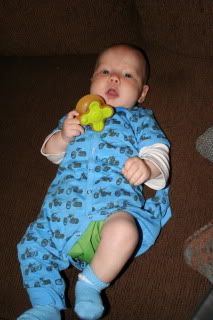 Playtime with the afternoon kids. They love talking to me.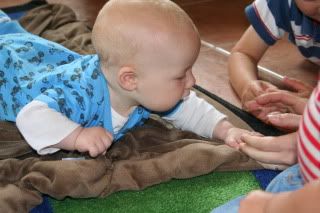 4:30 Time to take brother to Karate. Preschool kids have all gone home. Mom didn't want to take a pic of me there since it would be odd but this is what he looks like at Karate sometimes.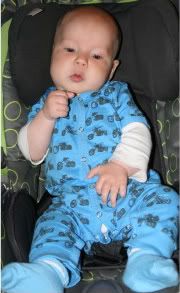 Dad is home when we get back. I love my family time in the afternoons.

Time to eat again. I take a catnap here.

I hang while mom makes dinner. Did you know mom made that rug for me while I was in her tummy. She still need to finish it all the way.

Dinner time. Did I mention I want to eat something soon???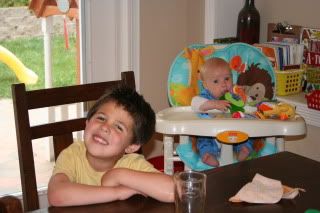 Quick trip to the park. We live across the street from this park.

Much better, its chilly!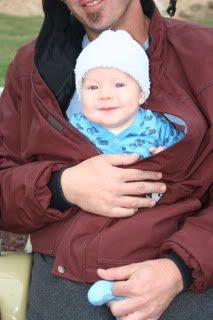 Bath

My night time diaper. Red is my favorite.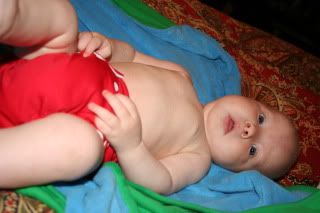 What a busy day. Its 7:30 and I'm beat! All wrapped up and ready to nurse. I love this one arm in one arm out swaddle right now. Thanks for sharing a day with me.