It's 8:30pm and all 3 of my dudes are asleep, so I might as well post our pics!

Sorry for the overabundance of photos...I LOVE taking pictures so I had fun!!!
Good morning, world! I love waking up all cozy and warm with mom and dad. My brothers love to jump in and snuggle with me for a bit. Today it's just Jacob because Josiah is sleeping in.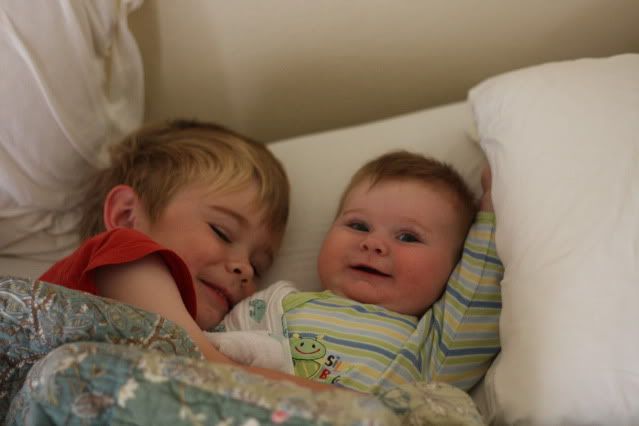 Time to change my colossal diaper, I really don't like holding still for this.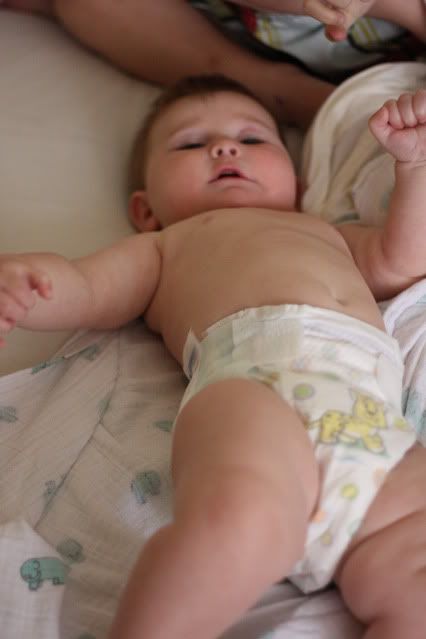 We are downstairs now, and momma just puts me down on my play mat right away. This upsets me! But she only has one thing on her mind right now...

Coffee. She says it's sort of like her gas. I have gas too!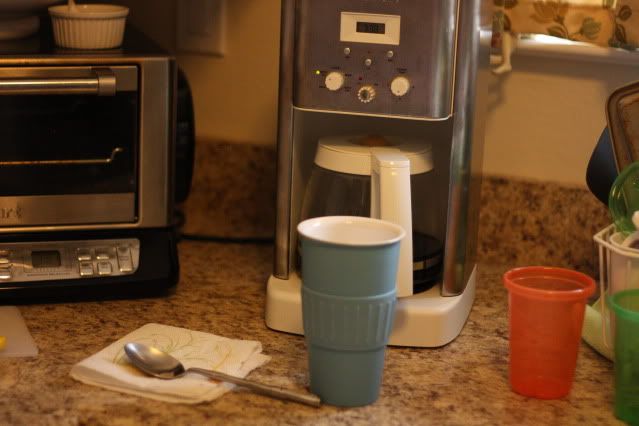 Mom is bummed because it's raining today! We were supposed to have a mommy and me day at the park with all of our church friends.
I can roll all around now, it's fun but sometimes I bonk my face on the floor. That's not so fun.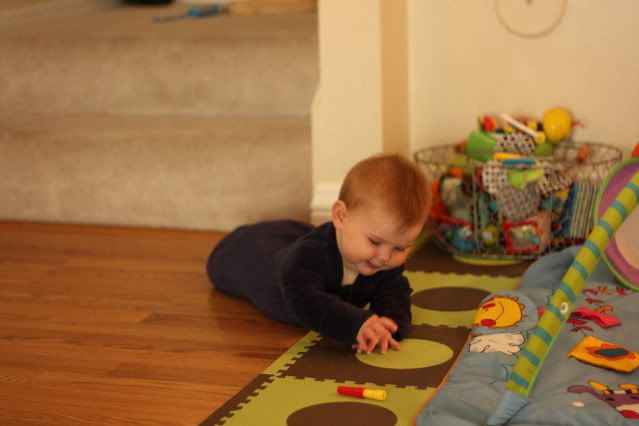 I love playing with my toys!

I also must taste them. Hmmm...this one tastes fishy.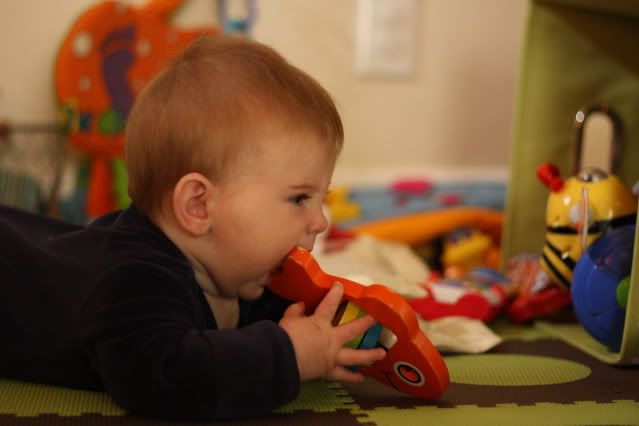 Since JoJo is still sleeping, momma decides to make me some breakfast! This is oatmeal and pear. It doesn't look too yummy right now, but once it warms up I'm sure it will be tasty!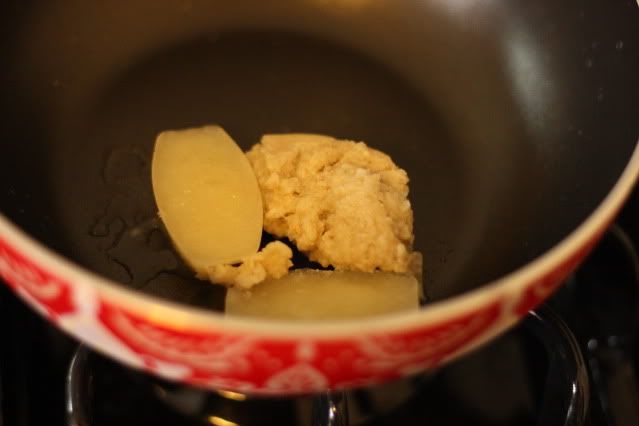 It's already 8:00! Usually we're all up earlier than this. Maybe that's why momma is so happy.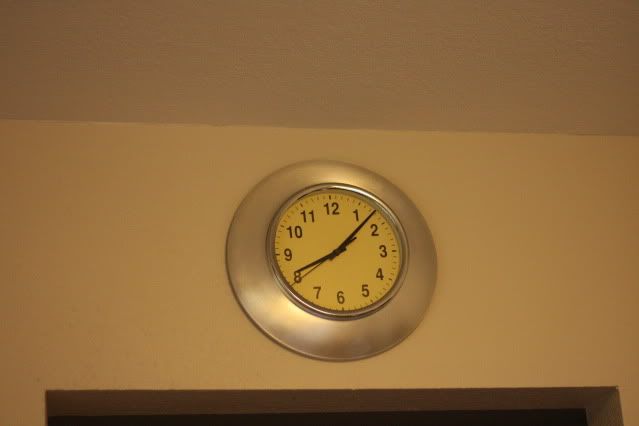 Josiah is my 2 year old brother. He's awake now, which is great. He's a fun little guy!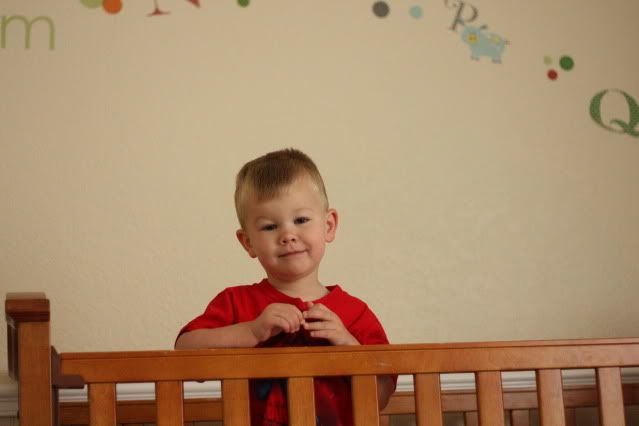 Sometimes he scares me because he's kinda rough...but that's what makes him so fun, too.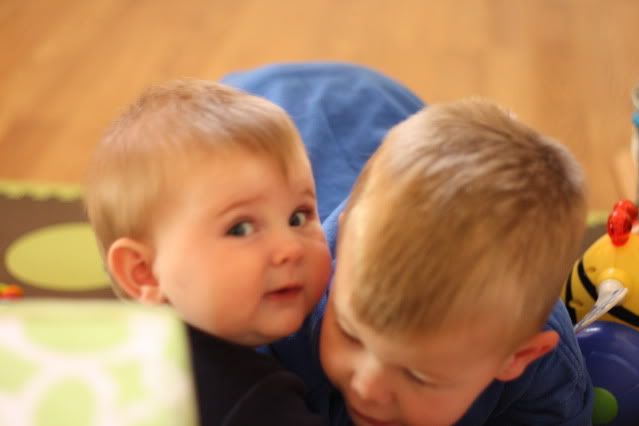 Hi there! I'm ready for that breakfast now.

See? Looks great to me.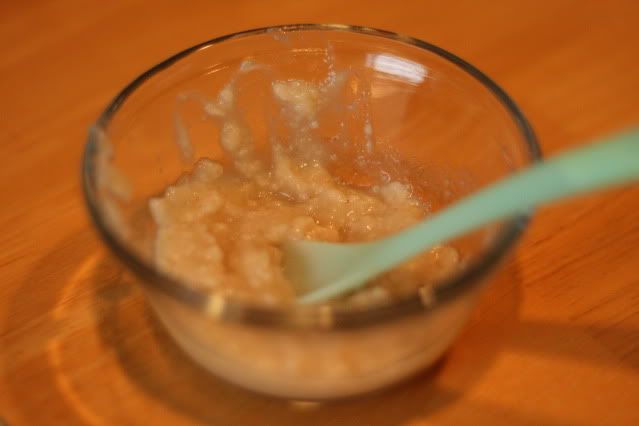 I like being up here, I can see more!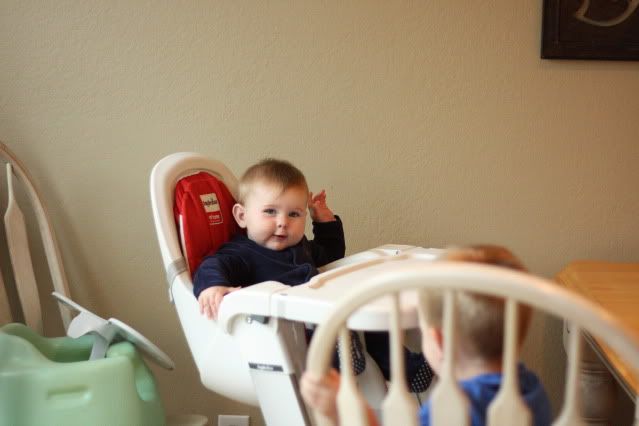 Time for la leche...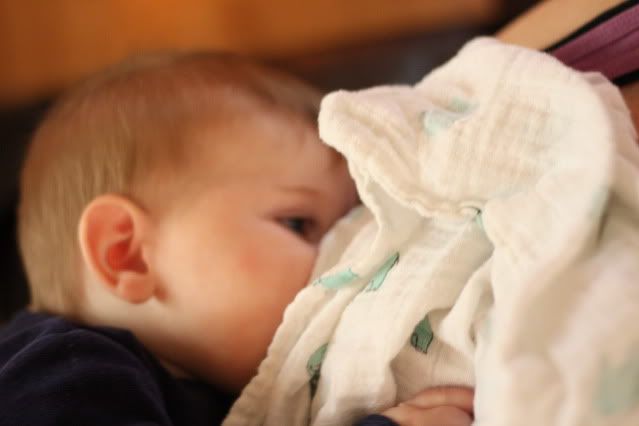 9:00! The day is flying by.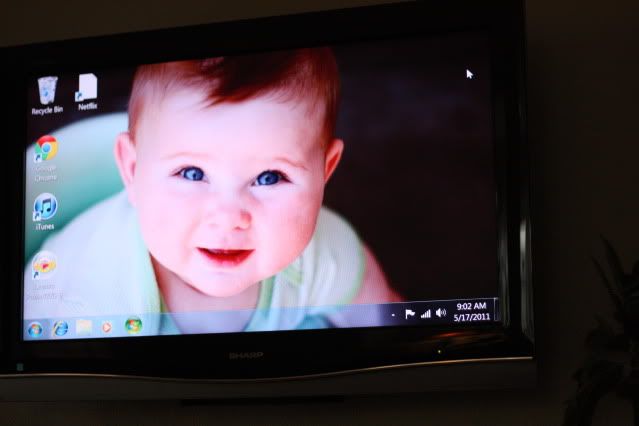 hangin out with Scruffy, watching the rain.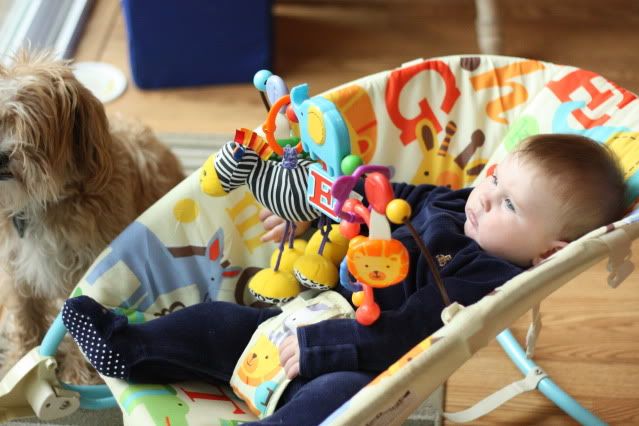 Time for a diaper change!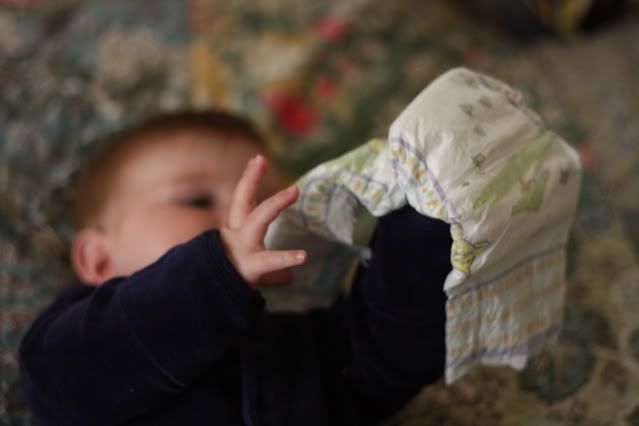 Mom says it's time for a nap, but I'm not even tired. At all.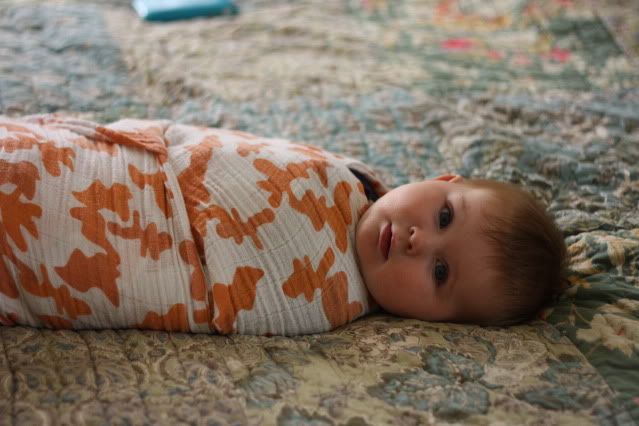 Just kidding.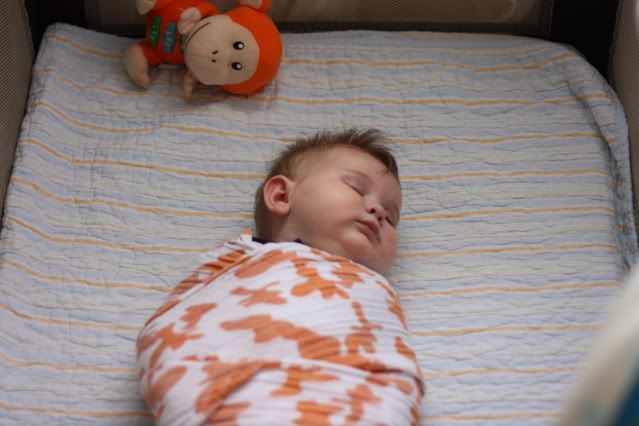 While I'm asleep, momma gets so many things done!!! She's supermom!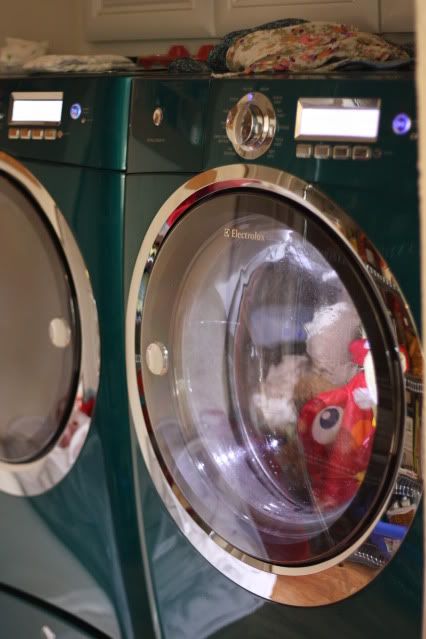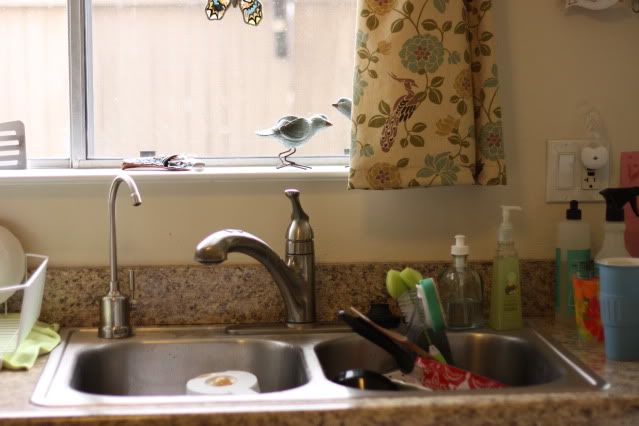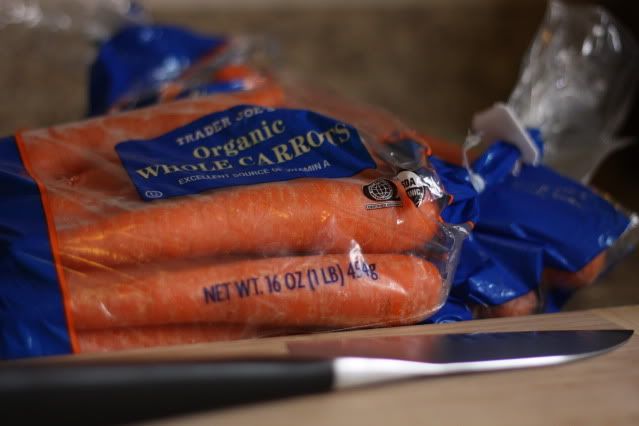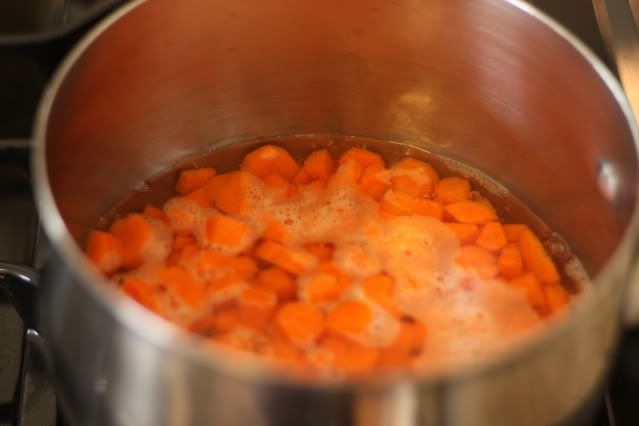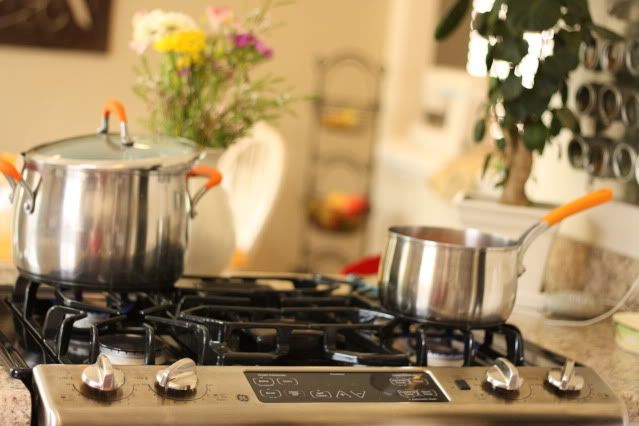 She even has to deal with tantrums while she does all that work. Poor momma!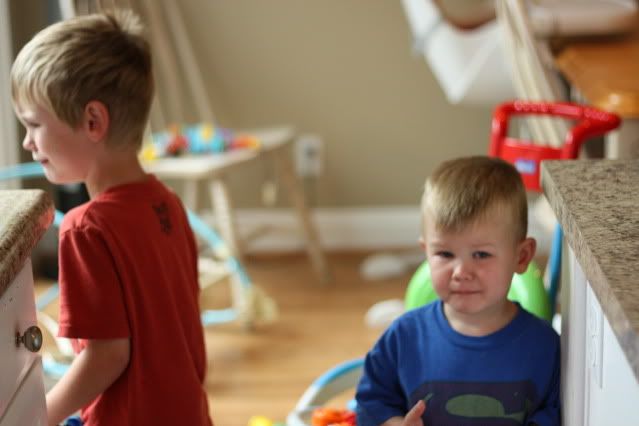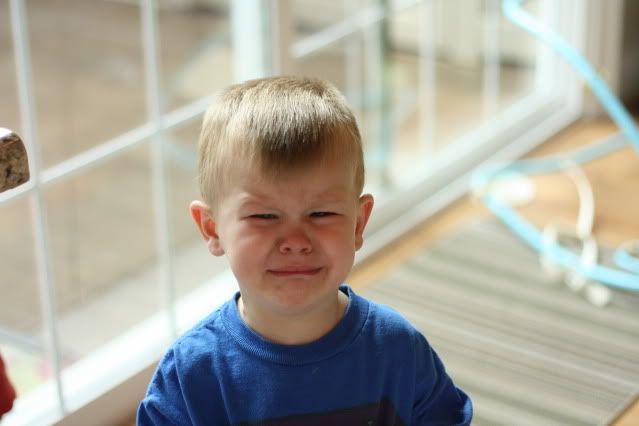 I'm awake now! That was a good nap.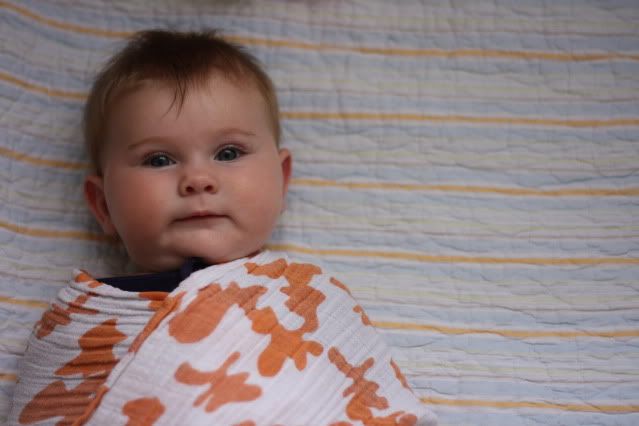 I get to have a Mum Mum and watch the clothes tumble around in the washing machine.

Mom is finishing up my baby food. I've never had carrot, and I am excited to try it!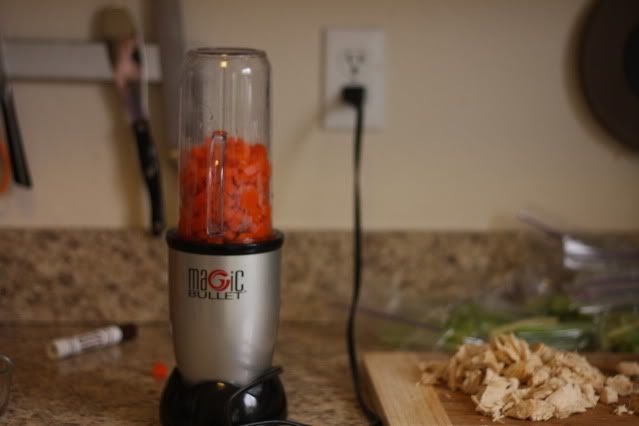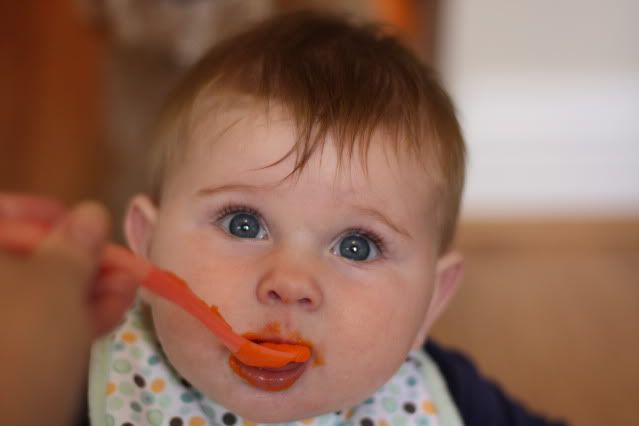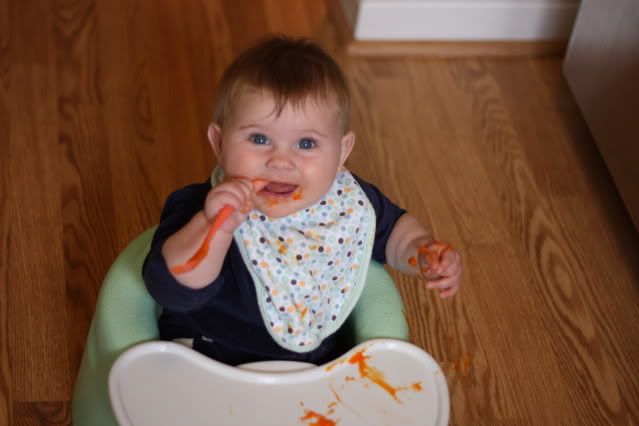 I am all crusty and orange from my snacks, so mom takes me up for a wardrobe change. Being naked rocks. So does sucking on your toes!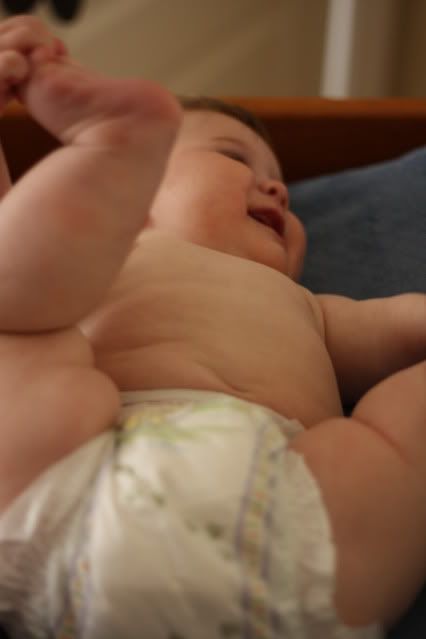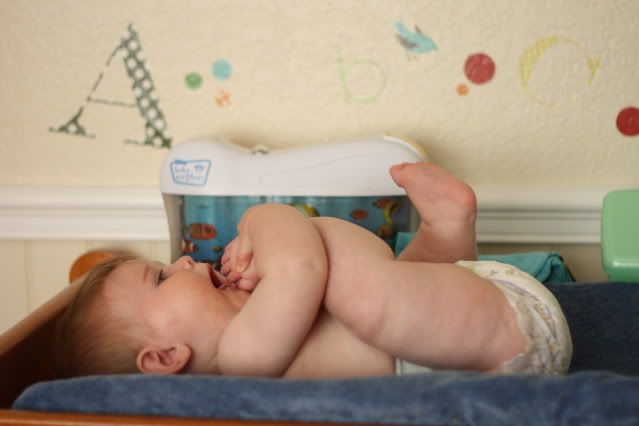 Today mom set up a playpen for me...she say she can't trust me anymore.
Oooohhhh, more new stuff to try.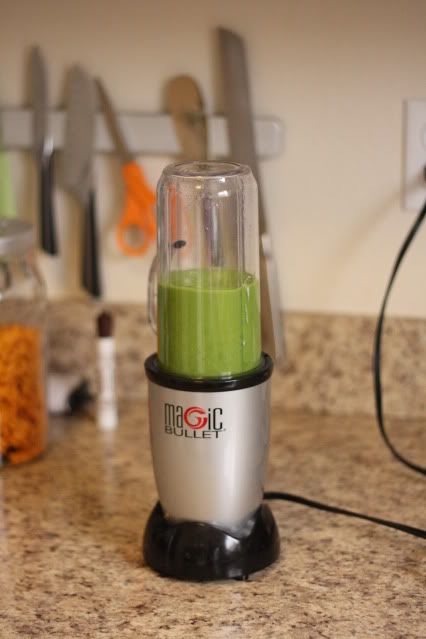 I'm in my jumper now...I don't really like it too much to be honest with you. I'd rather be held. I like to scream at momma when she decides to stick me in here. But she has to feed the big boys lunch, so I guess I understand.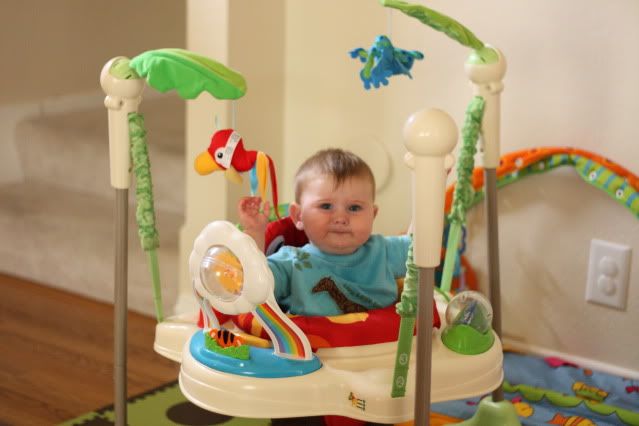 Is it already nap time again? Wow.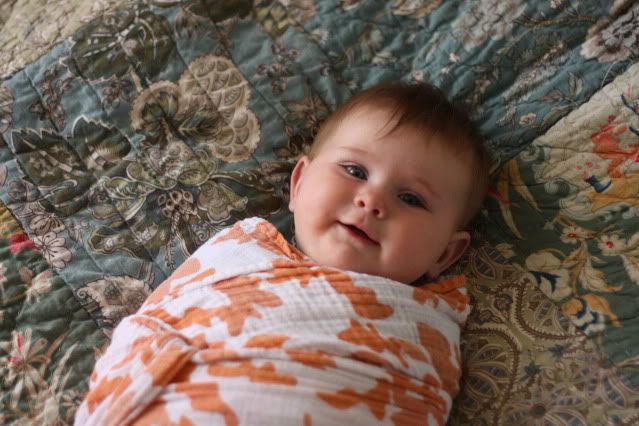 I slept for a good hour, and Josiah is still asleep. That means mom got a little bit of quiet time.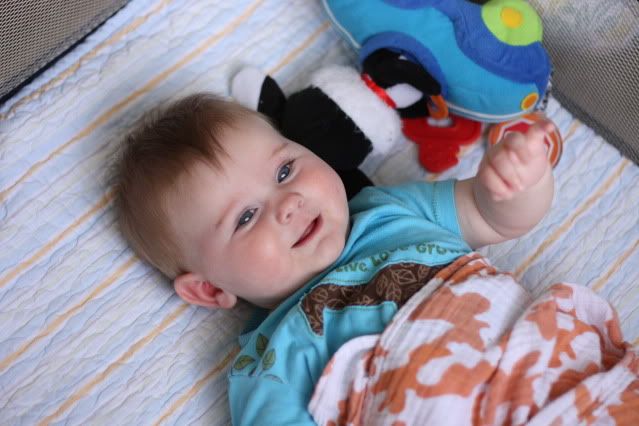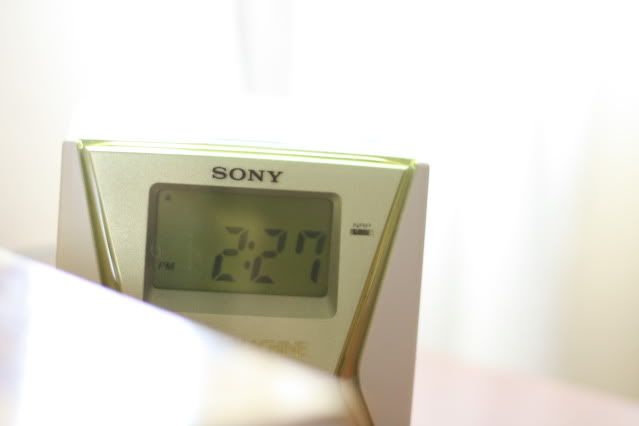 All the big folks sit on the couch. That's why I get so happy when mom lets me sit there too!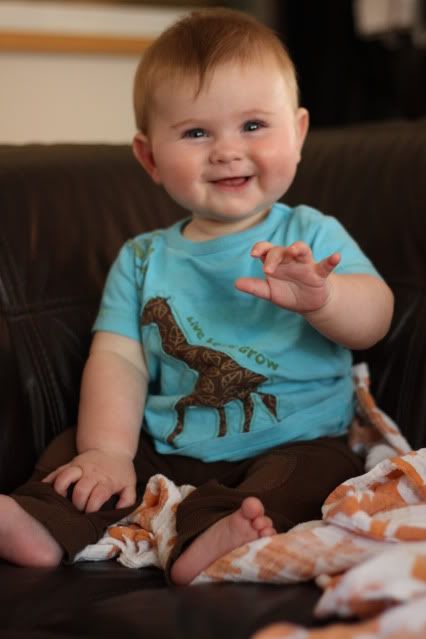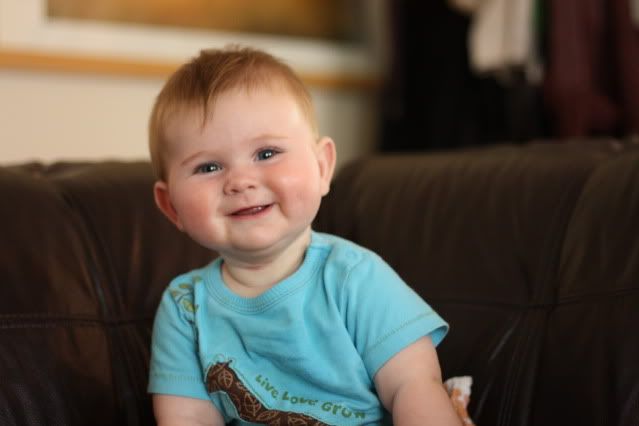 Time for some more milk!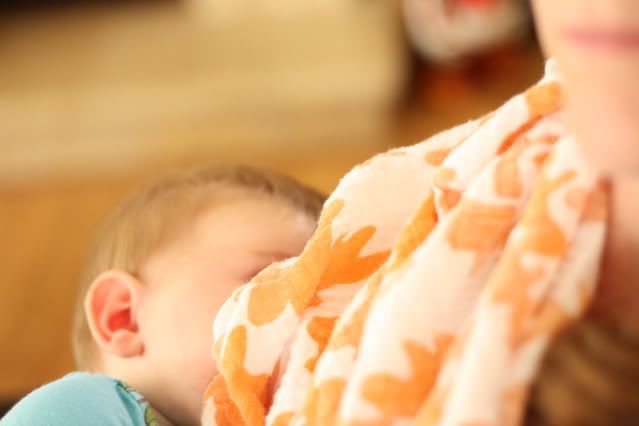 Once Josiah wakes up we all get to play upstairs for a while. I love this talking Elmo!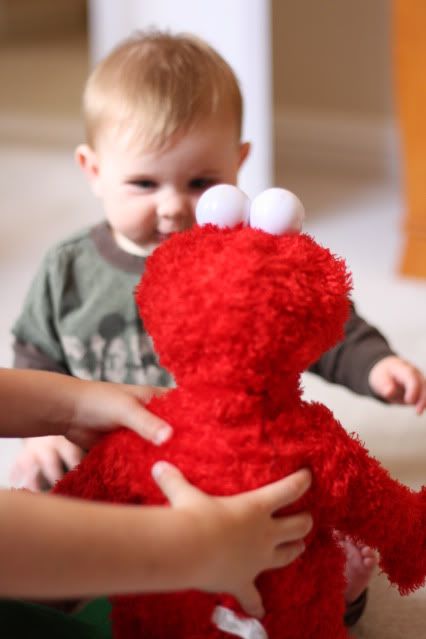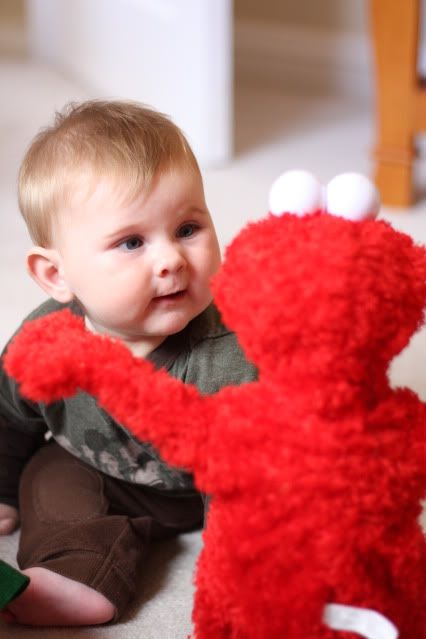 We do some puzzles...I am a big help when it comes to puzzles!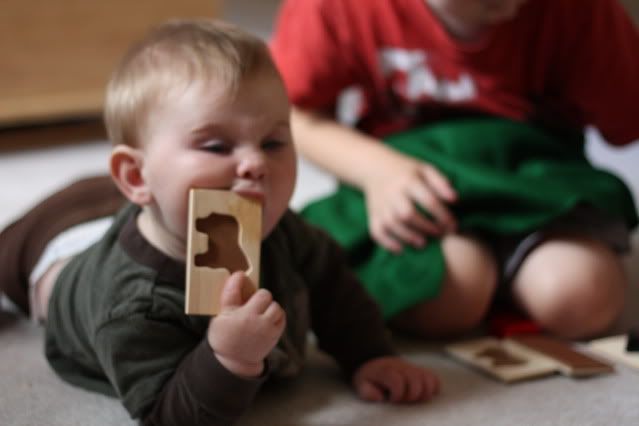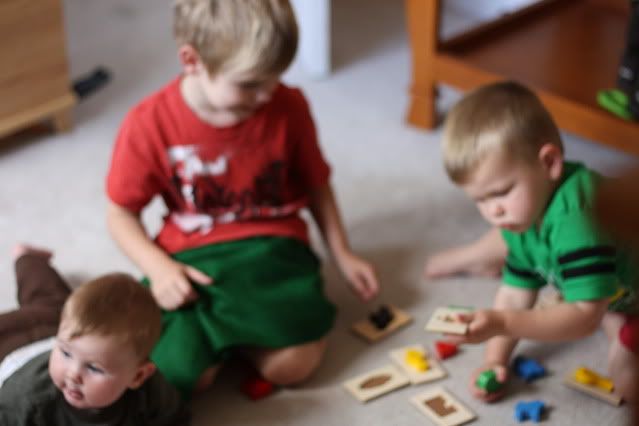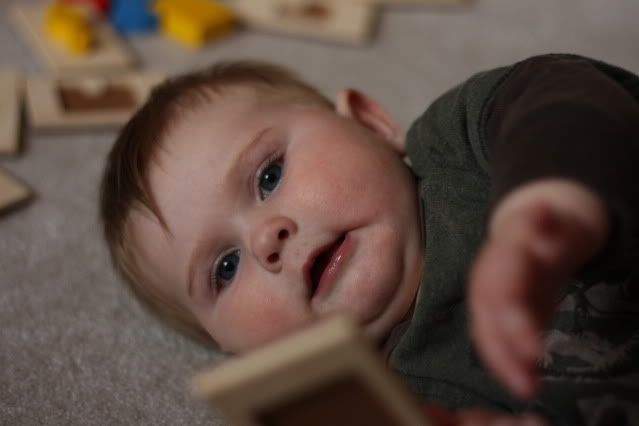 The rain cleared up for a bit, so we need to take Scruffy for a walk. This is how we roll!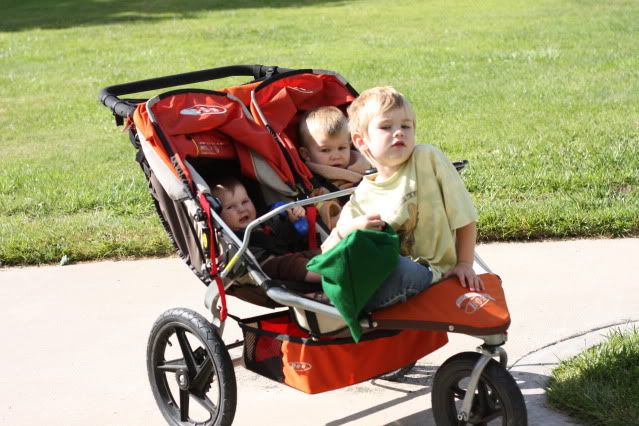 More milk.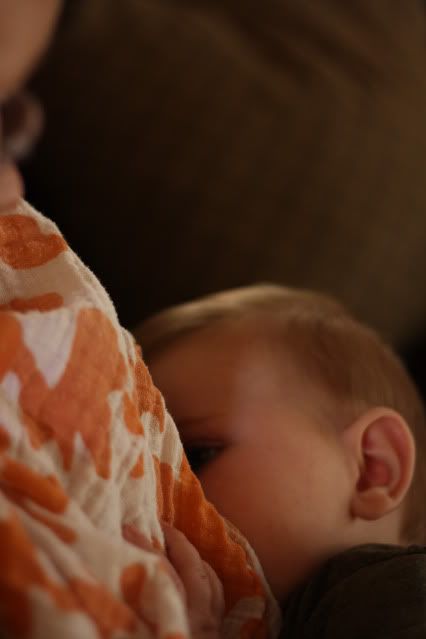 We had some dinner (chicken noodle soup!) and now we are just hanging out.

It's 7:00 now, so mom needs to start getting us to bed. It's a lot of work to get all 3 of us cleaned up and tucked in!

Good night everybody! Thanks for joining me for the day.