Its my DITLO week in September so you all get to benefit from it! You've seen A Day Off in the Life of T. Tesla. You've seen A Week (of vacation) in the Life of T. Tesla. Now its A (typical work) Day in the Life of T. Tesla! Enjoy!
A DITLO Teagan Tesla September 14, 2010
Good Morning! It's 7:00 am and I'm ready to play!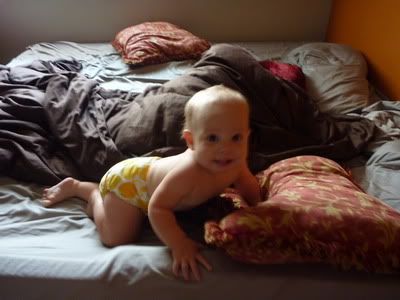 Oh, looks like Mom's taking pictures of me again. Can't you sense my joy? Whooopie.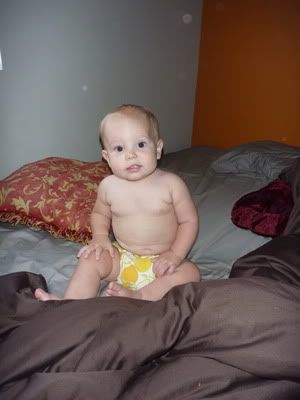 Really, Mom? Maybe a little privacy?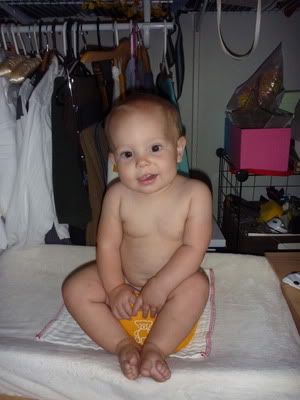 Oooh, what's this amazing thing I've never seen before? Maybe I'll stay still for 30 seconds while you put a diaper on me.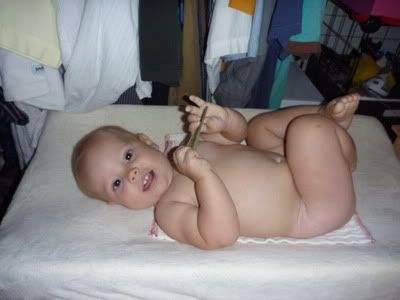 Whatcha doing, Grandpa? I'm so glad you're staying with us for a while to help my parents build my playhouse. They think it's a shed but they're clearly mistaken.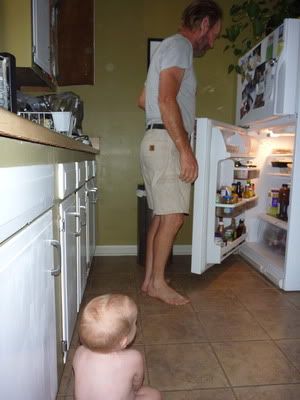 I think I'll get to throwing Tupperware around while Mom drinks coffee.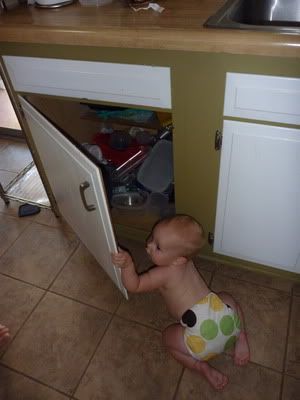 I kept my Mom up all night so we're running a bit late. Its already 7:30 and Mom is just finishing her coffee.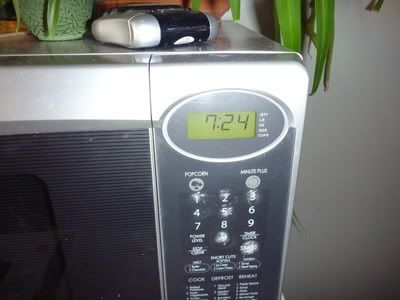 Dad helps me disperse the Tupperware while Mom makes breakfast. It's really just a one-person job but I let my Dad help because he's awesome.
Oooh O's for breakfast. I'm not much of a breakfast baby. Are you admiring my Tupperware? You should be.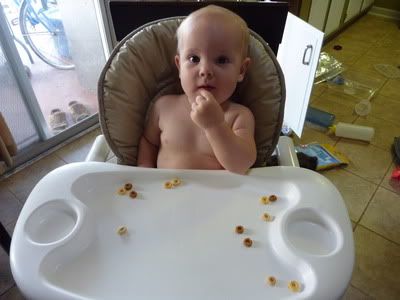 That's right, I've got yogurt on my face. It's all the rage.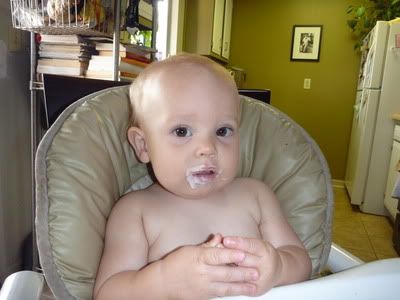 I totally pooped and Mom wanted to take a picture of it but I didn't let her. My Mom is so weird sometimes.
Peechewie! Take that, shower!!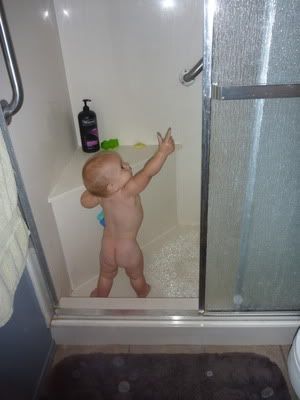 I big fluffy heart my duckies.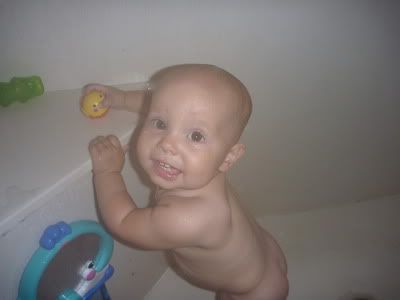 The bathroom cabinet is filled with nearly as much awesome as my Tupperware cabinet. Nearly.
What? 8:30 already?!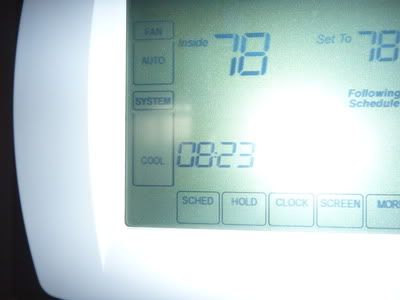 Want me to call the lab and tell them you'll be late, Mom?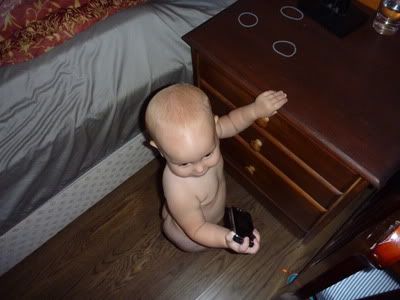 Good dental hygiene is most important.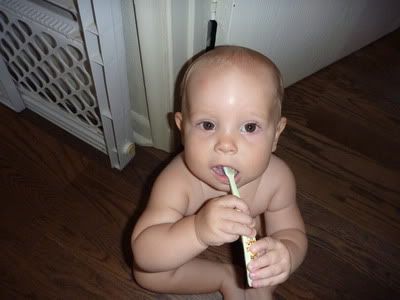 Know what's better than playing on my rug? Playing on my rug naked!
Time for some last chance boobie!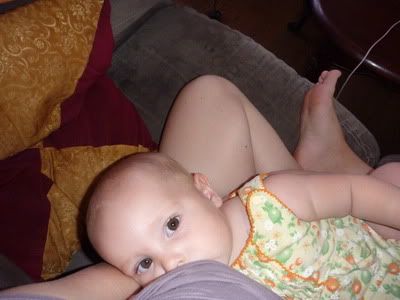 And some last chance playing!
Mom is packing grapes, couscous, and yummy boob milk for me today.
Wow. I'm supposed to be AT daycare by 9am. Guess we're going to be fashionably late.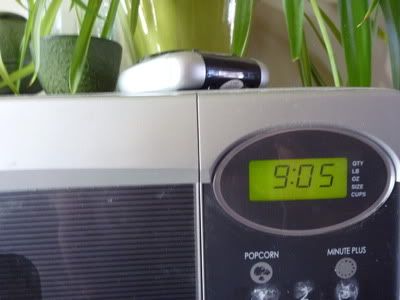 Well, better late to daycare than stuck home helping Daddy and Grandpa build the castle wall for my playhouse.
Look, our pavers arrived yesterday!
Mommy picked them out. I helped. OK, I slept through picking them out but I was there.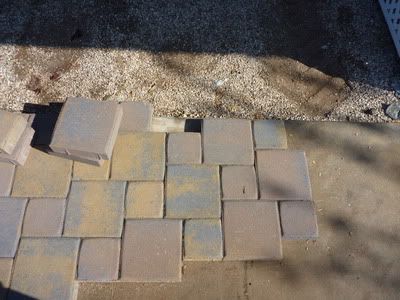 I love my car seat. Can you tell?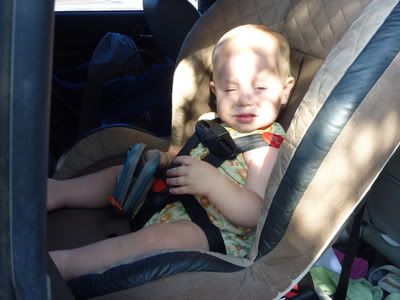 Ooooh, what's this awesome blue thing I'm normally not allowed to play with? Perhaps I'll treat mom to a screaming-free car ride while I play with this thing.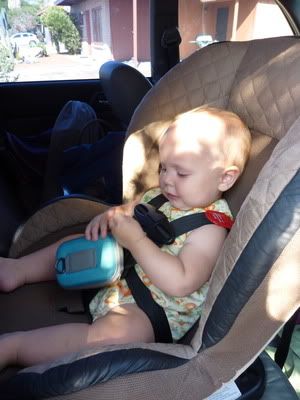 Zzzzzzzzzzzzzzz….
What the? How did I get to daycare? The last thing I remember I was in the car! Shenanigans!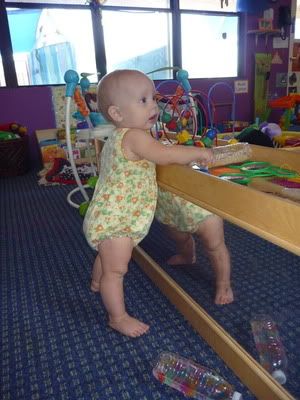 We're gardening today!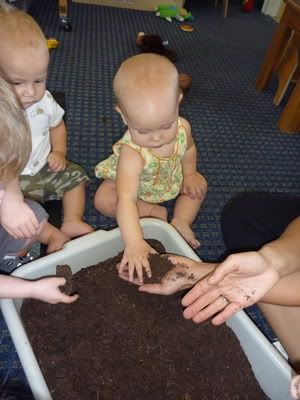 This is my bestie, Ari. He's awesome. He can walk and I'm eager to learn so I can chase after him.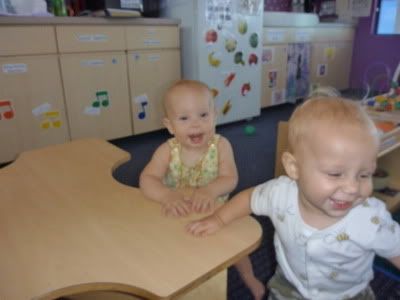 Zzzzzzzzzzzzzzzzz…… Don't I look a tad big for this thing? Fat baby in a little swing.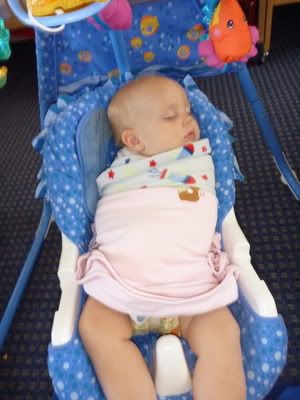 Lunch time! Ari was totally eyeing my grapes.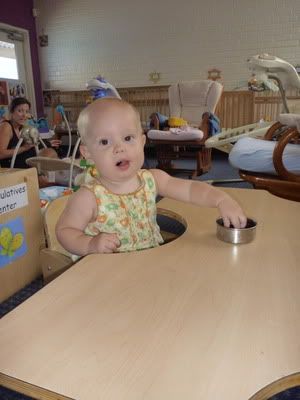 Yay its 4pm and Boobs, I mean Mommy, is here to pick me up!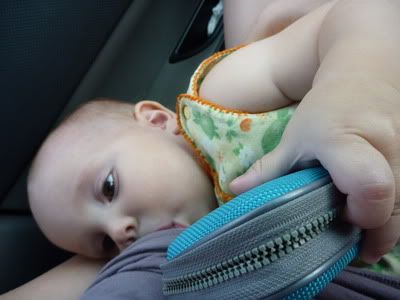 She let me drive home … I wish.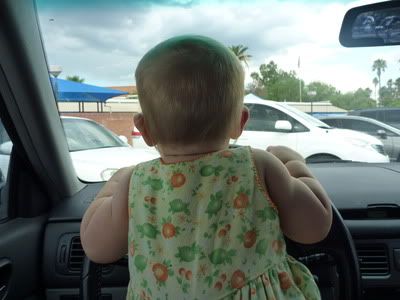 We're all out of grapes (and coffee) so Mommy and I swing by the grocery store on the way home. It rained REALLY hard while we were shopping.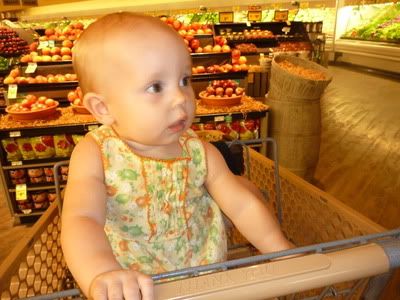 Grandpa is sooooo happy to see me!
Look what my Daddy built for me while I was at school! My castle wall even has a moat!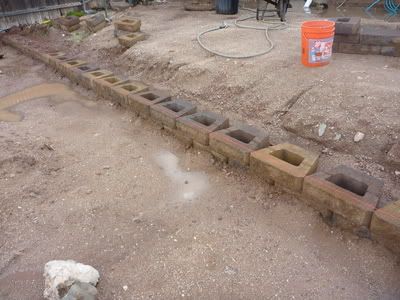 See that bit of green paint on the house. My Daddy started painting that last September. Then I came along and he wanted to play with me sooo much that he decided to put off finishing it for a whole year!!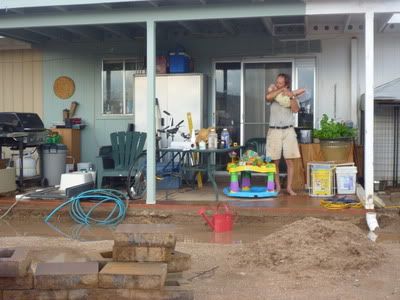 Someone destroyed my Tupperware pile while I was gone so I guess I'll have to redo it.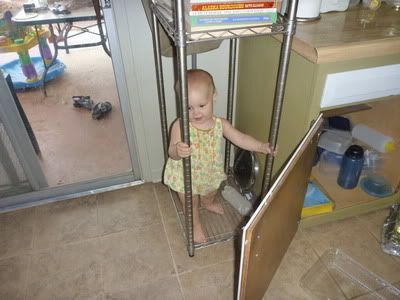 While I get creative with Tupperware, pot, and pans, Mommy scalds my boob milk, unpacks my bag, and throws diapers in the wash.
I so wish I could go out and play.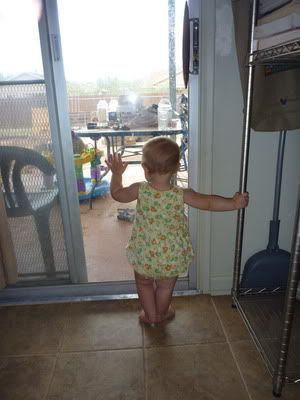 But its getting late so Mom decides its time to eat.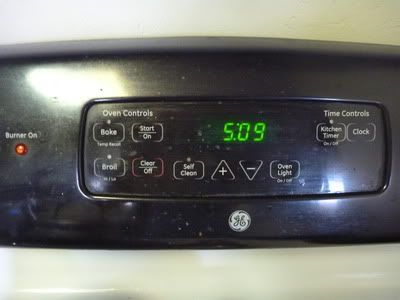 Nom Cheese!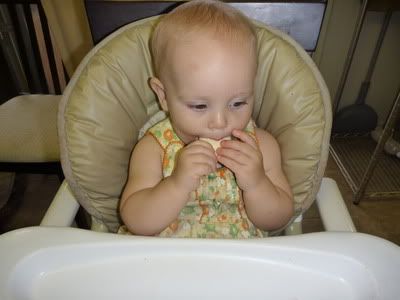 I was more excited to eat calabacitas than this pic lets on.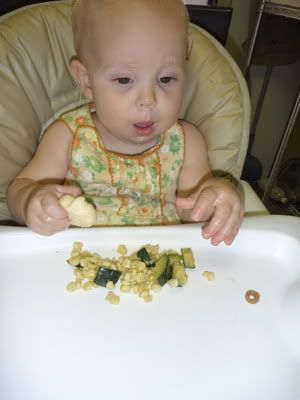 And I definitely did not feed some to the dogs.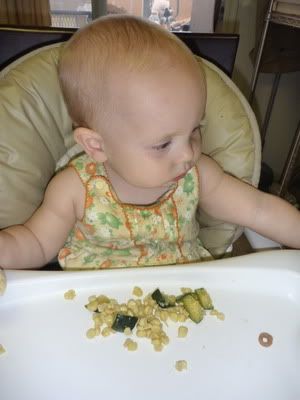 After dinner we played in "my" room. Really its just a toy depository because I certainly don't sleep in there. The sheep says what?!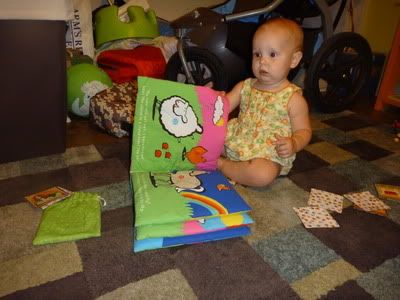 Booby time! This is my current favorite nursing position. I like to keep things interesting.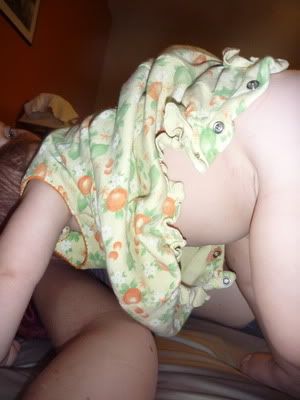 I hear noises! What's going on out there?
Please, Mumsies! Can I go play?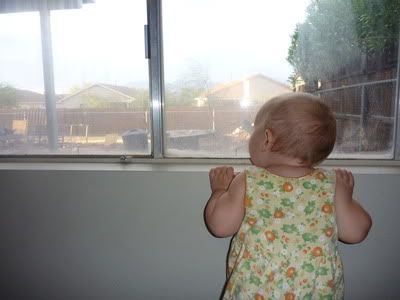 Yay! Mommy let me play in the mud!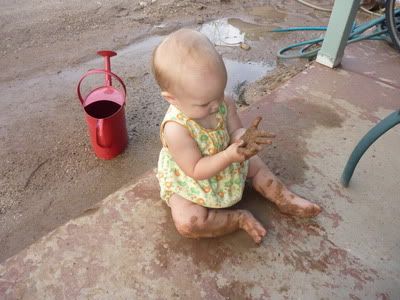 She even let me help Daddy!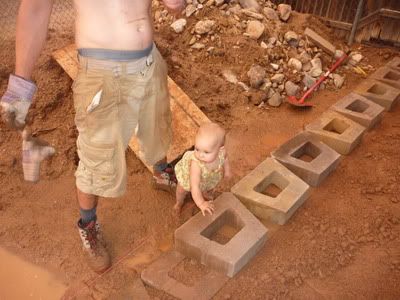 I've been told mud is great for baby skin.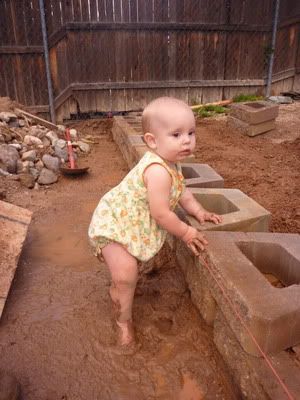 Mom made me take another shower after my hard work was done.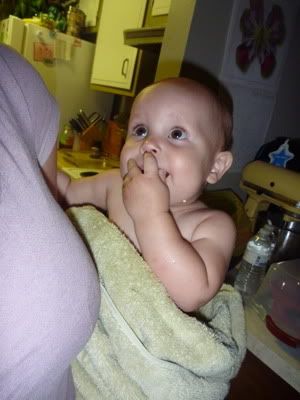 I'm a little streaker. Don't you love my puppy's expression?
Time for some night time nursies. See my big night time bubble butt?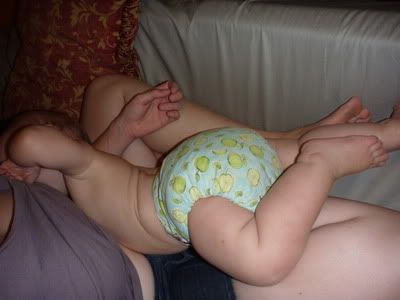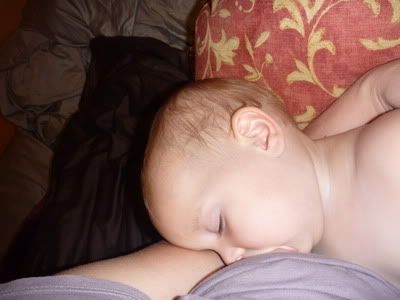 Zzzzzzzzzzzzzzzzz.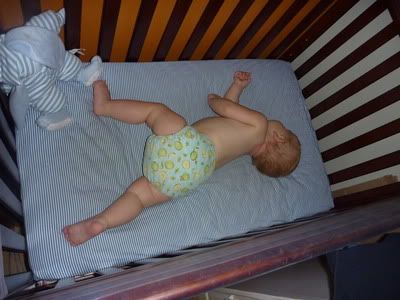 Thanks for sharing my day!