I have the choice narrowed down to two jogging strollers but I need help.
Here is the first one.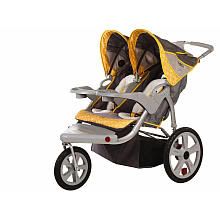 The drawback to this one is the feet area for the kiddos. It doesn't look like there's near as much room for both of them to have their feet up there. It has a locking feature for the front wheels on the handle so you don't have to go around to the front whenever you need to lock and unlock it. And of course this one is the prettier one out of the two (I love yellow). While that's a nice feature I wouldn't make my decision based on that but it helps.
Here is the second one.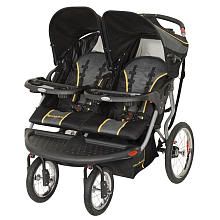 The drawback to this one is the wheels have to be locked and unlocked on the wheels. The one above has a lock for that on the handle. This one has a bigger foot rest for the kids.
Okay, as for how I'm going to use it. I don't run now but it is something I've thought about maybe starting next year so having the feature for the front wheel lock in a convenient place sounds like something that may come in handy at some point. But at this time I do not run so I'm not really sure how "important" that feature is, kwim? The foot rest looks so much bigger on the black one than the yellow one. Maybe it really doesn't matter but for now I'm going to have my 3.5 year old, very tall DS in there with his shorter sister so I guess he'd just get to take over the foot rest LOL. The prices are the exact same on them. I'm really trying to avoid driving to a BRU to try them both out as it's over an hour and a half from here.
What's your opinion?