Today is my baby girl's 1st birthday. I have to say, I was a MUCH bigger wreck this morning than I thought I'd be. It's totally normal to sit in your car drinking Starbucks, listening to "Butterfly Kisses" while sobbing on your daughter's 1st birthday, right? If so, then I'm totally fine. If not...well...yea.
I made her birthday invitation and announcements myself and am getting them printed today. They are similar, except her invitation has the party info and doesn't have the newborn picture. I just wanted to share with you because, well, I'm proud.
In all honesty, "I love you" just isn't nearly enough of an expression of how I feel about this baby. I don't think I've ever thanked God so many times for one blessing in my entire life. Okay, before I start bawling again...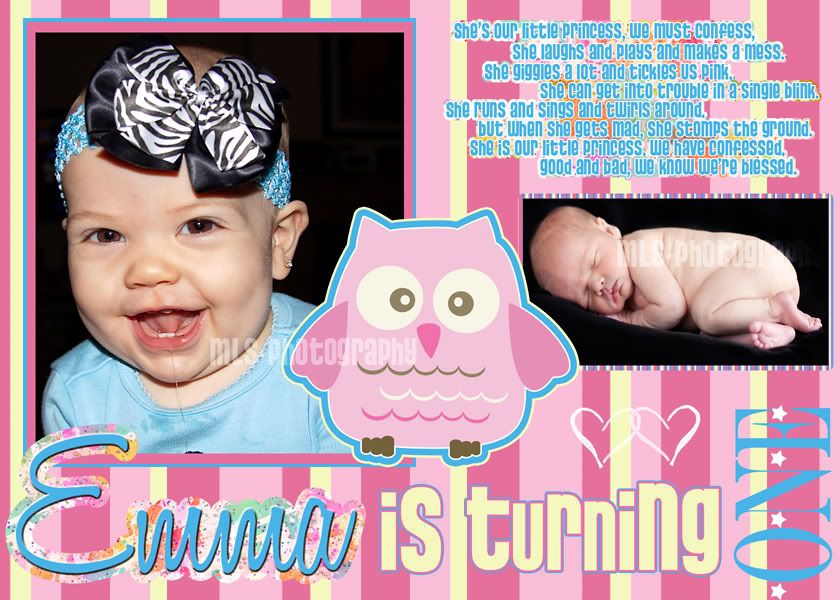 I did not write the poem on the announcement, I found it online. However, I did write this little poem to put in her baby book. I'm such a sappy mess.
I want to tell you the story
of a sweet little girl,
who from her very first day,
changed the world.
She began her reign,
in a uterine throne.
She was never shy at all,
about making her opinion known.
The moment I saw her,
blue, wrinkled, and wet,
I felt the strongest emotions,
that I had ever felt yet.
She was the most beautiful person,
that I'd ever seen.
More than I'd asked for,
at night in my dreams.
Mimis, food, her blankies,
and her brothers she loves.
Daddy is her king,
Mama, her angel from above.
She knows what she wants,
and will tell you how she feels.
She knows nothing of patience,
or of how her smile heals.
She is there for her family,
as much as they are for her.
She brings love, joy, and sorrow,
and helps them endure.
I've watched this girl grow,
each day this past year.
My love has grown, too,
through her laughter and tears.
I want to tell you a story,
my sweet little girl,
of the queen of my heart,
of you ♥
You have
Changed
My
World.
Added a pic of her Snickerdoodle Cake: