OK, you're probably thinking who the heck needs to practice cupcakes. This mama, that's who. I'll let you in on a little secret ... I haven't baked cupcakes since like 4th grade. I've never piped anything onto anything. I tinted buttercream frosting once. That's the closest I've ever come. Any who, here's what I came up with. The pics are a little blurry because DH screwed with the settings on our camera such that the thing does not work in my hands.
I did three flavors of cupcake. Double Chocolate (chocolate with chocolate chips), Key Lime, and Carrot Cake. The frosting is white chocolate cream cheese. All from scratch. All with all the organic ingredients I could find. I figure it makes up for the food coloring and the fact that I do not know what 'edible glitter' is made of. I tried different tips on my piping bags but they all came out pretty much the same. I might go out and get a different tip if I have time. The green came out a tad more 'neon' than I wanted but I didn't want to waste more of my coloring gel. You can see the papers I'm going to use in the final batch in the pic on the right. I purchased the cupcake toppers on Etsy. You'll have to wait until I post party pics to see the rest ;).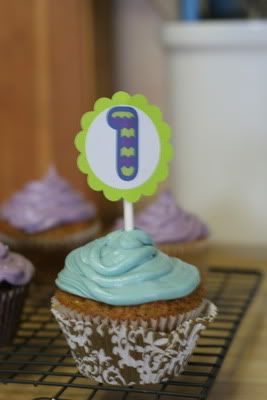 Oh, and here's the cakes without the wrappers so you can see the awesome goodness that's inside.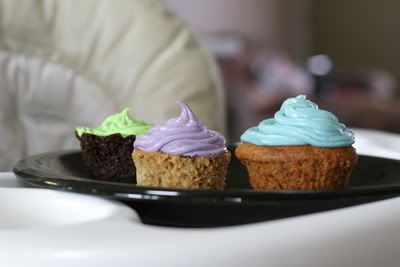 So, apparently I make dank cupcakes. I'm not the first person with microbiology training to discover they have random wicked baking skillz. I'm not bragging. Or maybe I am. DH has eaten 6 of them today.