So Brian was born with mild torticollis (neck muscle tighter on one side of his neck due to cramped conditions in the womb and pressure from his twin - super common in baby A's). Thankfully, just one physical therapy appt and doing exercises with him at home has resolved it completely. Unfortunately, he spent the first several weeks of his life flattening the back left side of his head. By the time I caught it and asked his doctor about it, it was too late.
We've been aggressively doing 're-positioning' with him - he sleeps on his right side and I do everything in my power to keep him off the back of his head when he's awake. I met with the 'helmet people' at the children's hospital and she assured me that the only consequence of leaving his head misshapen is that his head will be misshapen (it's not so severe that he will have hearing or jaw or vision problems). So it's a cosmetic issue. She also won't give me her opinion about whether she recommends a helmet or not. She took measurements and pictures and is having us do the re-positioning and come back in 6 weeks (which is now 2 weeks away). She wants us to be prepared to make a decision at that time about what we want to do.
Also, insurance won't cover this and it's $1500 to do it. I took pictures a month ago and then more pictures earlier this week. It's such a difficult decision. I know from following the story of another pg.org member who went through this with her son that the first helmet they got didn't work and they had to drive several hours to do another kind of helmet. That's not an option for us, but it definitely opened my eyes to the possibility that we could spend a whole lot of money and not get good results, which makes the decision even harder. I'm also having a hard time being objective about this, from being able to tell whether it's gotten any better and whether or not it's bad enough that we should go the helmet route.
So I need some honest opinions. Do you see any improvement? Would you do a helmet if this were your child?
Here are pics from a month ago (sorry the quality isn't great, our camera really resists taking pics of his head!). It's REALLY difficult to capture this on film, too, I wish you all could see it in person!: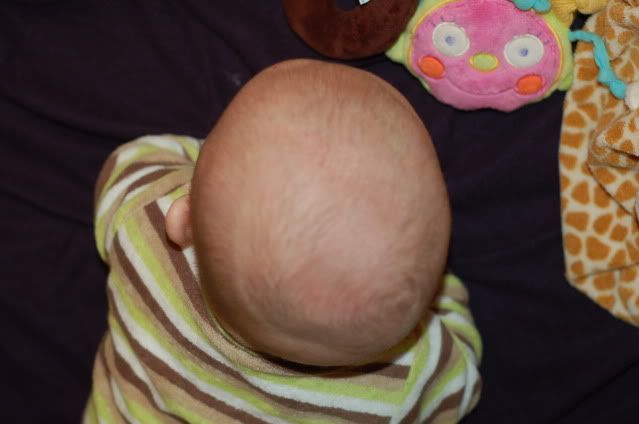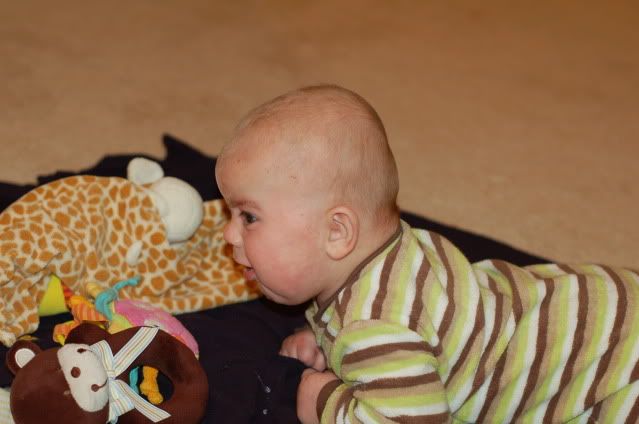 And pics from earlier this week (please ignore the scratches on his head - despite our constant trimming of his nails, he's always scratching at his head):