I've come to really enjoy making these little photo journals so I went a tad crazy with the pictures. I edited out most of the family pics (who wants to see a bunch of old people you don't know) and most of the nature pics (I mean really, they aren't of babies so who cares, right?). My lord woman, you gasp, this is the short version?! If you really want to see them all you can check out our blog for the full version once I get it all typed up on there. It's being a pain right now. Anyway ... on to the pictures!!
Teagan's First Road Trip
It's June 2011. I'm Teagan Tesla and I'm 8 months old. We're going on my first road trip this week! I'd be excited except I have no idea what's going on because the big people in my house haven't figured out how to speak baby yet.
On Saturday morning, Mom woke up before me at 5:00 am. On purpose! She tried to transfer me from the bed to my crib so that I'd sleep longer while they packed up the car.
Yeah, that didn't happen. I was up and ready to play.

After a diaper change, Mom set the tea kettle a'boilin' and noticed it was already 5:20. It seemed as though her plan to get on the road by 7:00 wasn't going to happen. Le sigh.

I played for a bit while Mom ran around packing supplies. Opening and shutting doors is one of my favorite games. If Mom and Dad aren't vigilant, I will shut myself in a room and then sit behind the door screaming. Doesn't that sound like a fun game? If you look carefully in this pic, you can see my Dad's foot still in bed.

I got fed up with playing with the door pretty quickly so Mom moved me to the living room to play with my xylophone.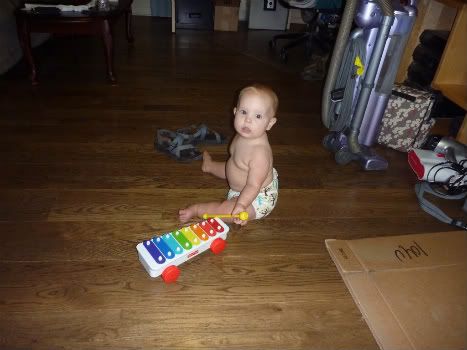 The xylophone only kept me happy for about 30 seconds so Mom strapped me to her back while she finished packing. I was much happier back there than this pic lets on.

By the time the car was packed, I had passed out. This is my space in the car.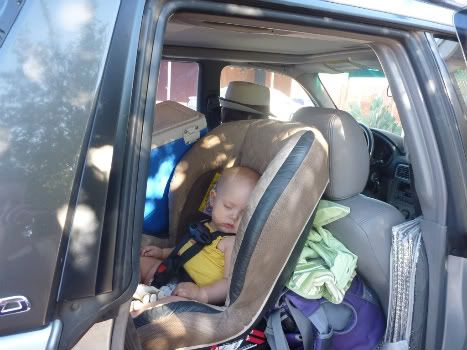 And this was my view in the car of the dogs' space. They were good back seat companions.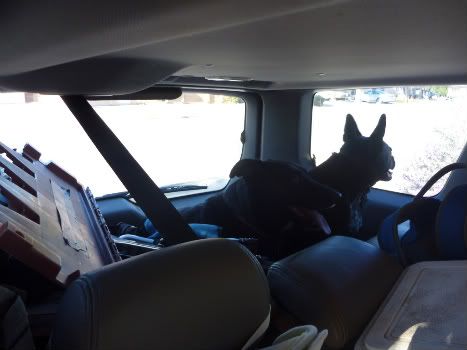 Ready to go!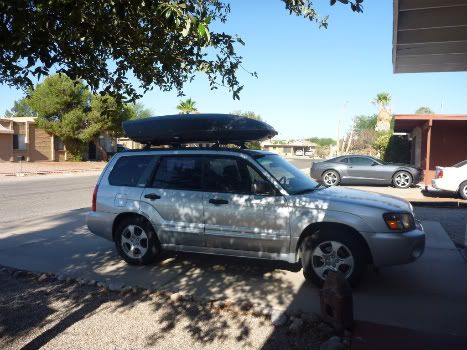 We backed out the driveway 52 minutes later than Mom was hoping for. Not bad :).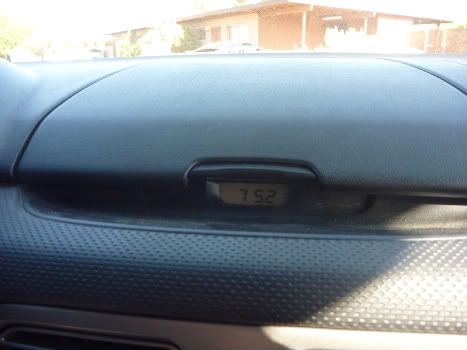 I started screaming shortly afterward. Did I mention I HATE my car seat with a fierce passion? What were my parents thinking taking me on a two thousand mile road trip?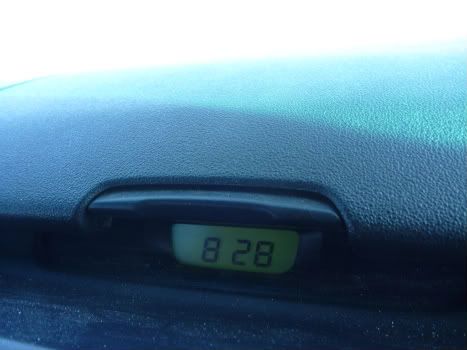 I didn't scream for that long … this time. Somewhere around Phoenix, I fell asleep.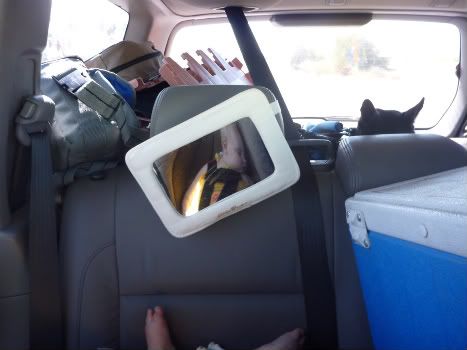 Woohoo! We made it to California! That's the welcome sign whizzing by at 75 mph.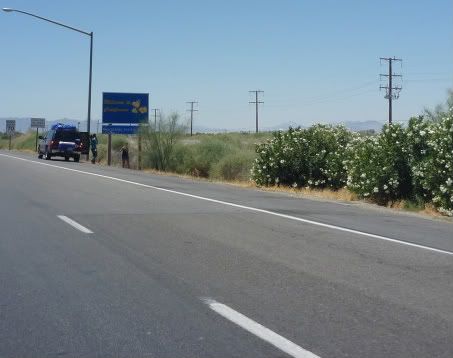 Yep, we're definitely in California.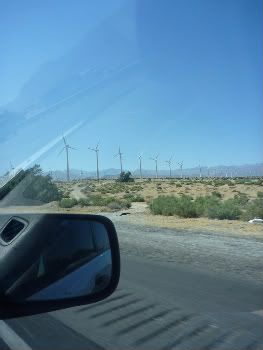 There's something you need to know before we continue. My Mom and Dad have the WORST luck when it comes to California campgrounds. This is most likely due to the fact that they always forget to make reservations and they despise paying over $20 for a campsite (which, they claim goes to subsidizing the RV campers). So, just about every time they try to camp in California, they drive around for hours looking for a campground that isn't full and eventually end up just driving down some national forest road to find a "free" camp site. Hey, they've found some pretty awesome little spots this way.
So, after trying to get a site at Silverwood Lake in the San Bernadino Mountains (yeah right said the forest ranger), they drove and drove and I screamed and screamed until Daddy found a dirt forest road and plowed up it in the Subaru. Up the bumpy "road" we went. I stopped screaming at this point because the ride was pretty fun. Mom couldn't take pictures of all this because she was busy keeping an eye out for rocks in the road. The road started to get pretty hairy so Dad stopped. Mom suggested he run up to the top of the hill before we gave up on this road. A few minutes later Dad came running back down with a grin on his face. We'd found our campsite.
It was cold! Mom dressed me in long johns she'd just purchased (and which she was sure would be almost too big) only to find they were too small.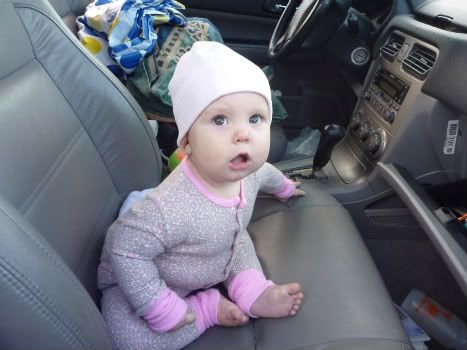 Wardrobe change! I'm so cute in my camping gear. Mom plunked me in the Bumbo while they set up camp. I chewed on wood chips. Nom.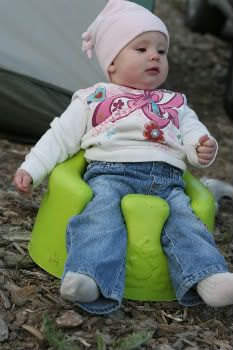 The tent was up so we posed for a group shot. Someone was playing Dave Matthews Band very loudly in a house on a nearby hill. Dad thought that it might even BE Dave Matthews given the size of the houses. Either that or someone was listening to all their live albums at an obnoxious decibal level.

Then I helped Mom make our bed. Mom and Dad feel like weenies for bringing an air mattress camping but I liked it! It got down to about freezing that night. Mom wasn't expecting that and wasn't prepared. I, on the other hand, was snug as a bug. I slept so well that first night! All the driving that day caused Dad's leg to cramp up in the middle of the night (consequence of a herniated disc) so Mom had to do all the driving from here on out.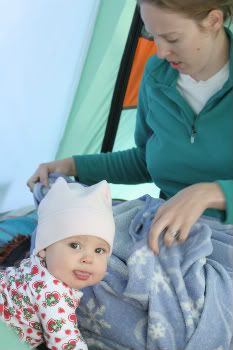 The next morning, it was still really freaking cold. Mom didn't want to get out of the tent. We quickly packed up the car and got on the road without eating breakfast. Well, I got to eat, of course. Mom became desperate for coffee near Hesperia. We stopped at an IHOP to fuel our bellies.
On our way north, we stopped at a rest stop. It was really pretty and we needed a break so we paused for some pics.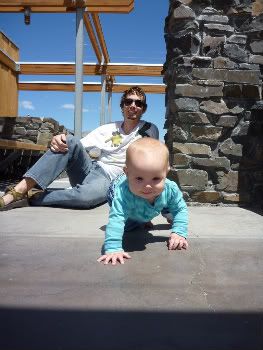 So much snow on the Sierra Nevadas! And look, I'm finally getting some hair!

Finally, we arrive in Meyers. That's a little town just south of Lake Tahoe where my Grandpa (my Daddy's Daddy) and Great Grandparents (my Daddy's Daddy's Daddy and Mommy) live. Here I am playing with my Grandpa. I'm so glad to be out of the car. I screamed for about the last hour. Mom and Dad sang silly songs, which helped some.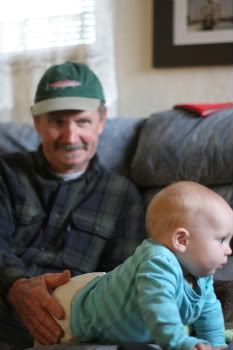 Mommy brought some of my favorite toys from home.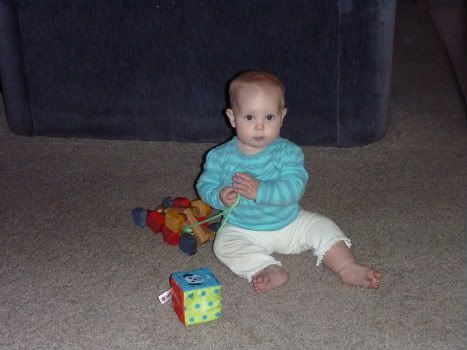 I wasn't so sure about my Great Grandpa's rug.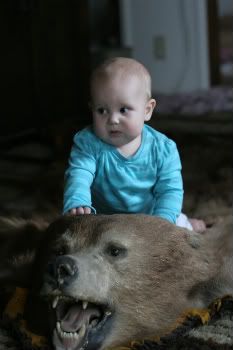 The next morning it was snowing! We headed into town for some lunch. I played with Sophie and got to try Mommy's hummus and couscous burrito. It was tasty. I especially liked the black olives because I am a weird baby. We spent the rest of the day Monday hanging out with my Great Grandparents.

On Tuesday the weather had cleared up so we went for a paddle boat ride on Lake Tahoe!!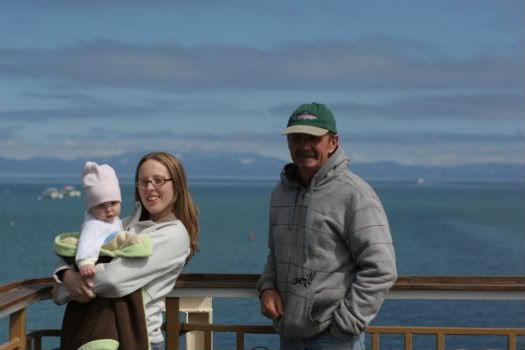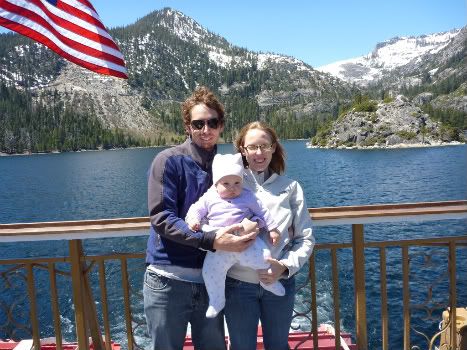 Mommy snuggled me in the sun.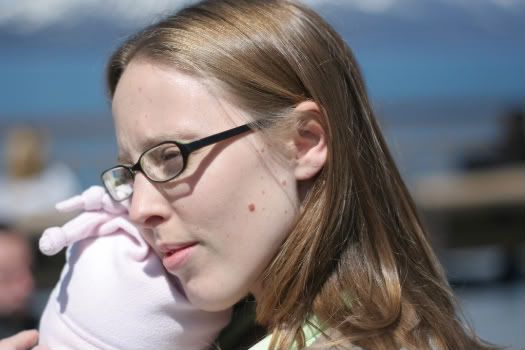 She also took a video of me on the boat.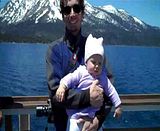 Ain't I wicked cute?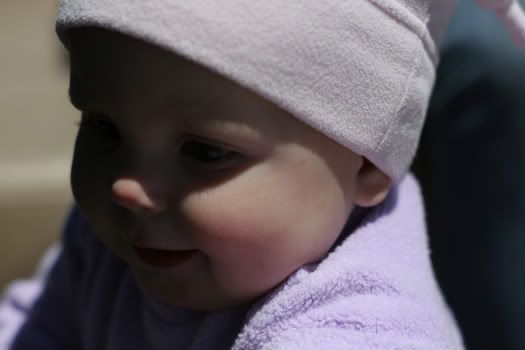 Next we went on a hike down to a house a weird old lady had built. She called it Vikingsholm. We hiked the mile down her driveway. Well, the big people hiked. I cruised in my stroller.

Here's my old lady posing next to a strange clock.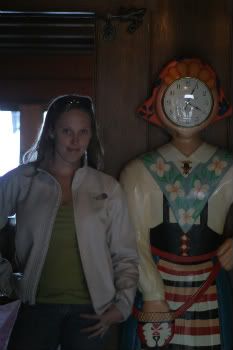 Happy family!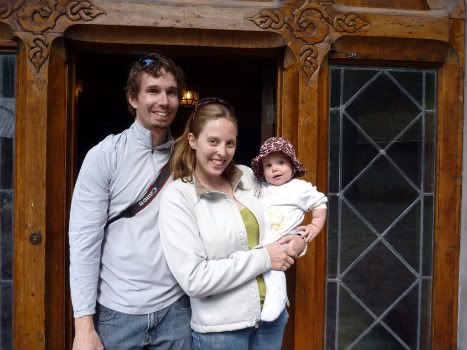 Time for a diaper change. My stubborn parents used my cloth diapers throughout the entire trip.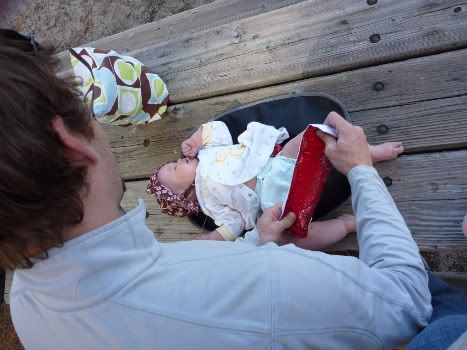 I usually get a toy to distract me on the change table but this pine needle will do.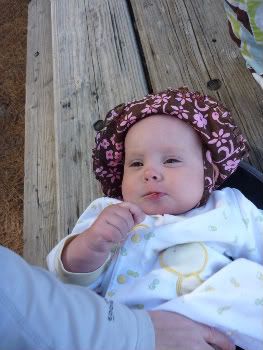 All done! I helped! Not!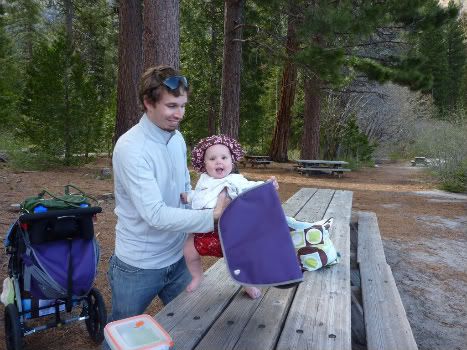 Next we took a stroll along the old lady's beach and took about a million pictures.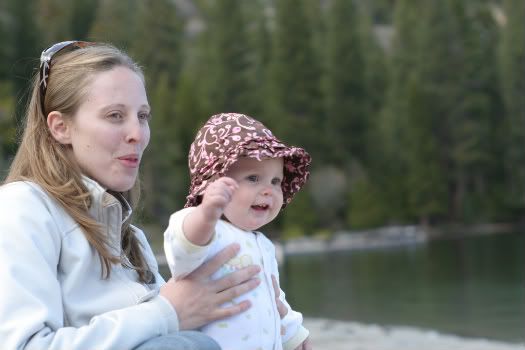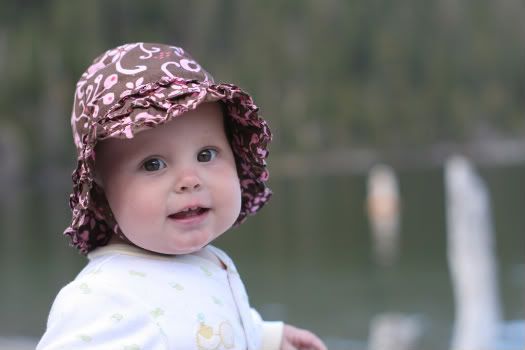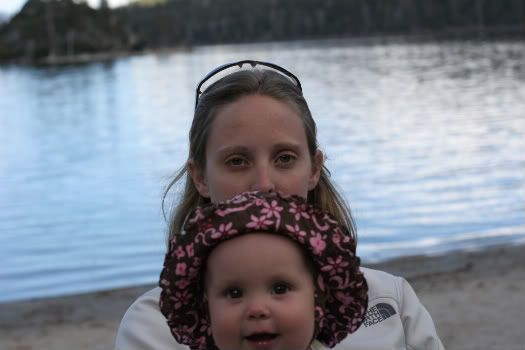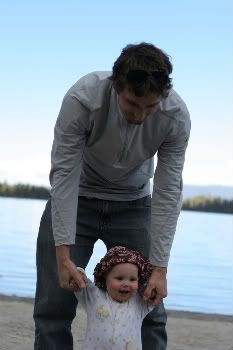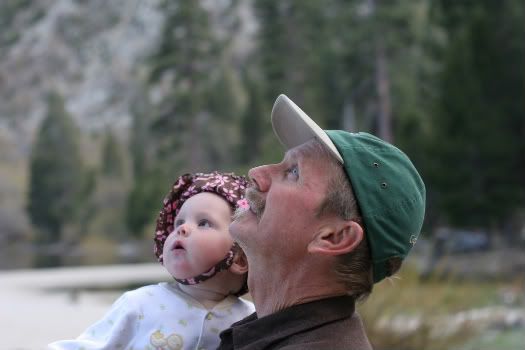 I got up close and personal with the biggest tree I have ever seen.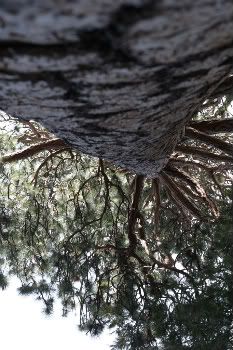 That night, my Mom and Dad went out on their very first date since before I was born. I had a blast with my Grandpa and was completely tuckered when they got home. Grandpa had placed me in my little Pea Pod tent. I was such a good girl!

Wednesday was another beautiful sunny day.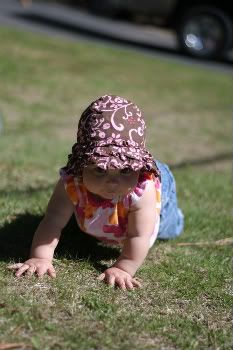 "What is this green stuff?"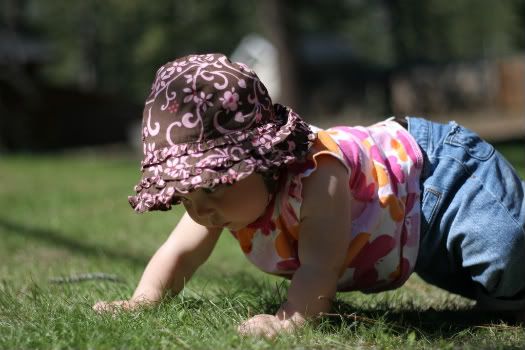 "Mommy, I need more sunscreen!"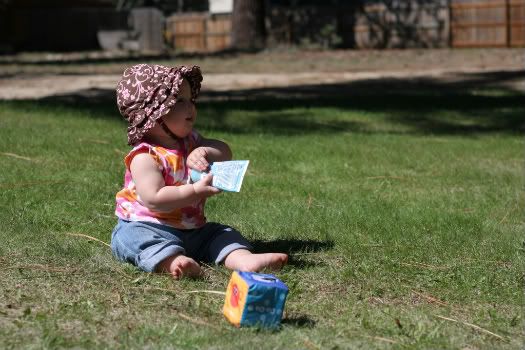 I chewed on sticks!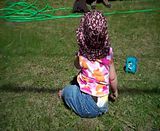 OK, just one pic with me and an old person. This is me and my Great Grandpa!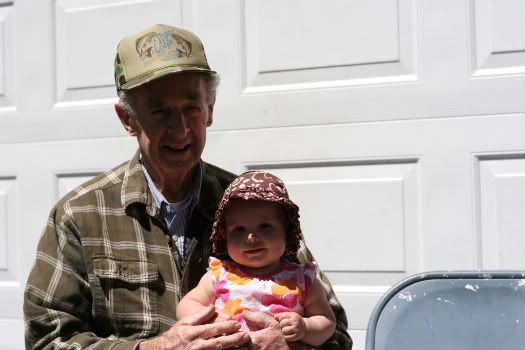 I thought Grandpa's hat looked better than my hat.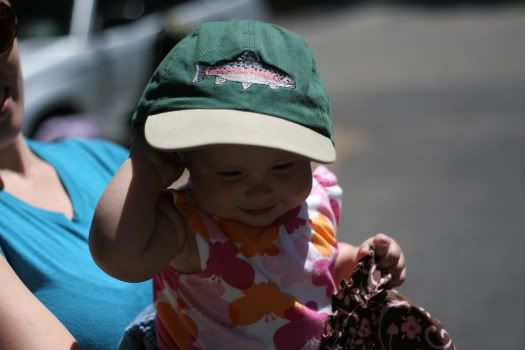 After playing with Great Grandma and Grandpa, we went to the lake. I caught another ride in the stroller.

"Woah, what is THIS stuff?!"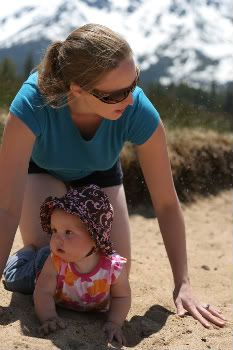 Daddy played with our mutts by the water. There were so many black dogs. I had a hard time keeping track of which ones were ours!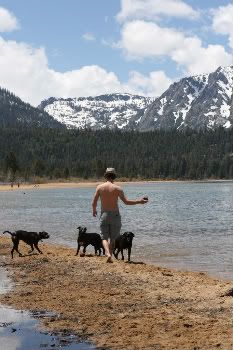 The water was so cold but I LOVED it!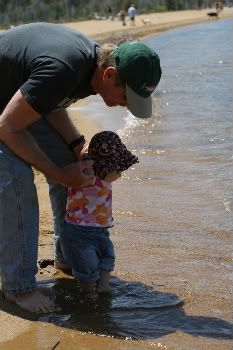 We took a walk along the shore and stopped at a picnic table for snacks. I got to eat fish that my Grandpa had caught and smoked.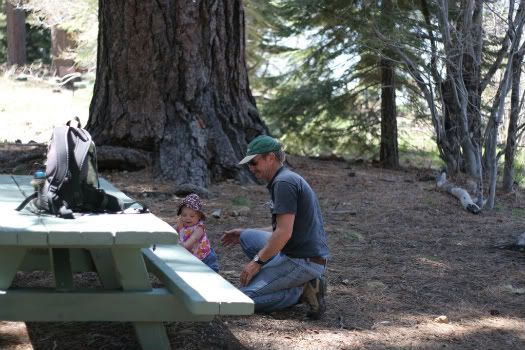 Mommy and I hammed it up for the camera.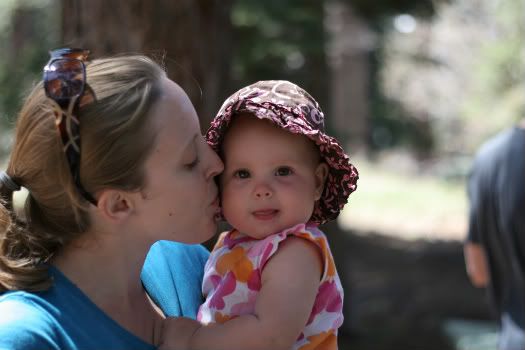 I drank from Mommy's water bottle like a big girl.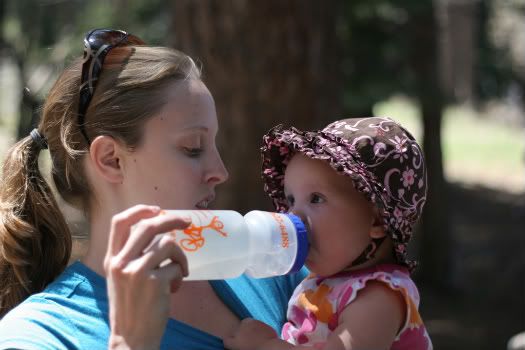 We headed out of Tahoe early the next morning. I was not pleased to have to get back in the car. We stopped at Mono Lake to give my Mom and Dad a break from the car and the screaming. My face is blotchy from all the screaming.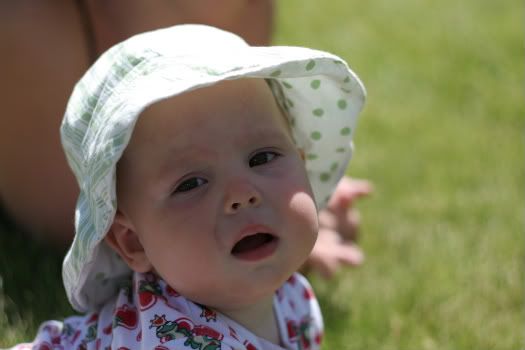 "Sorry dogs, you can't come." Good thing it was nice and cool in the car.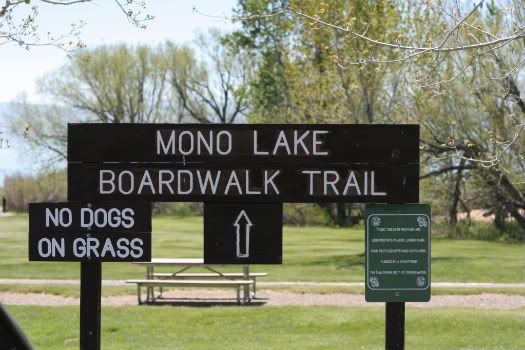 "Mom! What are you waiting for?! Strap me on and let's get going!"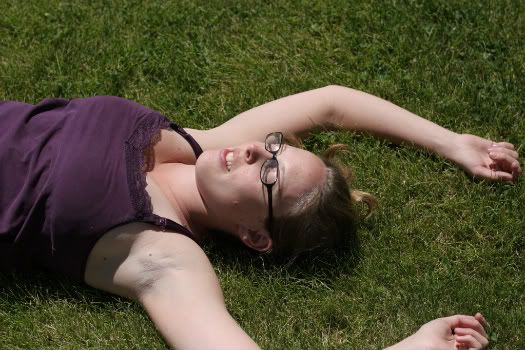 "Mmmmm, sticks solve all the world's problems."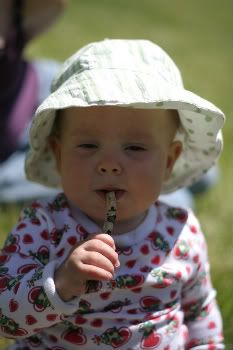 Mom put me in the back carry and we walked down the boardwalk to the water's edge.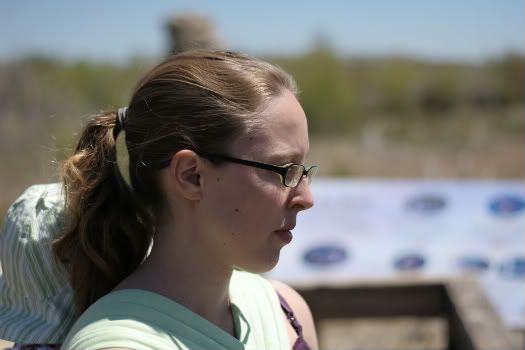 I had a good view from back there.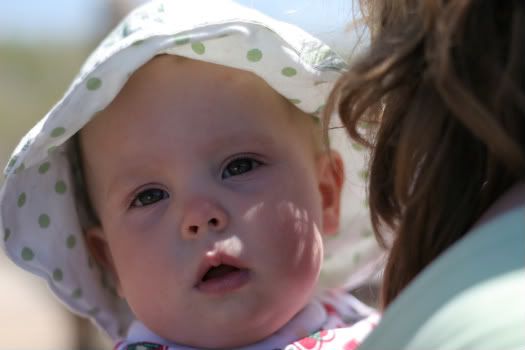 Family photo time! Complete with puppies!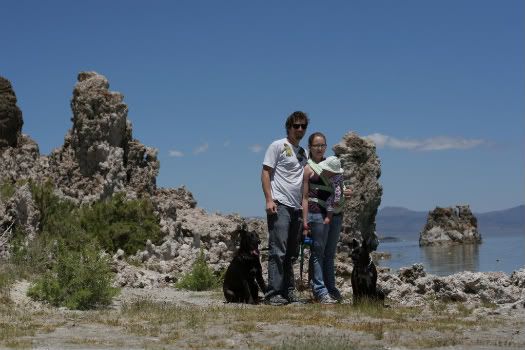 Mono Lake nursey nursies.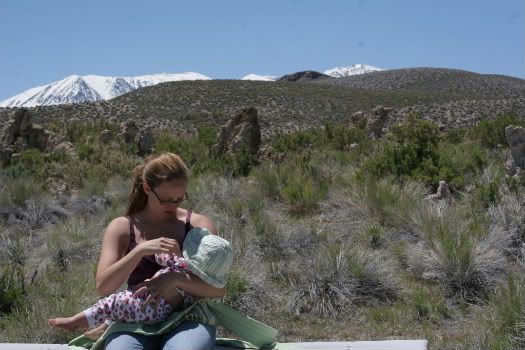 We spent the night at a great spot my Grandpa recommended. It was right along a roaring stream, lined with cotton wood trees, plenty warm all night, and best of all … FREE! I played in my Pea Pod while Mom and Dad whipped out the bug spray and set up the tent.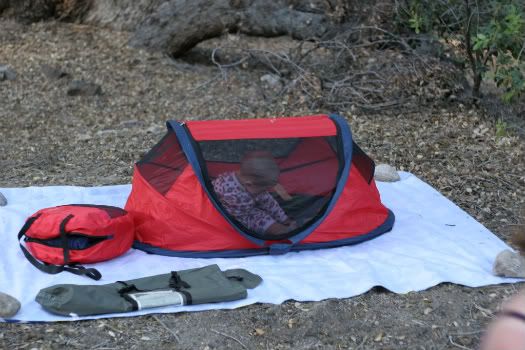 "You can't get me skeeters!"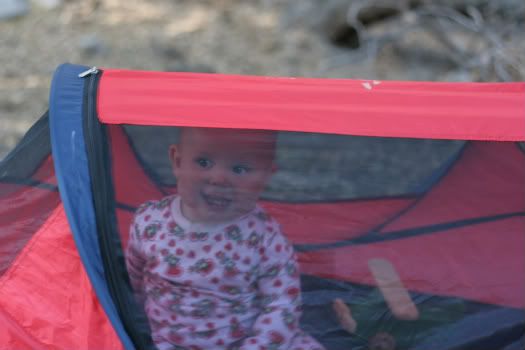 I climbed some trees …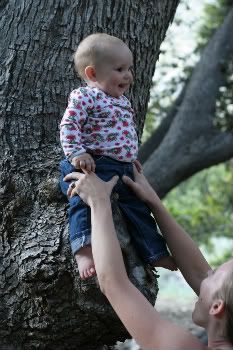 … and played with Daddy.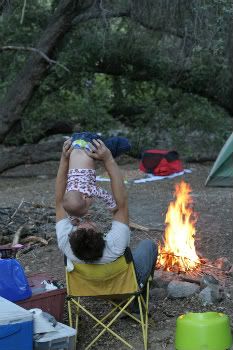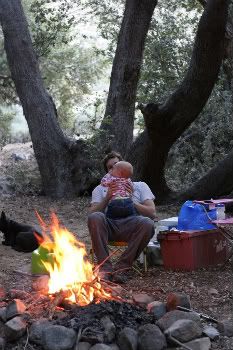 Mommy heated up some soup while I nommed on a dried pear.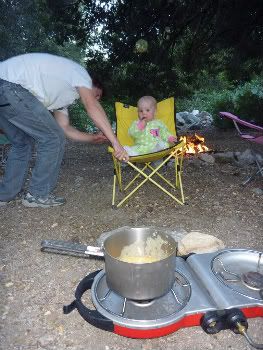 Aldo wanted some soup but all he got was dog food.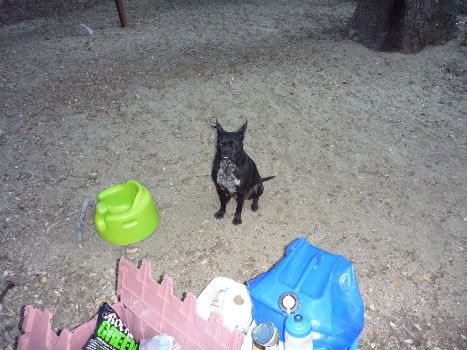 I got some soup. Mmmm corn chowder!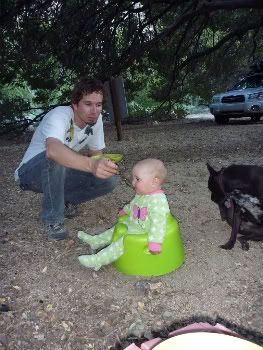 After I went to bed, Mommy broke out some wine and enjoyed the fire.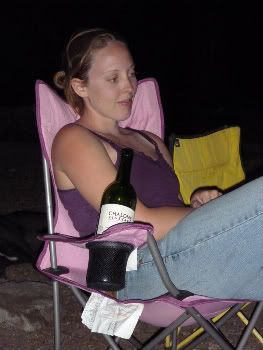 Mommy built a pretty darn awesome fire.

Oh no, Daddy! You got caught drinking Mommy's wine!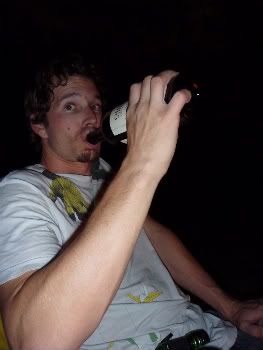 I got some driving lessons Friday morning.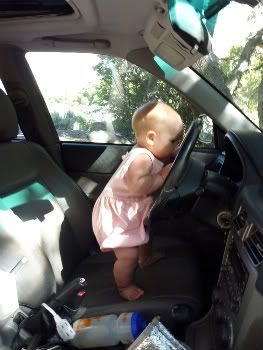 Then we drove and drove and drove to Joshua Tree National Forest. It took us until about 10:30pm to get there and when we arrived, the campground we planned to stay at was closed. We tried another … CLOSED. See, my parents are cursed when it comes to camping in California. It was very late, Mommy was very tired, and I was screaming my head off. The best my parents could do was a Motel 6 in 29 Palms (a lovely city … not). At least we found a nice little café in Joshua Tree for breakfast in the morning.
The next morning, we drove through Joshua Tree National Park.

We got to climb on some rocks near the road.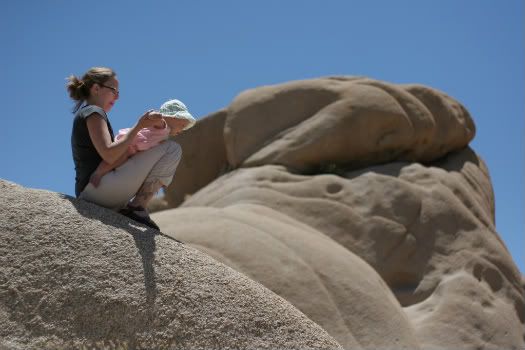 I tried to help Mom wrangle the dogs.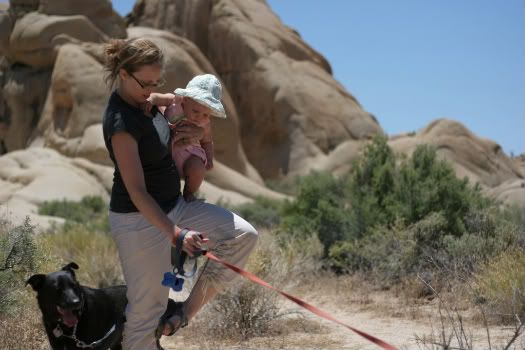 Happy disheveled family in the desert!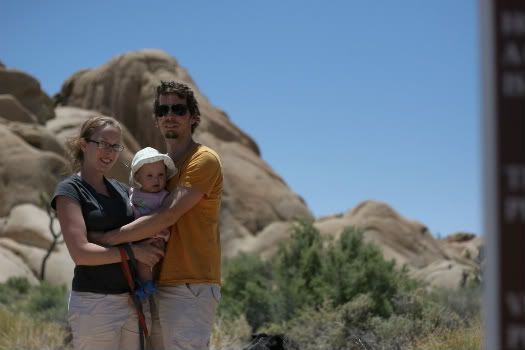 After some road side nursey nursies, we headed home.

I screamed most of the way to Phoenix, where we stopped to have dinner and ice cream with our friend Jane. Then I treated my parents to a silent ride down to Tucson.
I had a great time on my first road trip! We didn't camp as much as my parents would have liked but it was fun for a first family camping trip. I got to meet a lot of family for the first time! Also, I didn't scream nearly as much as my parents thought I would. Still, I think they are a little hesitant to attempt another trip before my hatred of the car seat fades. Let's all hope that happens soon!