How has it already been 2 weeks since my last group of pics??? Going way too fast.
As always I encourage all the other preg. mamas to post their pics too. You know you'll love me for bugging you every two weeks some day when you go back and look at all your bump pics.
----------
Here are some of my progression pics. I've been taking them every 2 weeks and really need to just make them in to one photo collage thing at some point. Anyway....
24 weeks, 26 weeks, and today at 28 weeks.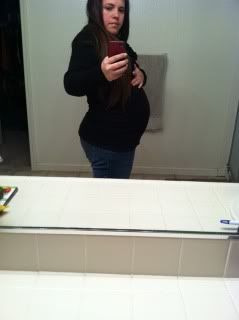 If I keep growing as much as I did these last 6 weeks I'm going to be really in for it. Guess my belly decided it was time to catch up :eek:
Also here a comparison pics from baby #3, DS2, and then DS1. I think I was a little bigger with DS2 but pretty close to DS1, just different though.