Hey everyone! Thanks to all of you for all the well wishes! You are all very dear to me. Things are going well with us. Allyson is a good baby...she sleeps a lot. lol She is precious and we are so proud of her.
I wanted to share a few pics with y'all...(I'm sorry these are so small...I intentionally make them that way b/c I don't really feel comfortable sharing a lot of pics like this=too many crazies out there)
Anyway...
Last belly pic - before we left for the hospital...in the original pic you can see the clock behind me..it shows how stinkin' early it was (we had to be there at 5:30 a.m.)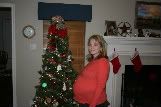 Austin meeting Baby Sister for the first time...

Getting ready for the ride home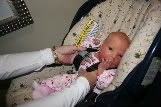 A couple of pics since we've been home...