babies are home! all were discharged on sunday. Zach was at his 14 days off caffeine and had no incidents at all. weren't expecting any since it was a rapid breathing issue, not a no-breathing issue. they are all over 5 lbs now. I can say man alive those nurses do so much little stuff that is dearly missed once out of the hospital. We are still in anchorage. my mom comes in tomorrow evening then we start packing up vehicles for the loooong drive Saturday. home, i'm finally going home!! funny thing, there is still a lot i never got to do in anchorage. seems crazy since i was here for almost 5 months, but with such limited activity - tis true. on a good note, my mom is going to stay a few weeks, maybe up to four. it will be good for her to be around the babies and also to get out of the house, she's a little lost without dad I think.
i am so happy for everyone who has had their little ones and can't wait for those who are still hanging in there. I do hop on and lurk essentially - I catch up on the reading but posting on my phone is a pain on top of being crazy busy. once we get home i hope to hop on quite a bit more and become active again. i truly appreciate all the support you girlies have given me all through my pregnancy, the loss of my dad, and everything. you listened to vents and relished in my happiness as well. it means a lot to me and i want to get back on here and support all of you too.
so, every time i post i say pics will come soon. i have a ton of hospital pics, but now i need some not in hospital pics. i truly do promise to get some up soon. *last note, as an english teacher i truly apologize for the no caps, but i've got the computer perched on the arm of the chair with a sleeping fuss-budget on my chest as i reach around her to type. this is kinda like at the end of the pg when i couldn't reach the keyboard then either. lol
steph
Ok, these are old, but first is Addie chillin in her warm isolette - this is when I was still in the hospital I believe, maybe within a week of birth at most

" alt="" />
next is Kate peeking at you - sleep faker. This was just last week.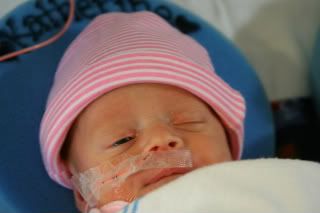 " alt="" />
here is Zach in his milk coma, poor guys hats just never fit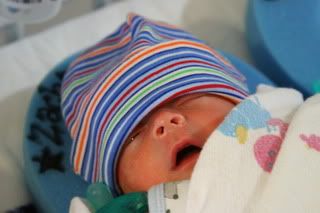 " alt="" />