So I spread out all the stuff I have gotten so far for baby, beyond what was saved from dd, and its quite a bit.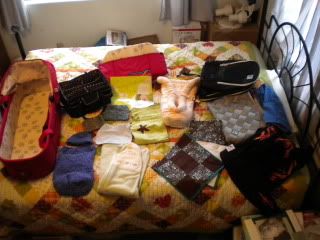 Thats the Ergo, infant insert, carrycot, Maggie bag I will use as a diaper bag, diaper backpack for dh, nursing cover, diaper caddy, sleep sack, and things I have made: 3 hats, cocoon, changing pad, diaper pouch and pouch for the Ergo.
Plus these, the sucking pads I made for the Ergo.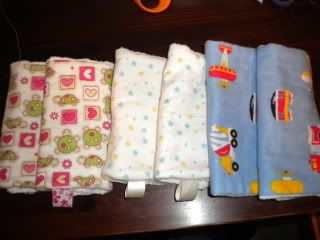 Heres a close up of the hats, 2 are kind of square (just have a pic of one), makes little ears thats cute and the other is round with a matching cocoon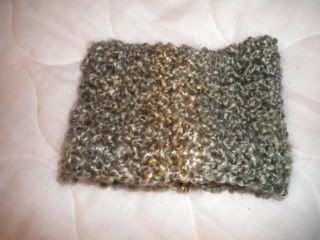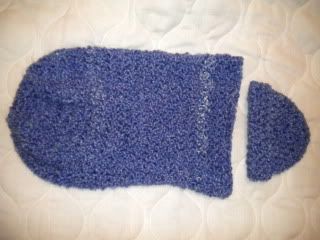 I plan to make a few more, take some to the hospital, will be cuter than the awful hats they have.
I then thought it would be interesting to see how much I actually paid compared to full price, altogether was about $270 :eek: but thats almost $300 less than full price, so I think that pretty darn good. Can't believe I have spent that much already, internet makes it too easy. Come to think of it the only thing I didn't buy off the internet was the infant insert but that was through craigslist, so technically internet too, crazy.